Living Well For Less: Big Purchases Made Easy – Mommy's Top 5 Tips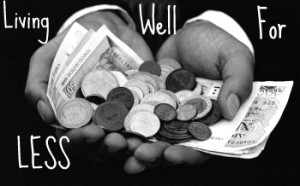 This week the post has been provided by
Big Purchases Made Easy – Mommy's Top 5 Tips
It can be intimidating to walk into the big electronics, furniture, and appliance stores and come home without the dreaded "buyers remorse".  A little knowledge and courage is all it takes to walk out of the store knowing full well that you've made the right and smart decision for your budget.  Here are my top five tips for making you become a stronger, enlightened shopper.
The sales person is NOT your friend!
Scenario – You enter the local "BestComp City" electronics store and are greeted by a smiling sales person in a polo and khakis within 30 seconds.  Within 20 minutes, you walk out with not only a new tv but all new accessories (even some you don't need) and are way over budget!  How the heck did that happen??Here's how…I have it on good authority (and from personal seasonal experience) that the sales team in these stores are trained and required to greet you within 10 seconds, learn what you are looking for within 60 seconds, and convince you or "upsell" you that you "need" a minimum of three additional accessories.  That's why things today are sold piece mail.  If you have jumped on the video game bandwagon lately, you've no doubt been upsold the accessories.  Video games, TV's, digital/video cameras are a sales person's dream and your budget's worst nightmare.  Do your research before you go, check the sales (and the fine print) and go into the store confidently.  Strongly state you exactly what you need  being specific about the item, whatever it may be, and remain on task.  You'll be greatly rewarded for standing your ground against the sales pitch.
Beware the Shady Return Policy
I'm sure you've all been through the dreaded returns rigmarole.  You wait in line, you get to the counter, you state your case, and you get looked at as if you are a criminal.  You show your receipt, and if you're lucky you get your money back.  This is a very, verrrrry rare occurrence in this day and age.  Most stores do not part with the money they've received once you've handed it over, even if their product is a piece of junk!  They offer a "store credit" in most cases, as if after having a bad experience with their merchandise, you'd even consider trusting it again.  Then there's the stores that charge the "restocking fee".  They've got your money, they've sold you a substandard product, and now they have the audacity to charge you to take it back!!!  Most stores charge between 10-20% just to take back your returned item.What's worse is the fact that you can't debate them if you didn't know they do this.  The return policies ARE actually made available to consumers, just in very covert ways.  The stores post their return policies on their websites (in an obscure spot) and they print it on the BACK of your receipt AFTER you've purchased. So I strongly advise all readers to consider taking a few minutes to read up BEFORE you go to the store to read the return policy in it's entirety.  It might save you aggravation later, if you happen to get stuck with a "lemon."
If it's too good to be true….
We've all seen them, ads that promise big expensive items for rock bottom prices.  Have you ever heard the term "bait and switch"?  We mostly experience this during "Black Friday", the day after Thanksgiving.  The insane day of shopping that makes people camp out in front of stores in their turkey comas to try and get the "deals" before everyone else.  Then the evening news showcases the insanity.  People get trampled through the doors, fights break out over the last laptop, and then there's the endless lines of people.  Is it really worth it?  I have to admit, I've braved it with the other retail crazies.  If you've perused the black friday ads, you'll notice that often in fine print the words "Limited Quantities" or "While Supplies Last" are printed in a minuscule font.  Retailers love this day of the year, while the employees dread it.  They typically supply their stores with one, two or maybe five of the big ticket low price items, then place them in the mostly unlikely locations within the store.  So while you would think the $150 laptop would be in the computer section, they are actually on a pallet in an aisle on the other side of the store, or sometimes they are held in the back where only the savvy shoppers who know to ask for them will receive them.   Once those few items are gone, they have what I affectionately call "consolation prizes".  A few items that are reasonably priced, but aren't truly "deals".  But retailers know that after hours of camping out over night, waiting in endless lines, and throwing a few elbows to fight to get the deals we aren't likely to leave empty handed.  I'm asking all of you to shop smarter even when it's tempting not to.  Don't settle for the lesser bargains!  If it's too good to be true, it IS!  Don't be fooled!
Comparison is king!
I can't emphasize this enough, do your research!  Checking pricing, reviews, and even the recall list is imperative to smart shopping.  This is where finding the cheapest price doesn't end up being a good purchase.  One might do their research and find the lowest price, that doesn't mean its of good quality.  Example: Let's say you bought a low priced TV that is off-brand.  This is where I stand firm on buying brands you know and trust or have high reviews!  These off brand electronics are typically made cheaply and with lesser quality to sell to you at a lower price.  You may save in the short term, but you will be replacing it in nearly half the time you would if you bought a trusted brand.  However, some of the recent start-up electronics companies are offering good products for lower prices, simply to get their name known.  Search online for reviews, check consumer reports and recall lists, and if possible find a website that offers side by side comparisons of pros and cons.  That way you are making the smart decision, and not just going by wallet alone.
Don't buy if you can't afford!!!
Most big box stores offer their own lines of credit.  They even offer you 10% off or sometimes more if you open an account.  It's so tempting to save the extra dollars that you gladly give in, fill out the application, and the next thing you know….you've been APPROVED! Now, you're in an "elite" club that allows you to buy whatever you can dream of (and whatever the limit allows).  Do NOT be tempted, this is BUDGET SUICIDE!!  In the tiny print, these stores hide the nasty drawbacks of the "club" you just entered.  This includes the interest rates, the annual fees, not to mention the penalties you will pay if you are late! I could exaggerate and tell you if you're late on a payment, they storm your house, rip the items out of your home and take your first born as collateral, but we all know this isn't the case.  They WILL however charge you exorbitant fees and penalties, making your simple purchase become a budget busting disaster!  What once was "on sale" and an additional 10% off is now two or three times the retail cost simply because of using the store credit card.  My advice is to avoid the charge cards completely.  Save your pennies and pay cash when possible.  If you must use a credit card, use a standard card with a low interest rate and possibly rewards like frequent flyer miles and make sure you pay it off quickly.  There's no sense in saving the big dollars just to hand it over in interest payments to Visa!