Living Well For Less: Frugal tips for Fab Makeup and Beauty Shopping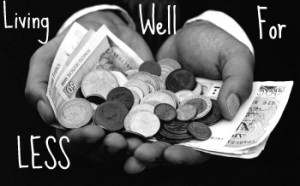 I am super excited to start a weekly post on living well for less. Pammy from
Pammy Blogs Beauty.
Each week there are going to be articles from me or guests – these posts will focus on little tips and tricks that will save YOU money without giving up style or quality – who wants to save money if you cannot look fab doing it!
Hello Beauties! Anyone else on a budget? I know I  sure am. Well, the good news here is that there are some really great ways that you can stick to your budget and still purchase some really great makeup and beauty items! There are deals to be had out there!!! So arm yourselves with these tips, and head out in search of your bargains!
Frugal tips for Fab Makeup and Beauty Shopping:
If you have any room to spend, then prioritize! Decide what you want to "splurge on". What is most important to you? Foundations? Skincare? For me, I opt for high-end or more expensive foundations and facial cleansers. But, the rest of my items are primarily from the drugstore.
If you don't have room in your budget to splurge on foundations, take your "best match" foundation with you when you shop at drugstores. Compare colors and try to buy a new one that is similar in shade. If you don't have a good match, go to a store where you can sample foundations/powders/concealers (like a department store). Get a shade matched at the makeup counter and take home a sample. You can then match that sample to a similar drugstore product. Otherwise, your worst case scenario: buy the two closest shades at the drugstore and take them home to test (shop at stores with good return policies so that you can return the shade that does not match).
Coupons, coupons, coupons!!! As you budget divas know, the Sunday paper is a treasure trove of coupons. The cost of the paper is easily outweighed with the value of the coupons inside! There are so many health and beauty coupons included! I clip my health and beauty coupons and put them directly in my purse (I keep them separate from my food/grocery coupons). If you have them with you in your purse, you will never be stuck without a coupon when you are out shopping!
Another coupon tip: Get the most from your money! Combine manufacturer's coupons with store sales! If I am looking for a new beauty item, I check the currently weekly drugstore ads online first before I head out. Chances are, you have a few different drugstores right in the same area. It is worth a little extra running around to buy the products where they are already on sale plus a manufacturer's coupon. You can save so much this way!
Sign up for rewards programs and online coupons. Many stores offer this! You can get coupons emailed, in the mail, and you often get coupons generated from your purchases. I know that CVS, Sally's Beauty, and Ulta have some fabulous email coupons!
Stock up on staple items during BOGOF sales! If it is something that you *know* you will use, stock up when on sale, and only buy when on sale. You will be glad that you did!
With that said, don't buy an item just because its on sale. This is the trap that we must avoid if we are to stick to our budgets! Just buy what you need and stick to your list! It is not a value if it is a product that you do not need.
Choose multi-tasking products! I love cream products (like cream blushes) that can double as a lip color or a blush. Revlon makes some really great cream brushes as does NYC. Also, cream and powder highlighters can do double duty as eyeshadow!
Get an eye shadow primer. Any eyeshadow will wear better with a primer!  There are higher end and drugstore options available. For the drugstore, L'Oreal and e.l.f. are both make eyeshadow primers. E.l.f.'s regular primer is only $1 and the mineral one is $3. You can buy cheaper drugstore shadows for a fraction of department store prices and make them look great and wear well with a primer!!!
Dry lips? Don't forget about good old Vaseline or generic petroleum jelly. This works great to soothe dry lips, dry spots on your skin, and dry cuticles. Fantastic multipurpose beauty product!!!
Use baby wipes as facial wipes. I find that these work just as good and are less expensive!
Go generic! Some stores, like Sally's Beauty Supply, carry generic versions of popular branded products! I find that these work just as great (but, the packaging is not as cute…but who cares!). You can find some really great values for your shampoos,  conditioners and hair styling products as well as facial cleansers!!!
Thanks so much for reading! I hope that these tips were helpful!!!