Date Night – How We Split and Spared Our Evening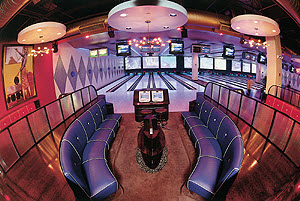 Written By Mr. Savvy ( BSD's Hubby)
Yesterday, BSD and I had a nice little splurge. We had to drive down to Anaheim for a family get-together and stopped to fill up on the cheaper gas at a Chevron/McDonalds. As we were pulling away, we saw a sign that said Rolo McFlurry and it was impulse buy time. If you like Rolos, you just have to try it. It was exactly right. I also got some Chicken McNuggets and they were incredible. When they don't have raw chicken nobody else does it that good.
Later on, we had a night planned that went awry. We are big Dave and Buster fans and there is a great bowling alley at the Universal City Walk, called Jillian's, complete with bars, food and games. It's like D&B's meets Lucky Strike, a classy joint… usually. We were a little put off from the beginning by the crowds. That was our fault– Memorial Day weekend– but we weren't prepared for the multitude of unruly children. It's supposed to be an adult place and here we are at Chuck E. Cheese! Nothing against kid's, but there were so many; and they just ran everywhere and climbed on everything. Not fun. Besides that the value on games is terrible. We had enough within minutes and headed upstairs for some bowling, but it was more of the same. We sat down at the bar, but the mood was gone. We had headaches so we went back to the car.
It would have cost $50 at least to stay and bowl two games, and have a couple of drinks. It would have been worth it if it was the Jillian's I remember, and I was looking forward to one last fling before we leave LA; But we had to cut our losses and the night got pretty good. We stopped by the store on the way home and made a dinner to share. We just enjoyed each others company at home and saved a bundle.