What To Buy and Not Buy at Trader Joes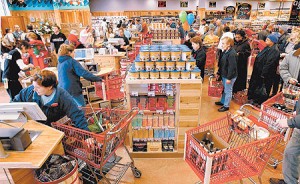 After shopping at Trader Joes for years – I noticed the prices for some items are pretty awesome and other prices not so much. I thought it would be helpful to write a post on what to buy and what not to buy at your local Trader Joes. Please leaves your do and dont buy list of Trader Joes in the comment sections.
First off – DID you know that Trader Joes is NOW ACCEPTING Manufacture coupons! Though many of their products are their own label you can score some pretty good deals
DO BUY:
Cheese:
Almost daily I confess my love of cheese – well it is usually cheese from Trader Joes that helps my cravings. The pricing of cheese is pretty good – most of the cheese is cut into different sizes – thus you have a wide range of price. So you can enjoy cheese you normally would not purchase without a hole in your wallet. The wide array of cheese is a plus in my book as well.
Wine and Beer:
Two-Buck Chuck anyone. Trader Joes is well known for Charles Shaw 1.99 bottles of wine. Though I would not take it to parties as a gift – it is great to have a few bottle around the house for cooking. My hubby loves beer – he has even brewed his own. Well he discovered a brand of beer called "Nametag" which is only 2.99 for a six pack – not to shabby.
Olive Oil:
Olive oil can be very expensive – and as a person who cooks dinner almost every night I hate having to pay $6.00 or more for a bottle of Olive Oil. I buy Trader Giotto's Extra-Virgin Olive Oil for $5.49 a liter—more than $3 cheaper than I could find at other stores. This is big savings over a long period of time. Saving large amounts of money is not due to the huge and drastic changes rather the small changes you do day to day.
Freezer Aisle:
Oh how much do I LOVE their freezer aisle? Let's just say a ton and a half! Though I stay away from their desserts I do purchase items such as their tamales – perfect for lunches. Orange Chicken – perfect for my lazy cooking days when I want to make a meal in under 15 minutes.
Flowers: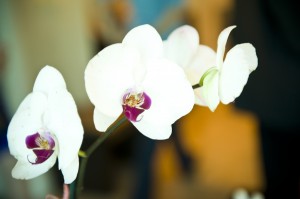 These are orchids from my wedding…. which I purchased at Trader Joes! I found their prices somewhat reasonable but their products are VERY fresh.
WHAT NOT TO BUY:
Produce:
Yes I know the $.19 bananas are a pretty good deal. My main problem with the produce is that it is never REALLY fresh – also the price point is not the best.
Meat:
Have you ever noticed that meat never goes on clearance at Trader Joes – by no means do they sell it all – I wonder where it goes. The price of meat – though looks fresh – is OUT OF THIS WORLD.