*Brag Shopping Trip Picture* Harris Teeter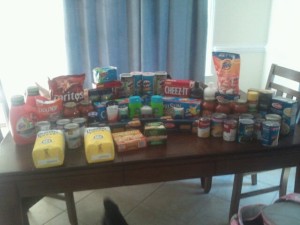 What do YOU think about this Shopping Trip?
Check Out MORE BRAG PICTURES
If you have a Awesome Shopping Trip Photo – please send it to [email protected]!
Thanks! Angela
Here is my shopping trip from Harris Teeter here in Greenville, NC.
2 50 oz Tide
1 Bounce Dryer Bar
2 5lb bags of Domino sugar
5 Bertolli Pasta Sauce
… 1 Doritos
3 Cans Swanson Chicken Broth
2 Cans Swanson Beef Broth
2 10 pk Capri Sun
2 Suave Kids Shampoo
1 Olay Regenerist Facewash
5 Progresso Soups
2 Boxes Cheezits
1 Scotch Brite sponge 3 pk
4 Cans Pringles
1 Nature Valley Sweet n Salty Bars
1 Always pads 18 pk
5 Barilla pastas
3 Campbell's Cream of Chicken soup
2 Campbell's Cream of Mushroom soup
1 Tresseme shampoo
1 Tresseme conditioner
1 Tide Stain Release 18 pk
1 Mazola cooking spray
2 Suave Professionals Men's shampoo
2 Gilette Men's deodorant
2 Gilette Men's bodywash
1 Old Spice deodorant
1 Smucker's grape jelly
1 Fundamiddle's cupcake mix
Not pictured is a gallon of milk 2 Sargento shredded cheese, 2 Totinos Pizza stuffers, 3 Totinos Party Pizzas, 1 Land O Frost lunchmeat, 1 16oz sour cream….think that's it…cost $297.83 before q's and EVIC…spent $99.11 out of pocket!!
I didn't have coupons for everything so I could have probably done even better but my printer is broken so I didn't have them for all the items but everything WAS on sale!