*Bragging Shopping Trip Picture* Commissary Shopping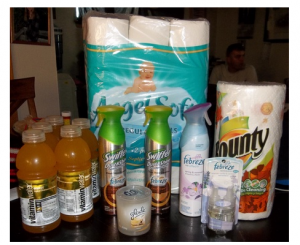 What do YOU think about this Shopping Trip?
Check Out MORE BRAG PICTURES
If you have a Awesome Shopping Trip Photo – please send it to [email protected]!
Thanks! Reader Rae
This is what she wrote
I am a Armywife so I do a lot of my shopping at the PX and Commissary but had to share this with you.
Glade Candle PX price 3.15 Price match to Walgreens $2.50
Swiffer Cleaning Spray 3.49 coupon Buy 1 Get 1 Free
Febreze Air Freshener Oil Refill pack 4.39 Coupon $1 off
Febreze Air Freshener Spray 2.59 Coupon $1.00 off
Plus an additional coupon for $2 off 2 Febreze products
Angel Soft Bath Tissue PX price 6.50 price match to Walmart 5.00
5 Bottles of Vitamin Water 1.49 Price match to Walmart $1.00 each
Bounty Paper towels $2.15 Coupon 25 cents off
Before coupons and price matches $33.21
After coupons and price matches: $20.87
Savings of $12.34
This is the 1st time I have really price matched and couponed at the PX. Not to bad….