*Brag Worthy Shopping Trip* 79% Savings At Target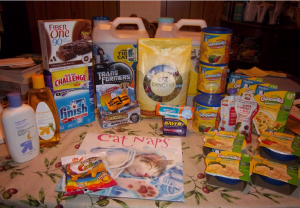 What do YOU think about this Shopping Trip?
Check Out MORE BRAG PICTURES
If you have a Awesome Shopping Trip Photo – please send it to [email protected]!
Thanks! Reader Brandi
This is what she wrote
This is my shopping trip. I think its my best so far. Thank you for all your help teaching me how to save money. I think I'm getting better at it now 🙂
My husband works at target so we get a 10% discount which is not very much, but every little bit helps.
Some stuff I bought was at regular price like the Up & Up baby bubble bath and shampoo. Also the calender and the gold fish were in the $1 section.
The Dog Food was $6.49 and I stacked the $4 coupon with the Target $1off any purina one dog food.
The Tidy Cat was $6.99 and I stacked with the $1off Tidy Cat cat sand, and a Target $2 off and Tidy Cat cat sand. I did that for both.
The Aquafresh toothpaste travel size was $.97. Free with the $1 off any size coupon.
The Bayer Asprin was free with the coupon that I won.
The Transformer toy was $8.99. Free after stacking the $5 off coupon with the Target Text coupon.
The Gerber Graduates Little Entrees were on sale for $1.83. Used $1off any one on 3.
The Gerber Graduates Little Crunchies were on sale for $1.97 each. I used 2 the $1 off any 2.
The Gerber Graduates Pasta Pick Ups were on sale for $1.27, Which I did not use a coupon for because I already used them last week 🙁
The Happy Squeeze, I used a coupon for buy one get one free.
The Finish Quantum was $2.99. I had a $1 off coupon for that.
The Fiber One Brownies were $2.50. I used a $.50 off coupon.
Then I also had $15 worth of free gift cards from previous purchases.
The Subtotal for everything was $74.55
After Coupons, Gift Cards, and My Husbands 10% off ~We paid $16.07~
Thank You BSD for helping me learn how to save money!