*HOT NEWS* New Coupon Show is coming to Cable in the Spring of 2012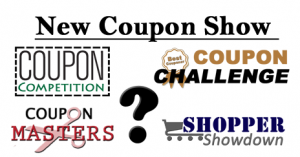 Move on over Extreme Couponing there is a NEW Coupon Show on the block 😉
Debuting for the first time in March or April of 2012
Couponers will have a certain time limit to shop, a large clock will be featured in the store and they have to be at the register waiting before the clock gets down to zero.
What the show is about:
 Shoppers MUST have a minimum retail purchase of $500 before coupons.
One item in your cart must not exceed 50% (in other words you can't buy 200 bottles of shampoo and then get 5 tubes of toothpaste and call it a night) or 70 bottles of mustard 😉
The show itself is a competition.
There will be 24 different couponers selected, some will be from Extreme Couponing, and others will be new. The couponers will 'compete' against each other in the hopes of getting to the finale episode.
So what happens to all the stuff the couponers buy? Well unlike Extreme Couponing, the couponers give EVERYTHING they purchase away to different charities located in their areas. The couponers are given around $500 to appear and compete in each episode, (just like Extreme Couponing). The finale will be at filmed at an undisclosed store.
Budget Savvy Diva will not be appearing on this show- I cannot disclose if I have been asked but let's just say this site is getting pretty well known 😉
So what do YOU think of this new show? Will YOU be watching ?
Thank you so much We Use Coupons for the picture and information