MOVIE REVIEW: 'War Horse'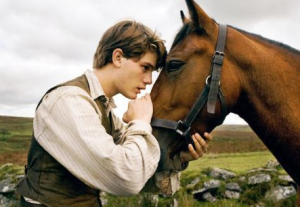 Y'all know that I have been waiting a couple of weeks to bring you this review – many of you recall that earlier this month I had the wonderful experience of going to New York and attending the War Horse Premiere and interviewing Emily Watson. You can read about all the experiences HERE.
  Here is the official synopsis:
From director Steven Spielberg comes "War Horse," an epic adventure for audiences of all ages. Set against a sweeping canvas of rural England and Europe during the First World War, "War Horse" begins with the remarkable friendship between a horse named Joey and a young man called Albert, who tames and trains him. When they are forcefully parted, the film follows the extraordinary journey of the horse as he moves through the war, changing and inspiring the lives of all those he meets—British cavalry, German soldiers, and a French farmer and his granddaughter—before the story reaches its emotional climax in the heart of No Man's Land.
The First World War is experienced through the journey of this horse—an odyssey of joy and sorrow, passionate friendship and high adventure. It now comes to screen in an epic adaptation by one of the great directors in film history.
What Budget Savvy Diva Thought Of The Film
You know that I am a very straight to the point kinda gal – so I will say I LOVED THIS FILM! There is so much emotion in this film – as the characters go through an emotion journey you feel like you do as well. It is a film that grips you right away and does not let you until the end. You start with a endearing story of Joey ( the horse) and Albert who's bond is powerful.  Even when they are not together ( which is most of the film) you know that somehow fate will bring them back together. The most powerful part of the film for me was No Man's Land – visually stunning and a very important role in the film. I do recommend when you see this film that you snag some tissues from your stockpile because there are some tear jerking moments 😉
Is This Film For Children
First off the film is rated PG -13 – the rating is because of war violence. I would say that parents know the level of intensity that their children can deal with. I would say it would be appropriate for 13 and above but if you have a child who can deal with more ( war like violence) then I would suggest this film.  It really is not one to be missed.
Film Opens Christmas Day!
Disney provided the trip to New York and experiences at no charge.  All thoughts and opinions are my own, and I did not receive any monetary compensation