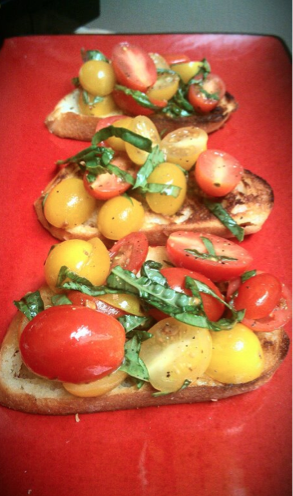 This recipe is OUT OF THIS WORLD.
After tasting it I thought to myself – "Wow – I made THIS!".  This recipe is simple, frugal; best of all can be made in advance ( well a couple hours anyways 😉 )  This is a great way to get your kiddies to eat their veggie OR serve at a dinner party. This recipe will be a crowd pleasure for sure.
What you need
For some reason the balsamic vinegar is not in the picture – actually it is because the vinegar was on the top shelf and I could not reach it so I had to wait till the hubby came home — true story 🙂
– Butter
– 2 cloves of garlic ( minced)
– 8 leaves of fresh basil
– Salt and Pepper
– 1 tablespoon Olive Oil
– 1 teaspoon Balsamic Vinegar
1/2 Pint of Grape Tomatoes
1/2 Pint Yellow Grape Tomatoes
–  8 slices French Loaf
What To Do:
Cut those Tomatoes! I did it lengthwise you can cut them into quarters if you like ( might help the tomatoes from sliding off the bread 😉 )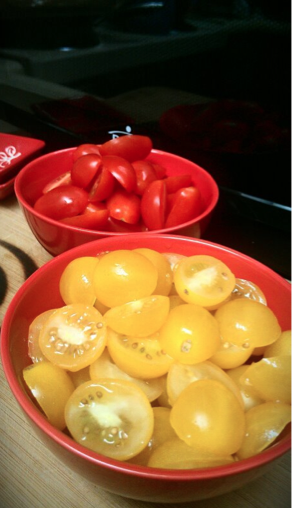 Place olive oil in pan and add minced garlic  – you want a nice golden brown color. Once you reached the perfect color place oil and garlic in a bowl.
Time to cut the basil – you will want to roll your basil – I put 4 basil leaves on top of each other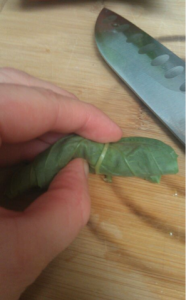 And slice – you will have these cut ribbons of basil!
Now it is time for everyone to join the party.
To the bowl of garlic and olive oil add your tomatoes, basil, pinch of salt and 1/4 teaspoon of pepper. Give it a good gentle mix.
Then add 1 teaspoon of balsamic vinegar and mix!
Place the bowl in the fridge for about 20 minutes – you want those flavors to marry 🙂
Next the bread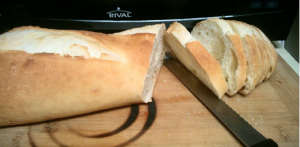 Butter each side of your 8 slices of bread and toast them in a pan. Until golden brown.
Place bread on plate and scoop up the tomato mixture on place on top and ENJOY!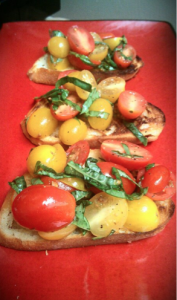 I personally ate this recipe on gluten free bread  — I did not post the picture of that bread because it was not as pretty 😉
Bruschetta
Ingredients
Butter
2 cloves of garlic ( minced)
8 leaves of fresh basil
Salt and Pepper
1 tablespoon Olive Oil
1 teaspoon Balsamic Vinegar
½ Pint of Grape Tomatoes
½ Pint Yellow Grape Tomatoes
8 slices French Loaf
Instructions
) Cut Tomatoes Lengthwise
) Add Olive Oil to Hot Pan and Cook Garlic Till Golden Brown.
) Place Oil and Garlic into Bowl.
) Cut Basil
) Add Basil, Tomatoes, Salt, Pepper, and Balsamic Vinegar to Garlic and Mix
) Place Mixture into the fridge for 20 minutes
) Butter and Toast Bread
) Assemble and Enjoy!
This recipe was inspired by The Pioneer Woman . However I changed the type of bread used and the amount of garlic 🙂