Inexpensive Valentine's Day Idea – Print Your Own Card

If you like this idea then PIN IT on Pinterest
With Valentine's Day in a week – this Budget Savvy Diva is trying to come up with ways to express her love to her hubby without spending to much money. What holiday is complete without a card.
I always hate spending an arm and a leg for a card so I decided to do a little search on the internet about printing out a free card and found Greetings Island – I just wanted to say that this is not a sponsored post – I was super surprised about how many different cards they had to choose from plus how user friendly it was. I created and printed my card in under 5 minutes. Take a look at it below: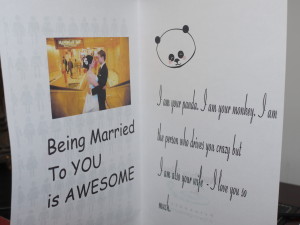 I love the fact that I could put in my own photos and that there were cute little clip art – panda – I was able to put into the card. I decided to put in my own message but there are many pre-written messages you can choose.Best of ALL is was FREE
So do YOU have any frugal plans for V-Day???