NEWSIES on Broadway – Interview with Steve Fickinger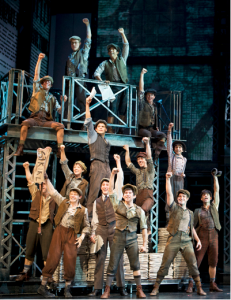 I grew up watching Newsies on VHS and have loved the story so when I heard that Newsies is coming to Broadway I became super excited.
A little bit about Newsies
Newsies, the breakout American musical, is opening in Broadway's Nederlander Theatre. Advance tickets go on sale starting Monday, January 30th; previews begin on March 15th and opening night of the show on Broadway is March 29th. NEWSIES is currently scheduled to run until June 10th. I am really hoping it will start touring and makes it way to Phoenix ( I would LOVE to see it!)
Newsies is inspired by the real-life 'Newsboy Strike of 1899,' when newsboy Kid Blink led a band of orphan and runaway newsies on a two-week-long action against Pulitzer, Hearst and other powerful newspaper publishers.
The musical features a score by eight-time Academy Award® winner Alan Menken (Beauty and the Beast, Aladdin, Sister Act) and Jack Feldman and a book by four-time Tony® Award winner Harvey Fierstein (La Cage aux Folles, Torch Song Trilogy). It is produced by Disney Theatrical Productions, is directed by Tony nominee Jeff Calhoun (Big River revival) and choreographed by Tony nominee Christopher Gattelli (South Pacific revival). What a line-up!
—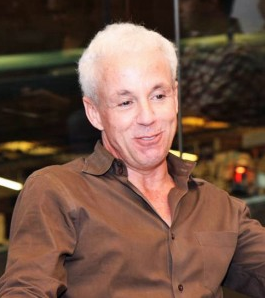 While I was in New York on my Disney Media Trip I has the great privilege of interviewing Steve Fickinger, VP of Creative Development and Licensing for NEWSIES on Broadway.
Steve:
"Well, I am thrilled to talk to you all about Newsies for a couple reasons.  First of all, I love the show, and second of all, I've been working on it for seven years…I would tell you, this is my job in a nutshell, is if somebody says, Newsies, let's make it a stage musical, my job is to get the writer, the lyricist, the composer, spend that period for "X" amount of time, which can be "XYZ" amount of time, uh, with doing readings, drafts, notes, workshops, and then we do the first production to actually get the director, choreographer, set designer, etcetera."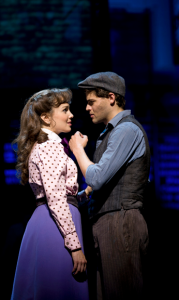 Steve:
"Well, as you might know, oddly in the film failed.  Failed, failed.  I think it made maybe three million bucks…But it developed this cult following on home video…And when I came to this particular job that I currently occupy, um, and was told, you know, maybe Newsies and musical on stage, uh, it is, we keep track of such things.  When people ask to do shows at their school, at their local dinner theater, at their performing arts center, uh, there are, two shows are neck in neck with the most requested titles. One is Newsies, number one requested."
Steve:
"We're getting ready to open officially on March 29th, and we have announced a limited run. Anything could happen.I think we're thinking that if things do extend, we'd love to play through the summer. Of course I want it to go on and be a success, but here's what I really want. I want however long it's open, be it ten weeks, twenty weeks, thirty weeks, I want it to be great."
—
Make sure to follow Newsies on Facebook
Disclosure: This interview was part of my New York Disney Media Trip – the trip was fully expense paid but all thoughts and opinions are my own