This is a really quick and easy way to whip up some delicious, outstanding biscuits that will quickly become a favorite around the house for meal time and snacks during the day.  The secret weapon for this biscuit recipe is Bisquick.  It makes this recipe super easy.  But it's 7Up that adds a special zip to these biscuits that makes them the best tasting biscuits you will ever have.  Here's how to make my delicious 7Up Biscuits so you can wow your family and friends: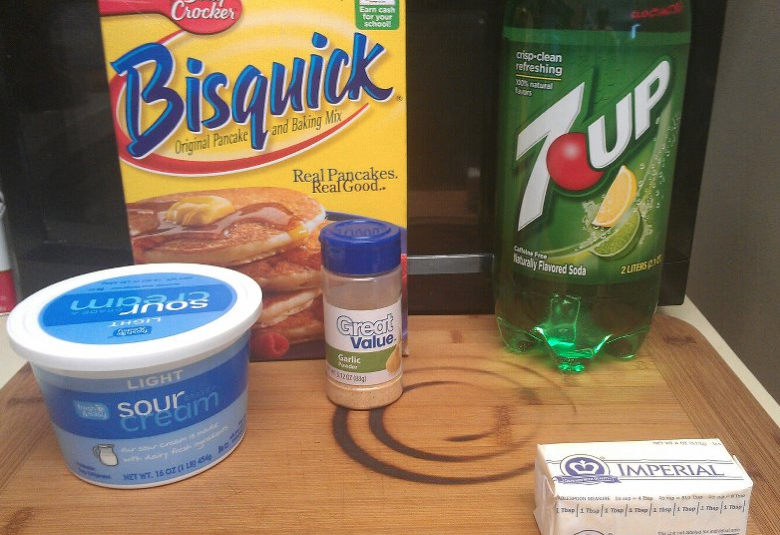 If you like this recipe then PIN IT on Pinterest
Everyday at 5 pm PST/ 8 pm EST Budget Savvy Diva posts a NEW RECIPE 🙂
Make sure to follow Budget Savvy Divaon Facebook 🙂
Find Copy Cat Restaurant Recipes HERE
Get Crock Pot Recipes HERE
Find Gluten Free Recipes HERE
…more Recipes HERE
These.Biscuits.Are.Addicting. 
If you make these your family will gobble them up faster than you can make them – but they are so simple to make you can whip them up in a flash! This is a recipe that I learned as a child, so anyone can do it.  The biscuits are so light from the soda with a little tang from the sour cream – perfect combination 😉
Enjoy 🙂
What You Need
2 cups Bisquick
1/2 cup 7-up
1/2 cup sour cream
1/4 cup melted butter ( or margarine)
1/2 Teaspoon of Garlic Powder
What To Do
Preheat Oven To 450
Mix sour cream and Bisquick together, then add 7UP.
It should look like this: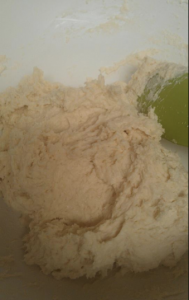 On a flat surface cover with a small amount of Bisquick and pat the dough out.
It should look like this: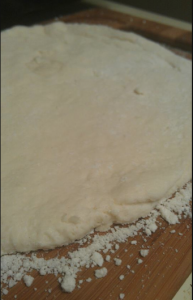 Then cut the dough into 9 equal pieces.
Place half of the melted butter into a 9×9 inch pan. Then, place biscuits on top of the melted butter. Drizzle the rest of the butter on top of the biscuits so you can  finish with a sprinkle of the garlic powder to stick to the top of each biscuit.
Bake for about 15 minutes, or until golden brown.
Enjoy 🙂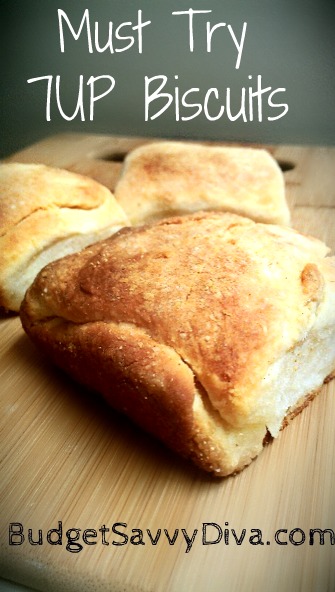 7UP Biscuits
These biscuits are VERY addicting. So be prepared to make multiple batches
Ingredients
2 cups Bisquick
½ cup 7-up
½ cup sour cream
¼ cup melted butter ( or margarine)
½ Teaspoon of Garlic Powder
Instructions
Preheat Oven To 450
Mix sour cream and Bisquick together, then add 7UP.
On a flat surface cover with a small amount of Bisquick and pat the dough out.
Cut the dough into 9 equal pieces.
Place half of the melted butter into a 9x9 inch pan. Place biscuits on top of the melted butter. Drizzle the rest of the butter on top of the biscuits and finish with a sprinkle the garlic powder on each biscuit.
Bake till golden brown - 15 minutes.
Enjoy 🙂