Copy Cat Recipe: Red Lobsters Cheddar Bay Biscuits
If you like this recipe then PIN IT on Pinterest
Everyday at 5 pm PST/ 8 pm EST Budget Savvy Diva posts a NEW RECIPE 🙂
Make sure to follow Budget Savvy Diva on Facebook 🙂
Find Copy Cat Restaurant Recipes HERE
Find Crock Pot Recipes HERE
Find Gluten Free Recipes HERE
Find more Recipes HERE
I cannot count how many times my husband has begged for me to make this recipe. So here it is – I do not suggest you eat 7 of them in one sitting like my husband did… Sigh…
What You Need
2 cups Bisquick
2/3 cup milk 2/3 cup shredded cheddar cheese
6 tablespoons butter ½ teaspoon garlic powder ¼ teaspoon Old Bay Seasoning
Salt
1/4 Cup of Sour Cream
1/4 Cup of Parmesan Cheese
What To Do
Preheat Oven to 450
In a Medium Size Bowl mix the following: milk, Parmesan cheese, sour cream, cheddar cheese, bay seasoning, Bisquick, garlic powder.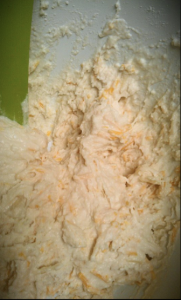 I used an ice cream scoop and portioned 15 biscuits onto a cookie sheet ( I used parchment paper).
Cook biscuits for 8 minutes or so.
Melt butter ( I used the microwave) – brush melted butter on each biscuit and sprinkle a little salt. Place biscuits BACK into the oven to bake for 2 more minute.
Enjoy 🙂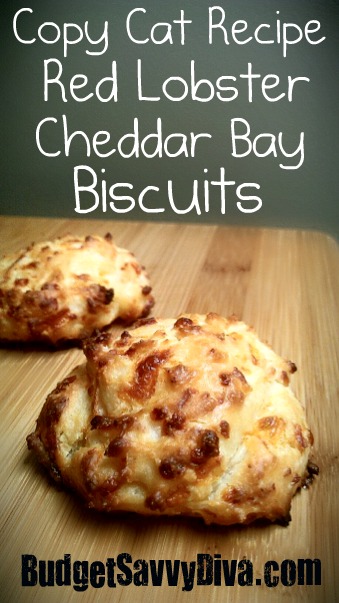 Red Lobsters Cheddar Bay Biscuits
This recipe is a variation of Red Lobsters "Cheddar Bay biscuits" - Actually my husband says they taste BETTER!
Ingredients
2 cups Bisquick
⅔ cup milk
⅔ cup shredded cheddar cheese
6 tablespoons butter
½ teaspoon garlic powder
¼ teaspoon Old Bay Seasoning
Salt
¼ Cup of Sour Cream
¼ Cup of Parmesan Cheese
Instructions
Preheat Oven to 450
In a Medium Size Bowl mix the following: milk, Parmesan cheese, sour cream, cheddar cheese, bay seasoning, Bisquick, garlic powder.
I used an ice cream scoop and portioned 15 biscuits onto a cookie sheet ( I used parchment paper).
Cook biscuits for 8 minutes or so.
Melt butter ( I used the microwave) - brush melted butter on each biscuit and sprinkle a little salt. Place biscuits BACK into the oven to bake for 2 more minute.
Enjoy 🙂
This recipe was adapted from Food.com