Crock Pot Vegetable Soup Recipe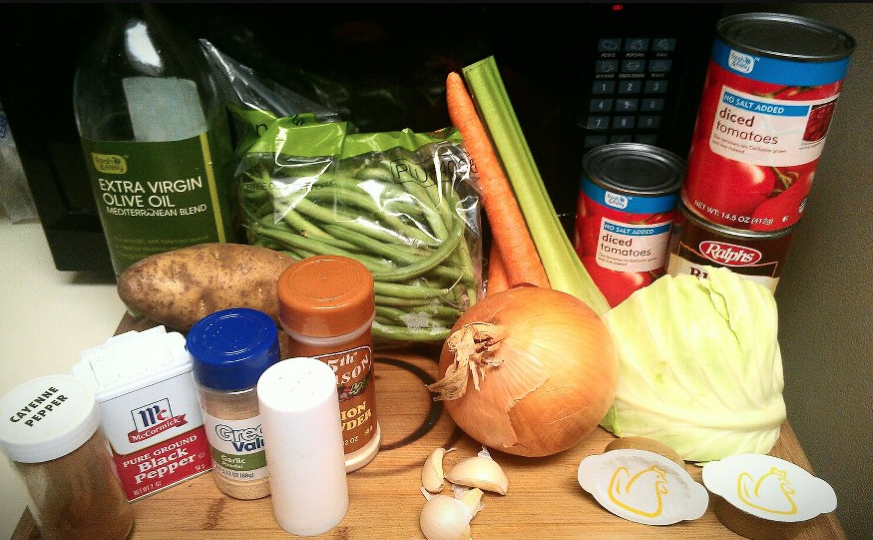 If you like this recipe then PIN IT on Pinterest
Everyday at 5 pm PST/ 8 pm EST Budget Savvy Diva posts a NEW RECIPE 🙂
Make sure to follow Budget Savvy Diva on Facebook 🙂
Find Copy Cat Restaurant Recipes HERE
Find Crock Pot Recipes HERE
Find Gluten Free Recipes HERE
Find more Recipes HERE
This is the best vegetable soup I have ever had – hands down. It is the kind of soup that really warms you up. Simply pair it with a salad and you have a meal 🙂
What You Need
2 (14 ounce) cans diced tomatoes (undrained)
1 large onion (chopped)
4 garlic cloves (pressed)
2 tablespoons olive oil (divided)
2 large carrots (chopped)
1/2 Teaspoon of Garlic Powder
1/2 Teaspoon of Onion Powder
2 small celery ribs (chopped)
Can of Black Beans ( drained)
2 cups green beans (cut in 1-inch pieces)
6 cups chicken broth (or vegetable broth)
¼ head cabbage (chopped)
pinch of salt
1 teaspoon of pepper
pinch of Cayenne Pepper
2 small russet potatoes (peeled and chopped)
Parmesan Cheese ( garnish)
What To Do
Heat 1 tablespoon of oil in a skillet and add onion – cook till tender ( 8 minutes) then add garlic and cook for one minute.
Add rest of vegetables to the skillet ( also add all seasoning at this time)  except ( tomatoes and black beans) + drizzle 1 tablespoon of oil.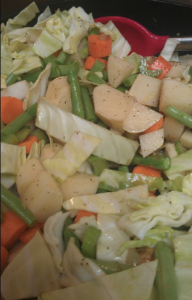 Cook for about 5 minutes – this step REALLY helps enhance the flavor.
Add veggies, tomatoes, black beans, and broth into the crock pot
Cook on low for 7- 8 hours. Garnish with cheese if you like
Enjoy 🙂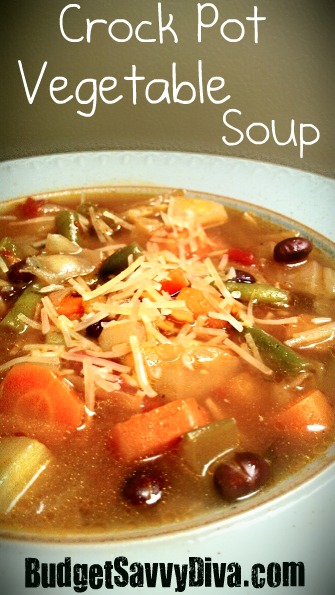 Crock Pot Vegetable Soup
This is the BEST Vegetable Soup
Ingredients
2 (14 ounce) cans diced tomatoes (undrained)
1 large onion (chopped)
4 garlic cloves (pressed)
2 tablespoons olive oil (divided)
½ Teaspoon of Garlic Powder
½ Teaspoon of Onion Powder
2 large carrots (chopped)
2 small celery ribs (chopped)
Can of Black Beans ( drained)
2 cups green beans (cut in 1-inch pieces)
6 cups chicken broth (or vegetable broth)
¼ head cabbage (chopped)
pinch of salt
1 teaspoon of pepper
pinch of Cayenne Pepper
2 small russet potatoes (peeled and chopped)
Instructions
Heat 1 tablespoon of oil in a skillet and add onion - cook till tender ( 8 minutes) then add garlic and cook for one minute.
Add rest of vegetables to the skillet ( also add all seasoning at this time) except ( tomatoes and black beans) + drizzle 1 tablespoon of oil.
Cook for about 5 minutes - this step REALLY helps enhance the flavor.
Add veggies, tomatoes, black beans, and broth into the crock pot
Cook on low for 7- 8 hours.
Enjoy 🙂
This recipe is adapted from HERE