Easy Hash brown Soup Recipe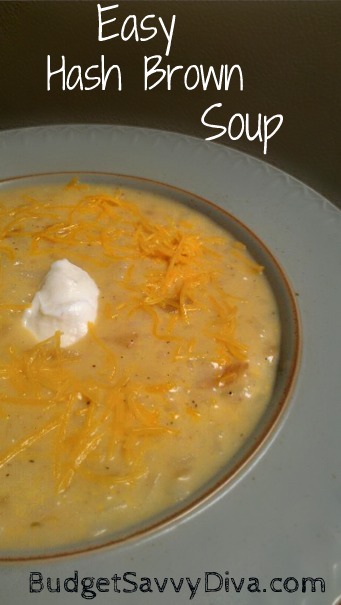 If you like this recipe then PIN IT on Pinterest

This soup is SOOO delicious… If you like cheese and you like potatoes than this recipes is for you.
Everyday at 5 pm PST/ 8 pm EST Budget Savvy Diva posts a NEW RECIPE 🙂
Make sure to follow Budget Savvy Diva on Facebook 🙂
Find Copy Cat Restaurant Recipes HERE
Find Crock Pot Recipes HERE
Find Gluten Free Recipes HERE
Find more Recipes HERE
What You Need
1 onion , chopped
1 tablespoon butter
3 (14 ounce) cans chicken broth
1 (32 ounce) bag frozen hash browns
1 can cream of celery soup
1 can cream of chicken soup
1 1/2 cups milk
8 oz of cheddar cheese
1/2 teaspoon of pepper
Sprinkle of Cayenne Pepper
Sour cream ( optional)
What To Do
In a medium size skillet melt butter and cook onions till browned.
In a large stockpot – place onions, chicken broth and bring to a boil.
Add Hashbrowns  -bring back to a boil.
Add soups, milk, seasoning – bring back to a boil.
Add 6 oz of cheese and mix till cheese is melted.
Garnish is remaining cheese and sour cream
Enjoy 🙂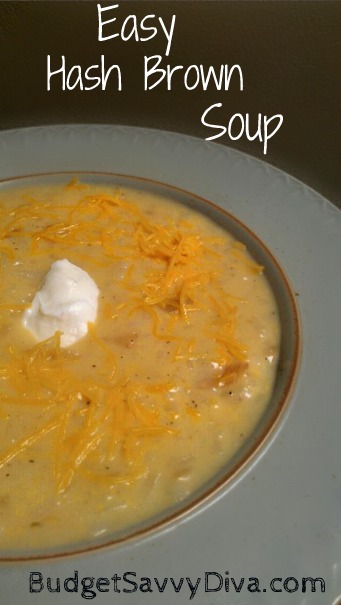 Easy Hash brown Soup
If you like potatoes and cheese than this soup is for you 🙂
Ingredients
1 onion , chopped
1 tablespoon butter
3 (14 ounce) cans chicken broth
1 (32 ounce) bag frozen hash browns
1 can cream of celery soup
1 can cream of chicken soup
1½ cups milk
8 oz of cheddar cheese
½ teaspoon of pepper
Sprinkle of Cayenne Pepper
Sour cream ( optional)
Instructions
In a medium size skillet melt butter and cook onions till browned.
In a large stockpot - place onions, chicken broth and bring to a boil.
Add Hashbrowns -bring back to a boil.
Add soups, milk, seasoning - bring back to a boil.
Add 6 oz of cheese and mix till cheese is melted.
Garnish is remaining cheese and sour cream
Enjoy 🙂
Recipe adapted from Food.com