Copy Cat Recipe Cracker Barrel Hash Brown Casserole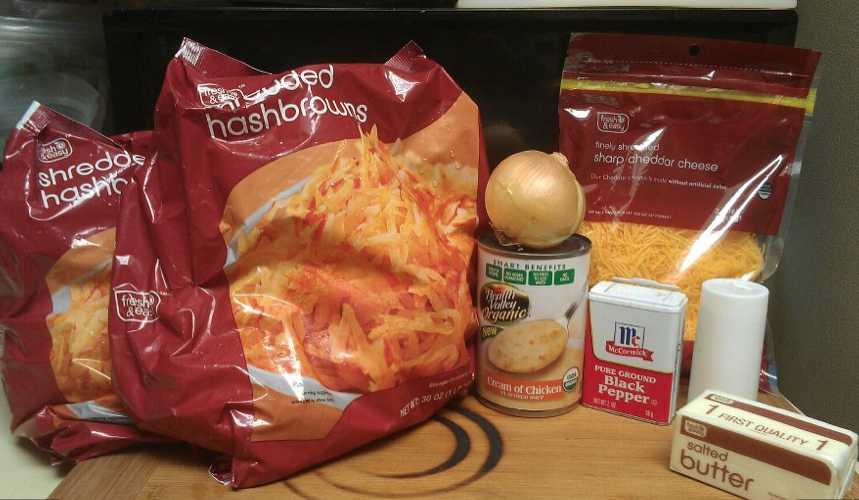 If you like this recipe then PIN IT on Pinterest
Make sure to follow Budget Savvy Diva on Facebook  🙂
Find more Copy Cat Recipes HERE
Find more Recipes HERE
Make sure to check out how to make Cracker Barrel's Fried Apples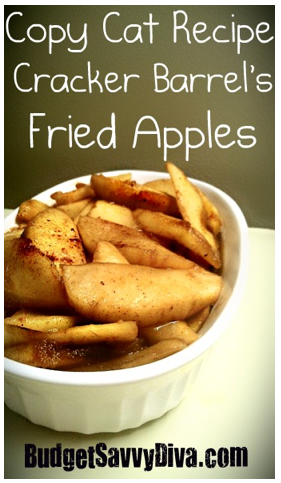 Any other Cracker Barrel fans here?
Well the Savvy family is 🙂 Mr.Savvy especially loves the hash brown casserole – but going to the restaurant can put a nice dent in our pockets so I was determined to find a copy cat recipe I could make at home for a fraction of the cost. I developed this one over the last couple years and I have to say it taste pretty good. I just want to note that the casserole at Cracker Barrel is not gluten free ( I fixed this by using gluten free cream of chicken soup).
Now I did a lot of research for this recipe – one big mistake when people try and make this recipe is that they use sour cream – Cracker Barrel does NOT use sour cream.
What you need
1 stick of butter
2 pounds of hash browns ( defrosted it frozen)
1 small onion chopped
salt and pepper
1 tablespoon of Olive Oil
2 cups of cheddar cheese ( You can also you 1 cup of cheese and use one cup of Velveeta)
1 can of cream of chicken soup ( 10 3/4 ounces)
What To Do
Preheat oven to 350 – oil or butter a 9×13 pan and chop onions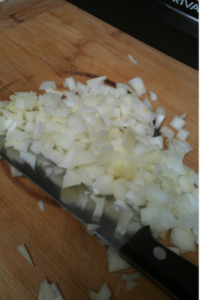 Melt butter in hot skillet then add onions. Once the onions are browning add the defrosted hash browns and add oil
Cook until the hash is browning and tender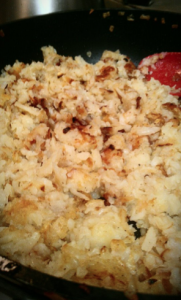 Next take a large bowl and mix cheese and soup together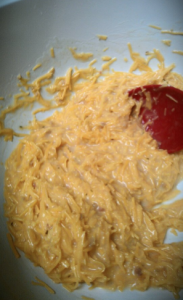 Place the hash browns in the large bowl with the cheese and mix
Place mixture into 9×13 pan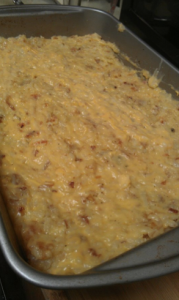 Pop the pan in the oven for 30 minutes or until golden brown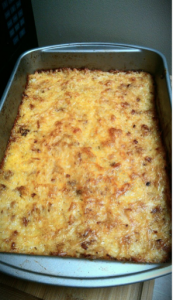 Enjoy!
Finished Product 🙂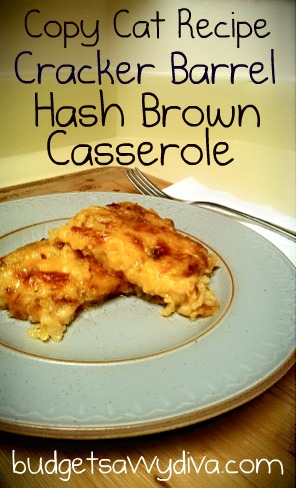 Copy Cat Recipe Cracker Barrel - Hash Brown Casserole
Taste just like Cracker Barrel's Hash Brown Casserole
Ingredients
1 stick of butter
2 pounds of hash browns ( defrosted it frozen)
1 small onion chopped
salt and pepper
1 tablespoon of Olive Oil
2 cups of cheddar cheese ( You can also you 1 cup of cheese and use one cup of Velveeta)
1 can of cream of chicken soup ( 10¾ ounces)
Instructions
Preheat oven to 350 - oil or butter a 9x13 pan and chop onions
Melt butter in hot skillet then add onions. Once the onions are browning add the defrosted hash browns and add oil.
Cook until the hash is browning and tender.
Next take a large bowl and mix cheese and soup together.
Place the hash browns in the large bowl with the cheese and mix.
Place mixture into 9x13 pan .
Pop the pan in the oven for 30 minutes or until golden brown.
Enjoy 🙂