Cracker Barrel Peach Cobbler Recipe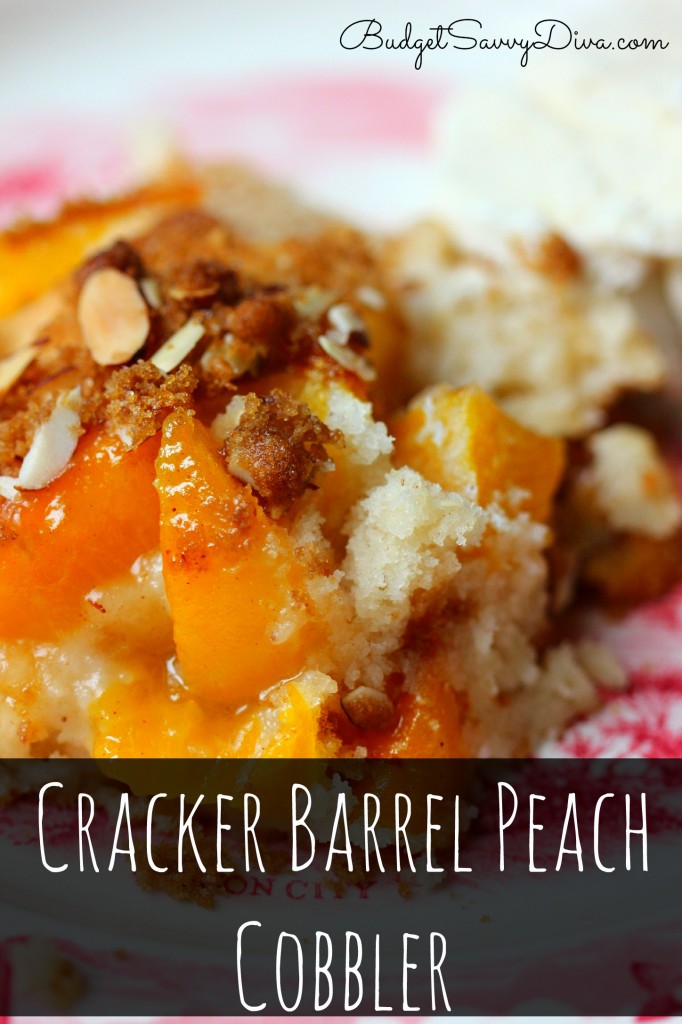 Make sure to repin this recipe 🙂
Have you ever had a  Cracker Barrel Peach Cobbler?  It used to be a treat I would love to have — so simple and yummy and was paired with  a perfect scoop of ice cream
Simple desserts are so lovely and something that I strive to master -but what I love about the Cracker Barrel Peach Cobbler recipe is that it is SO inexpensive! Seriously the final cost of this Cracker Barrel Copycat recipe was around $5.00 for 6 servings ( that is under $1 per serving) for less than the Cracker Barrel Peach Cobbler you'll have in the restaurant!
I love Cracker Barrel but I want to save money eating out too. Solution –
Cracker Barrel Copycat Recipe
here are a few favorite Cracker Barrel recipes we have made in the past
Cracker Barrel Broccoli Cheddar Chicken Recipe
Copy Cat Recipe – Cracker Barrel Biscuits
Copy Cat Recipe – Cracker Barrel's Fried Apples
Copy Cat Recipe Cracker Barrel Hash Brown Casserole
Cracker Barrel Macaroni and Cheese Recipe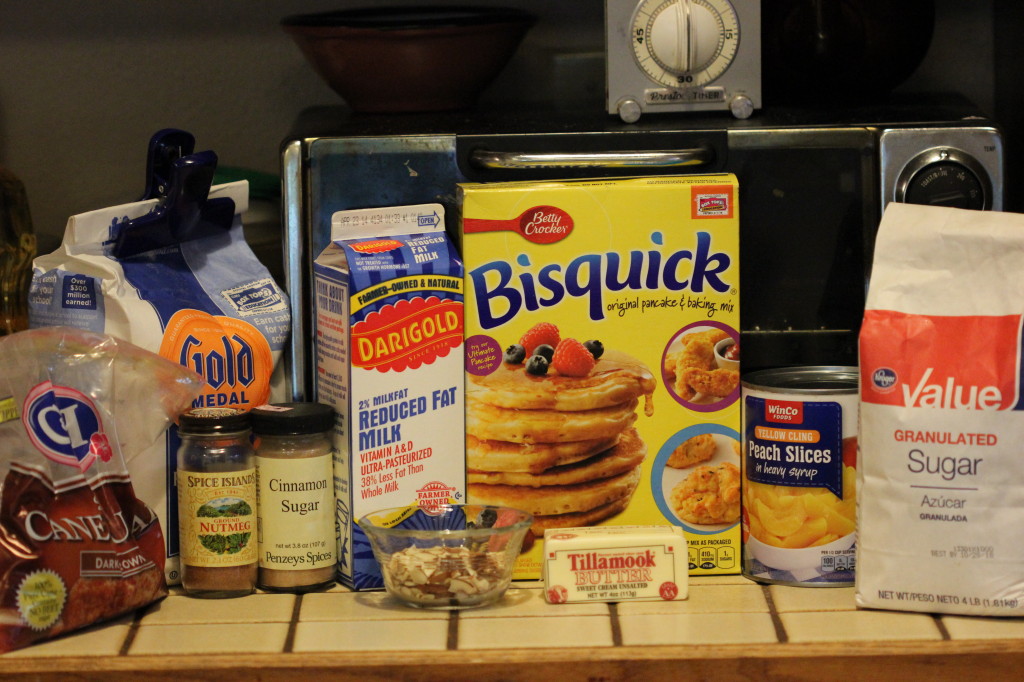 As you can see almost everything in this recipe you will already have in your cupboard — to make this recipe gluten – free use gluten free bisquick and gluten free flour ( both easily found at your local grocery store or even Walmart)
The cracker barrel peach cobbler takes only about 1 hour to make 🙂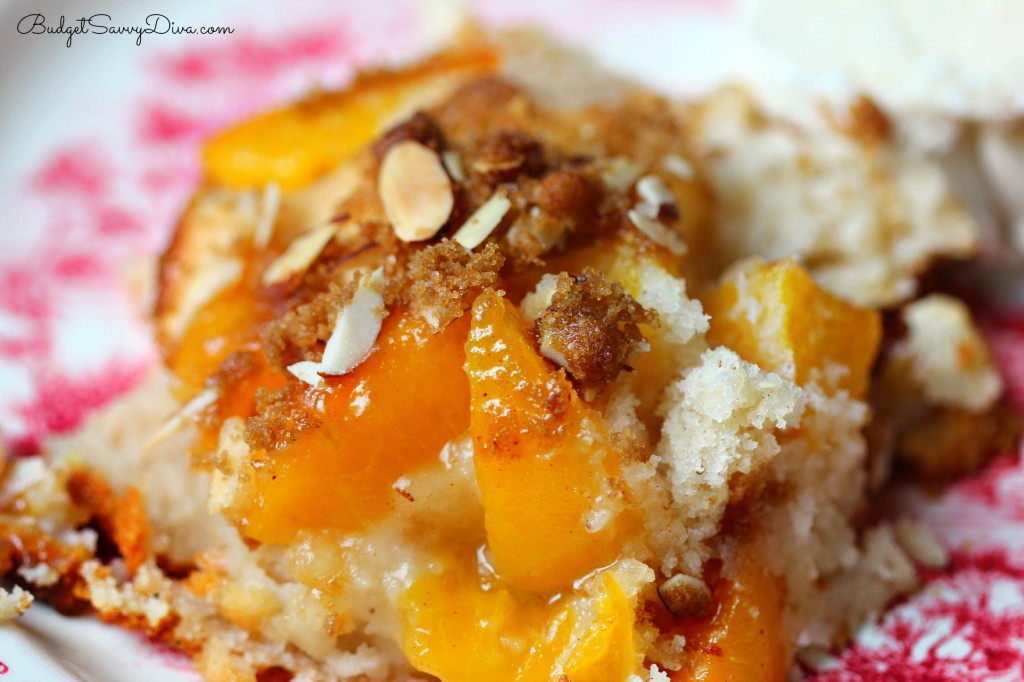 I think my favorite part about this Cracker Barrel Copycat recipe is the toasted almond brown sugar topping ( they always add those over the top touches that make Cracker barrel food taste so great)   My whole family loved the dessert – it was one of the easiest desserts to make
If you can make a cake from a box you can make this recipe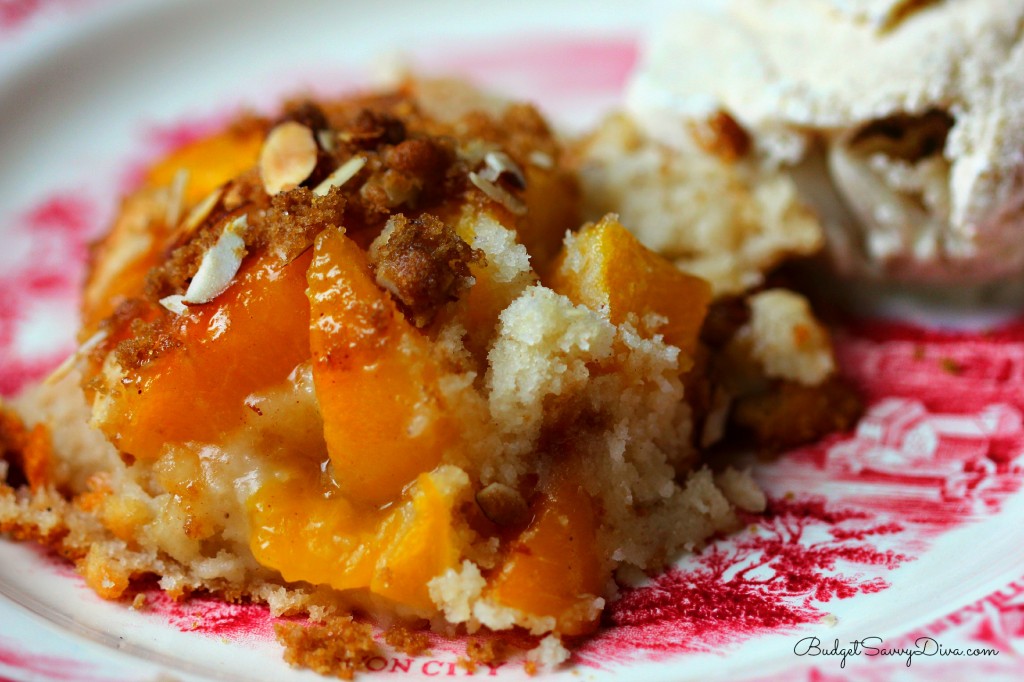 I hope you make this Cracker Barrel Peach Cobbler and make sure to comment and let us know what you think about it 🙂
Love You Guys!
Cracker Barrel Peach Cobbler Recipe
Ingredients
Batter
1¼ cup Bisquick
1 cup milk
½ cup melted butter
¼ teaspoon nutmeg
½ teaspoon cinnamon
Filling
30 Oz of Peaches in Syrup - drain
¼ Cup of Sugar
Topping
½ Cup of Brown Sugar
¼ Cup of almond slices
½ teaspoon of cinnamon
1 Tablespoon of Butter - Melted
Instructions
Preheat oven to 375 and grease a 8x8 pan
Whisk all the batter ingredients together - pour into pan
Mix filling together and lightly put on top of the batter - bake for 45 minutes
Mix all the topping ingredients together in a bowl - and sprinkle on top of the cobbler after it has cooked for 45 minutes
Bake for another 10 minutes
Enjoy with vanilla bean ice cream
Recipe is adapted from HERE