Restaurant Style Garlic French Fries Recipe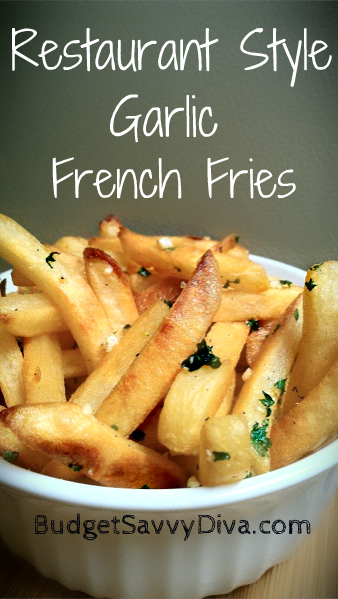 If you like this recipe then PIN IT on Pinterest

Oh, how do I love french fries. Especially the garlic french fries they serve up in restaurants. My husband who is not a fan of raw garlic devour these fries like they were going out of style. Recipe only takes 20 minutes to make and will be a HIT with the family 😉 Gluten – Free ( make sure to read all ingredients though) .

Everyday at 5 pm PST/ 8 pm EST Budget Savvy Diva posts a NEW RECIPE 🙂
Make sure to follow Budget Savvy Diva on Facebook 🙂
Find Copy Cat Restaurant Recipes HERE
Find Crock Pot Recipes HERE
Find Gluten Free Recipes HERE
Find more Recipes HERE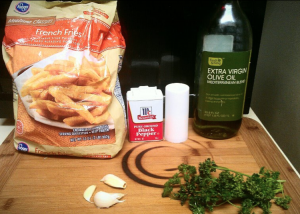 What You Need
1 lb frozen french fries1 tablespoon olive oil2 teaspoons finely minced garlic2 teaspoons finely minced parsley¼ teaspoon black pepper
Sprinkle of  salt
What To Do
Bake fries as directed on packaging.
While the fries are baking combine the rest of the ingredients together.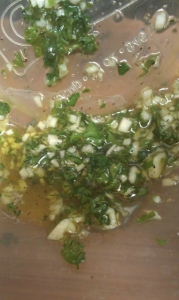 Once the fries are done cooking combine fries and mixture together ( you might need to add more salt ( just your personal preference)) .
Enjoy 🙂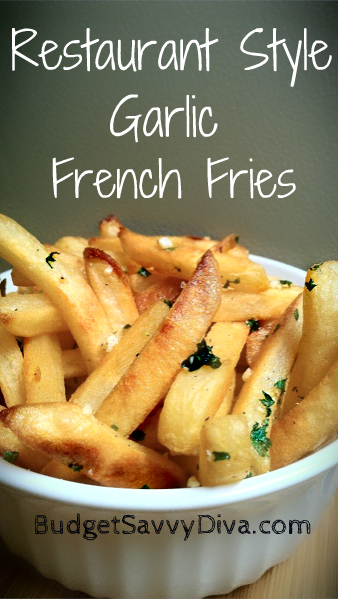 Restaurant Style Garlic French Fries
Easy to make and tastes just like they are from a restaurant
Ingredients
1 lb frozen french fries
1 tablespoon olive oil
2 teaspoons finely minced garlic
2 teaspoons finely minced parsley
¼ teaspoon black pepper
Sprinkle of salt
Instructions
Bake fries as directed on packaging.
While the fries are baking combine the rest of the ingredients together.
Once the fries are done cooking combine fries and mixture together ( you might need to add more salt ( just your personal preference)) .
Enjoy 🙂
Recipe is from HERE