Best and Worst Dollar Store Buys – MUST READ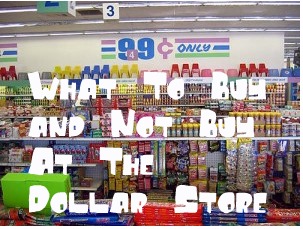 If you like this post – Pin It on Pinterest
So if you follow Budget Savvy Diva on Facebook then you would know that I LOVE shopping at the 99 cent store – usually spending more then I intend to. It got me to thinking what are deals and what are busts at your local discount store. So I decide to put together a post what are smart buys and what should you avoid – any input is awesome 🙂 Enjoy!
Deals:
Party Supplies: I went to the 99 cent store for my bridal showers goodies ♥ For instance, foil balloons easily run from $3 to $8 a pop at party-supply stores, gift shops and supermarkets. But you can get them for $1 each. 🙂
Clean Supplies: I have been buying cleaning supplies for years from the .99 cent store – though some of the names are pretty funny like ( piney sol ) but still a pretty awesome deal. For everyday cleaning, they should do the trick. You can also get a good deal on rubber gloves, sponges, and scrub brushes too.
Greeting Cards: I have in the past scored some pretty good greeting cards – I always like to have some Happy B-days and Thank You cards on hand – it is much better to pay the high amount for Hallmark. Greeting cards are nice, but are they really worth $4? We think it's the thought or sentiment that counts, not what you spend.
Seasonal or holiday items: I have been getting seasonal items from the .99 cent store for years – I make sure to try and treat them well so I can use them year after year ♥ Whether you need to stuff Easter baskets or Valentine's day boxes, or you simply want to deck the halls for your favorite holiday, you might save a few bucks at the dollar store. But be careful there are some items that well….look cheap.
Pregnancy Test: Well I have not personally bought myself this product – but I know the price point at your local drug stores. Babies are expensive from the very beginning. The cheapest pregnancy test at Budget Savvy Diva's local Walgreens cost $8. But you can get one at the dollar store for a buck. Both are 99% effective, both test for hormone levels with similar sensitivity.
Gift Wrapping Supplies – You do have to be careful on how may square feet of wrapping paper – I personally use newspaper for wrapping paper – I mean it is going to be throw away anyways 🙂 Gift bags cost up to $5 at other stores, depending on size. But at the dollar store, all sizes are $1. Budget Savvy Diva found huge savings on tissue paper, up to 75% off prices elsewhere. And don't forget the Scotch tape!
Cooking : Budget Savvy Diva has found spoons, spatulas, cheese graters, ice cream scoops and more at the dollar store for 50% to 90% off the prices at Target and Walmart. We also spotted wine glasses, dining plates and flatware for less.
Refrigerator Goodies: Now I do not know if this is across the board but I almost find eggs and expensive yogurts at the 99 cent store –
NO DEAL
Vitamins – This one is pretty clear. Though the price might seem like a steal – dollar-store multi-vitamins didn't always have the amount of nutrients claimed on the label.
Basic School Supplies – Though a dollar might not seem to bad – things like crayons or paper is much cheaper during the back to school sales at other stores. So think ahead during August – September and determine what you will need for the whole school year and not simply for the beginning.
Medication:
Consumer Reports warns that aspirin and other medications may be left on the shelf past their expiration dates. It also points out that some labels may not say where the medicine was manufactured.
Toys –
Yes I know that $1.00 might seem a good deal for toys – but the quality of them – well is sub par at best. Baby toys should generally be avoided because they will go directly into the mouth, and dollar-store toys may have unsafe levels of lead and phthalates.
Canned food and other pantry items –
I can almost always get a better deal without a coupon at another store – I mean .99 cents for a can of green beans – pshhh no way! Dollar-store cake and brownie mixes come in smaller packages so watch the unit price – also check the date on these items – expired goods are no good 🙁
Batteries –
If you ever bought batteries from the dollar store you will notice that they do not last as long. Plus some of the electronics are mis – marked and could be unsafe.
——–
So have fun shopping 🙂 I hope you were able to get some helpful hints and tips to buy better at the dollar store 🙂