Cheesy Potato Skin Pizza Recipe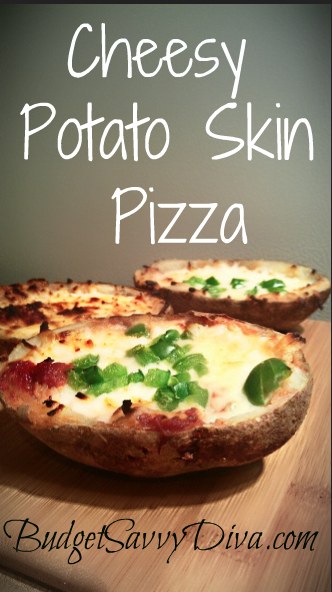 Make sure to PIN This Recipe or Repin 🙂

Gluten – Free. Very kid – friendly. Everyone can make their own pizza.

Everyday at 1 pm PST/ 4pm EST Budget Savvy Diva posts a NEW RECIPE 🙂 I might miss this time every now or then – but I know you understand
Make sure to follow Budget Savvy Diva on Facebook 🙂
Find Copy Cat Restaurant Recipes HERE
Find Crock Pot Recipes HERE
Find Gluten Free Recipes HERE
Find more Recipes HERE
What You Need
Ingredients

6 medium-size russet baking potatoes
Salt and pepper
pizza sauce

red pepper flakes
Grated Parmesan cheese
Grated mozzarella
Olive Oil
What To Do

Preheat oven to 400. Bake them in the oven or crock pot till tender. Cut the potatoes lengthwise. Scoop out the flesh ( I use them for mashed potatoes) so you have the potato skins left.

Now place a good spoonful of pizza sauce

Fill in with cheese ( tons of mozzarella and a little bit of  Parmesan   )  🙂

Now top with any toppings you want 🙂 I chose red pepper flakes and green peppers.
Bake for 15 minutes ( cheese should be melted ) and enjoy 🙂
Cheesy Potato Skin Pizza Recipe
Ingredients
6 medium-size russet baking potatoes
Salt and pepper
pizza sauce
red pepper flakes
Grated Parmesan cheese
Grated mozzarella
Olive Oil
Instructions
Preheat oven to 400. Bake them in the oven or crock pot till tender. Cut the potatoes lengthwise. Scoop out the flesh ( I use them for mashed potatoes) so you have the potato skins left.
Now place a good spoonful of pizza sauce
Fill in with cheese 🙂 ( tons of mozzarella and a little bit of Parmesan )
Now top with any toppings you want 🙂 I chose red pepper flakes and green peppers.
Bake for 15 minutes ( cheese should be melted ) and enjoy 🙂
Recipe is adapted from HERE