Copy Cat Recipe: Domino's Cinna Sticks Recipe

If you like this recipe then PIN IT on Pinterest

This copy cat recipe is SPOT ON – no need to do take out this recipe is easy to make and ready to eat in about 15 minutes.

Everyday at 5 pm PST/ 8 pm EST Budget Savvy Diva posts a NEW RECIPE 🙂
Make sure to follow Budget Savvy Diva on Facebook 🙂
Find Copy Cat Restaurant Recipes HERE
Find Crock Pot Recipes HERE
Find Gluten Free Recipes HERE
Find more Recipes HERE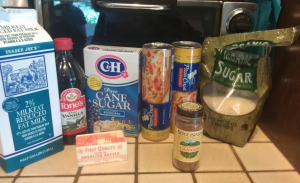 What You Need
***Sticks***
2 package Pillsbury Pizza Crust
1/4 cup melted butter
1/2 cup sugar
2 teaspoons cinnamon
***Icing***
1 pound powdered sugar
Milk
1 tablespoon melted butter
1/4 teaspoon vanilla extract
What To Do
Preheat Oven to 350.
Roll out pizza dough and brush melted butter on dough.
Combine sugar and cinnamon into a small bowl and mix. Sprinkle over the pizza dough.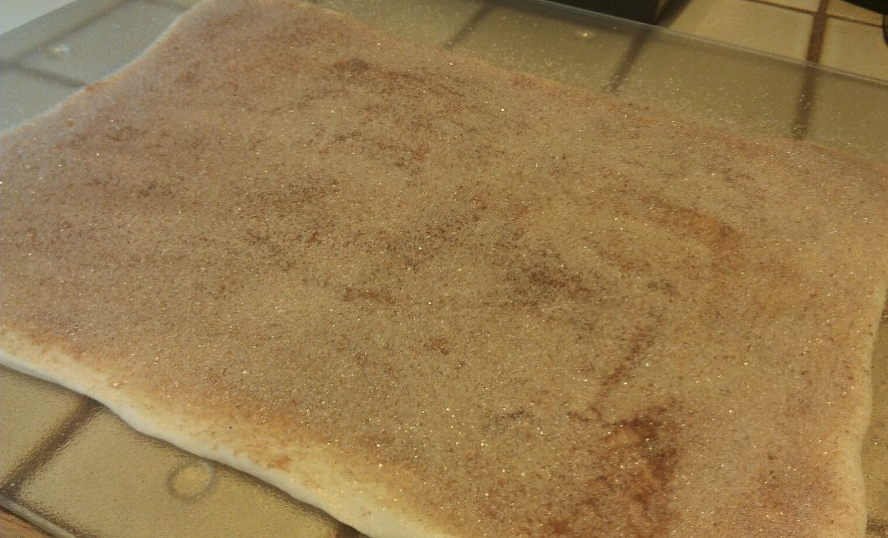 Slice the dough into  small sticks. Place sticks onto cookie sheet with parchment paper.
Bake for about 8 – 10 minutes.
While cooking add powdered sugar, vanilla, butter together in a medium size bowl. Slowly add milk until you achieve a glaze mixture.
Serve and enjoy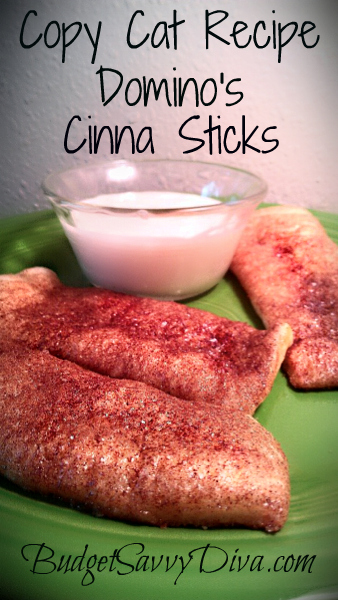 Copy Cat Recipe- Domino's Cinna Sticks
Ingredients
***Sticks***
2 package Pillsbury Pizza Crust
¼ cup melted butter
½ cup sugar
2 teaspoons cinnamon
***Icing***
1 pound powdered sugar
Milk
1 tablespoon melted butter
¼ teaspoon vanilla extract
Instructions
Preheat Oven to 350.
Roll out pizza dough and brush melted butter on dough.
Combine sugar and cinnamon into a small bowl and mix. Sprinkle over the pizza dough.
[Screen Shot 2012-04-10 at 4.59.37 PM]
Slice the dough into small sticks. Place sticks onto cookie sheet with parchment paper.
Bake for about 8 - 10 minutes.
While cooking add powdered sugar, vanilla, butter together in a medium size bowl. Slowly add milk until you achieve a glaze mixture.
Serve and enjoy