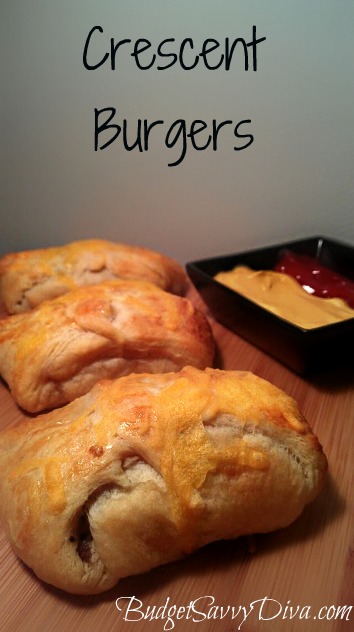 Make sure to PIN This Recipe or Repin 🙂
These burgers tastes JUST LIKE White Castle burgers ( just add a pickle to the mix). Easy to make and frugal!

Everyday at 1 pm PST/ 4pm EST Budget Savvy Diva posts a NEW RECIPE 🙂 I might miss this time every now or then – but I know you understand
Make sure to follow Budget Savvy Diva on Facebook 🙂
Find Copy Cat Restaurant Recipes HERE
Find Crock Pot Recipes HERE
Find Gluten Free Recipes HERE
Find more Recipes HERE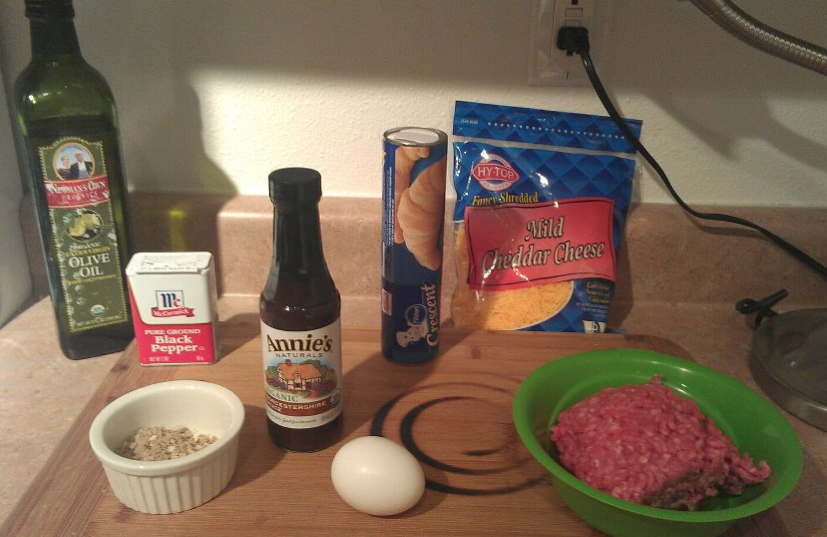 What You Need
1/2 pound of ground beef
Worcestershire sauce
1 Egg
1/3 packet of dry onion soup mix
1/2 tsp of black pepper
2/3 cup of cheddar cheese
1 roll of crescents
What To Do
Preheat oven to 375
In a skillet heat a small amount of oil and brown meat. Drain excess fat.
In a medium size bowl mix – 1/2 cup of cheese, onion soup mix, couple drops of Worcestershire sauce, pepper; meat.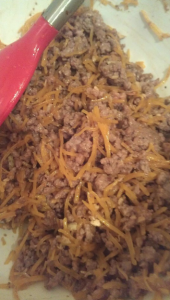 Unroll the crescents. Place a rounded tablespoon of the meat mixture towards the larger end of the crescent dough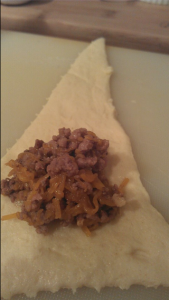 Roll – I personally made them into little pockets.
Place crescents onto a cookie sheet lined with parchment paper.
Brush the tops of the dough with an egg wash ( simply break and egg in a bowl and whisk egg until well blended and 1 tablespoon of water to the mix).
Sprinkle the remaining cheese on top of the egg wash and bake for 10 – 15 minutes.
Enjoy
Crescent Burgers
Tastes just like burgers from White Castle
Ingredients
½ pound of ground beef
Worcestershire sauce
1 Egg
⅓ packet of dry onion soup mix
½ tsp of black pepper
⅔ cup of cheddar cheese
1 roll of crescents
Instructions
Preheat oven to 375
In a skillet heat a small amount of oil and brown meat. Drain excess fat.
In a medium size bowl mix - ½ cup of cheese, onion soup mix, couple drops of Worcestershire sauce, pepper; meat.
Unroll the crescents. Place a rounded tablespoon of the meat mixture towards the larger end of the crescent dough
Roll - I personally made them into little pockets.
Place crescents onto a cookie sheet lined with parchment paper.
Brush the tops of the dough with an egg wash ( simply break and egg in a bowl and whisk egg until well blended and 1 tablespoon of water to the mix).
Sprinkle the remaining cheese on top of the egg wash and bake for 10 - 15 minutes.
Enjoy
Recipe is adapted from HERE