Trader Joe's Peanut Butter Recall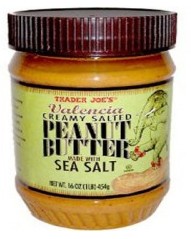 Trader Joe's Peanut Butter Recall
The grocery store chain Trader Joe's is recalling peanut butter that has been linked to 29 salmonella illnesses in 18 states.
The Food and Drug Administration and the federal Centers for Disease Control said Saturday that the store's Creamy Salted Valencia Peanut Butter, which is sold nationwide, is the likely source of the outbreak. The agencies are investigating whether any other items sold at the store could be contaminated.
More than three-fourths of those who became ill were children under the age of 18. No deaths have been reported.
Read all the details HERE.