Fresh Express Spinach Recall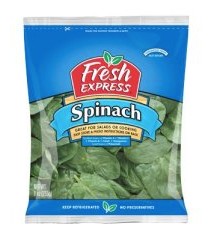 Fresh Express is voluntarily recalling 9 oz. packages of spinach because they may be tainted with salmonella bacteria.
Products that are included in the recall are "Fresh Express Spinach" with a product code S299B25 and the use-by date November 7. These products were sold to stores in Arizona, California, Colorado, Hawaii, Idaho, Missouri, Montana, Nebraska, Nevada, New Mexico, Oklahoma, Oregon, South Dakota, Texas, Utah, Washington State and Wyoming. No illnesses related to this product have been reported as of yet.
For more details go HERE.