Spinach and Goat Cheese Stuffed Chicken Breast Recipe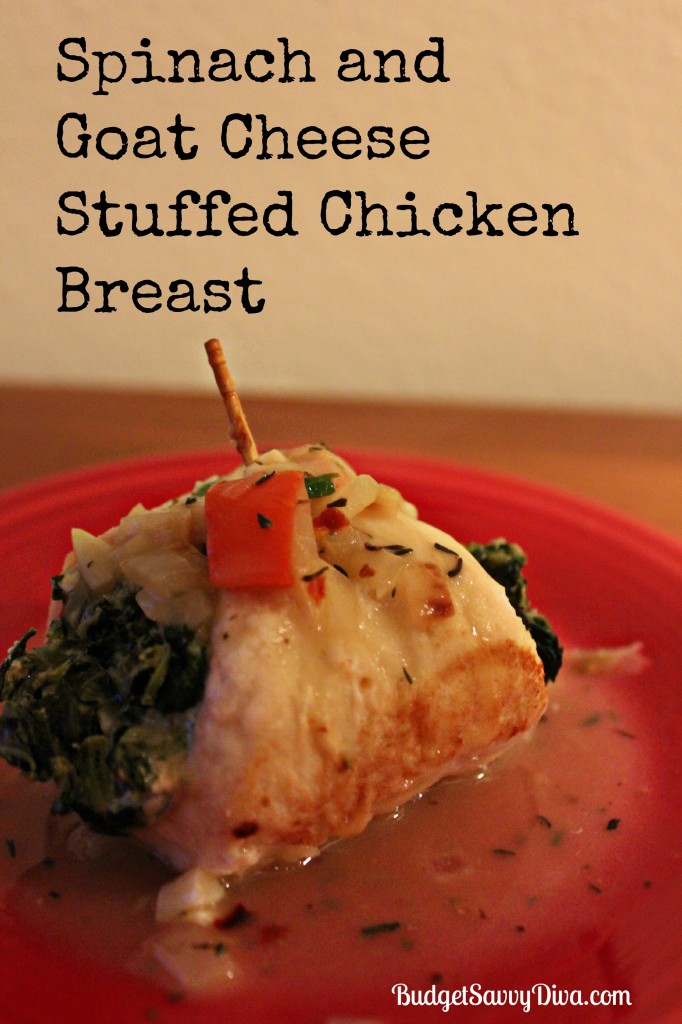 Make sure to repin this recipe
Everyday at 1 pm PST/ 4pm EST Budget Savvy Diva posts a NEW RECIPE 🙂 I might miss this time every now or then – but I know you understand
Make sure to follow Budget Savvy Diva on Facebook 🙂
Find Copy Cat Restaurant Recipes HERE
Find Crock Pot Recipes HERE
Find Gluten Free Recipes HERE
Find more Recipes HERE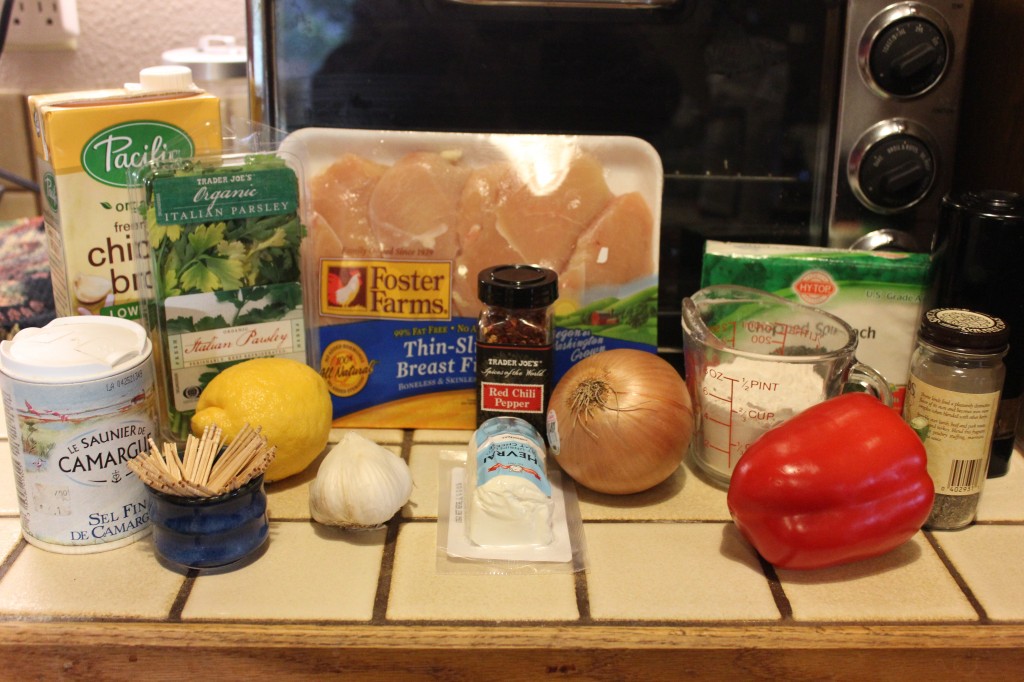 What You Need
1.5 pounds chicken breasts, pounded thin
4 oz of goat cheese
1 (10 ounce) box frozen spinach, thawed and drained
1 small onion, diced
1 cup chicken broth
2 tablespoons lemon juice
1.5 teaspoon lemon zest
olive oil ( not pictured)
1/2 cup flour
3 garlic cloves, minced
1 teaspoon red pepper flakes
1/4 cup fresh parsley, chopped
2 teaspoons dried thyme
1 red pepper diced
1 teaspoon salt
1 teaspoon pepper
toothpicks
What To Do
Preheat oven to 350
In a bowl – mix spinach, goat cheese, lemon zest, salt and pepper
Place filling in the middle of each chicken breast  – roll chicken and secure with toothpicks ( might take a few)
Lightly sprinkle flour on all side of the chicken – Place chicken in a hot skillet with a little oil – brown the sides of the chicken ( of course not the side with the toothpicks)
Transfer the chicken to a oven safe casserole dish and bake till chicken is fully cooked ( cooking time will vary depending on how thick it is)
In the same skillet you browned the chicken add the oil and onion and cook for 5 minutes. Add garlic, thyme, and red pepper flakes and cook for 3 minutes. Add 1 tbs of flour – cook for one minute
Whisk in stock and cook for 5 minutes – should get thick. Add lemon juice, parsley and roasted peppers
Spoon sauce over cooked chicken and serve.
Enjoy!
Spinach and Goat Cheese Stuffed Chicken Breast Recipe
Ingredients
1.5 pounds chicken breasts, pounded thin
4 oz of goat cheese
1 (10 ounce) box frozen spinach, thawed and drained
1 small onion, diced
1 cup chicken broth
2 tablespoons lemon juice
1.5 teaspoon lemon zest
olive oil ( not pictured)
½ cup flour
3 garlic cloves, minced
1 teaspoon red pepper flakes
¼ cup fresh parsley, chopped
2 teaspoons dried thyme
1 red pepper diced
1 teaspoon salt
1 teaspoon pepper
toothpicks
Instructions
Preheat oven to 350
In a bowl - mix spinach, goat cheese, lemon zest, salt and pepper
Place filling in the middle of each chicken breast - roll chicken and secure with toothpicks ( might take a few)
Lightly sprinkle flour on all side of the chicken - Place chicken in a hot skillet with a little oil - brown the sides of the chicken ( of course not the side with the toothpicks)
Transfer the chicken to a oven safe casserole dish and bake till chicken is fully cooked ( cooking time will vary depending on how thick it is)
In the same skillet you browned the chicken add the oil and onion and cook for 5 minutes. Add garlic, thyme, and red pepper flakes and cook for 3 minutes. Add 1 tbs of flour - cook for one minute
Whisk in stock and cook for 5 minutes - should get thick. Add lemon juice, parsley and roasted peppers
Spoon sauce over cooked chicken and serve.
Enjoy!