Make Your Own Frozen Whipped Cream for the Holidays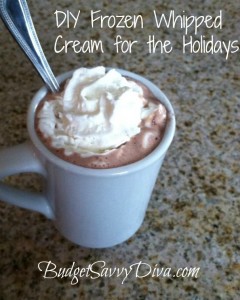 Make sure to REPIN this recipe 🙂
Other Great Tips!
DIY Frozen Whipped Cream for the Holidays
MY NEW FAVORITE THING. This is for the hot chocolate lovers out there, also great for anyone who likes whipped cream on pies, cakes, etc.
The night before a Christmas get together, business party, or anything -freeze your whipped cream! It'll be a hit.
Just spiral your whipped cream on a cookie sheet and put it in the freezer 'til frozen. Reddi-Whip is great to use
Then I place mine in a baggy because I haven't used all of mine at once, ever. And whenever you need a extra little something for your warm drink or dessert, pull out the frozen whipped cream!
Enjoy!!