2 Ingredient Nutella Croissants Recipe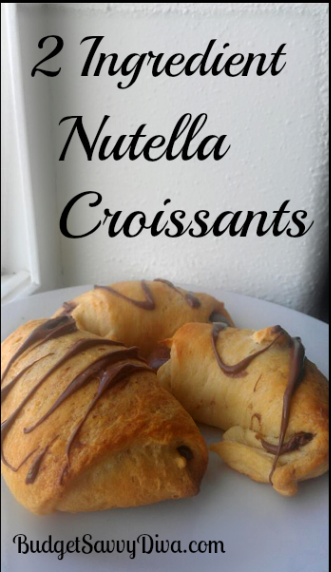 Make sure to pin the recipe or REPIN IT!
Did you pre-order Budget Savvy Diva's Book Yet ?! Over 40 Recipes
Find out all the details HERE
Everyday at 1 pm PST/ 4pm EST Budget Savvy Diva posts a NEW RECIPE 🙂 I might miss this time every now or then – but I know you understand
Make sure to follow Budget Savvy Diva on Facebook 🙂
Find Copy Cat Restaurant Recipes HERE
Find Crock Pot Recipes HERE
Find Gluten Free Recipes HERE
Find more Recipes HERE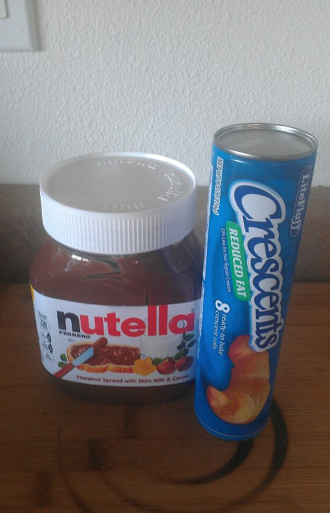 What You Need
Nutella
Roll of Refrigerated Crescents ( Reduced Fat Works Great)
What To Do
Preheat Oven To 375
Unroll Crescent Rolls – with the larger section facing you.
Place one rounded tablespoon of Nutella on the larger section ( spread it out evenly)
Roll the dough into croissant shape.
Place croissants onto a cookie tray.
 Place tray into the oven and cook until golden brown about 15 – 20 minutes.
Place some nutella in a microwave safe bowl and heat for 30 seconds in the microwave
Drizzle over cooked croissants.
Enjoy 🙂
2 Ingredient Nutella Croissants Recipe
Ingredients
Nutella
Roll of Refrigerated Crescents ( Reduced Fat Works Great)
Instructions
Preheat Oven To 375
Unroll Crescent Rolls - with the larger section facing you.
Place one rounded tablespoon of Nutella on the larger section ( spread it out evenly)
Roll the dough into croissant shape.
Place croissants onto a cookie tray.
Place tray into the oven and cook until golden brown about 15 - 20 minutes.
Place some nutella in a microwave safe bowl and heat for 30 seconds in the microwave
Drizzle over cooked croissants.
Enjoy 🙂