Easy Way to Clean Kid's Toys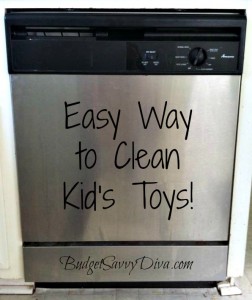 Other Great Tips!
Easy Way to Clean Kid's Toys
Don't fuss over having to soak toys, or sanitize them all in the minutes that your child is napping.. just throw them in the dish washer! Yes, you heard me right -the dish washer. Just make sure there are no toys with fabrics, no batteries, nothing wood, and no toys that have tiny removable pieces. All you need to keep in mind is to turn off the heat dry. Unless you want melted toys, I think not! Now what are you waiting for, go clean toys!!