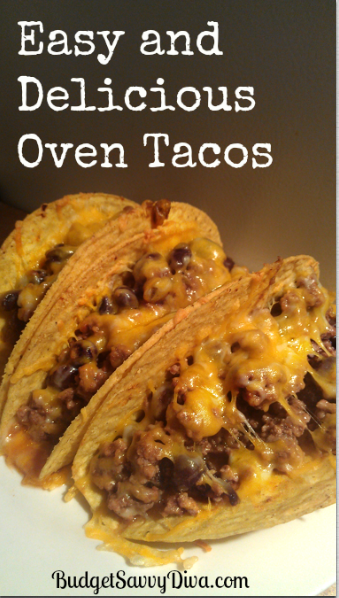 Make sure to repin this recipe
Budget Savvy Diva's Book is HERE!!!!
There is a National Book Tour!!!

Find out all the details

HERE
Everyday at 1 pm PST/ 4pm EST Budget Savvy Diva posts a NEW RECIPE 🙂 I might miss this time every now or then – but I know you understand
Make sure to follow Budget Savvy Diva on Facebook 🙂
Find Copy Cat Restaurant Recipes HERE
Find Crock Pot Recipes HERE
Find Gluten Free Recipes HERE
Find more Recipes HERE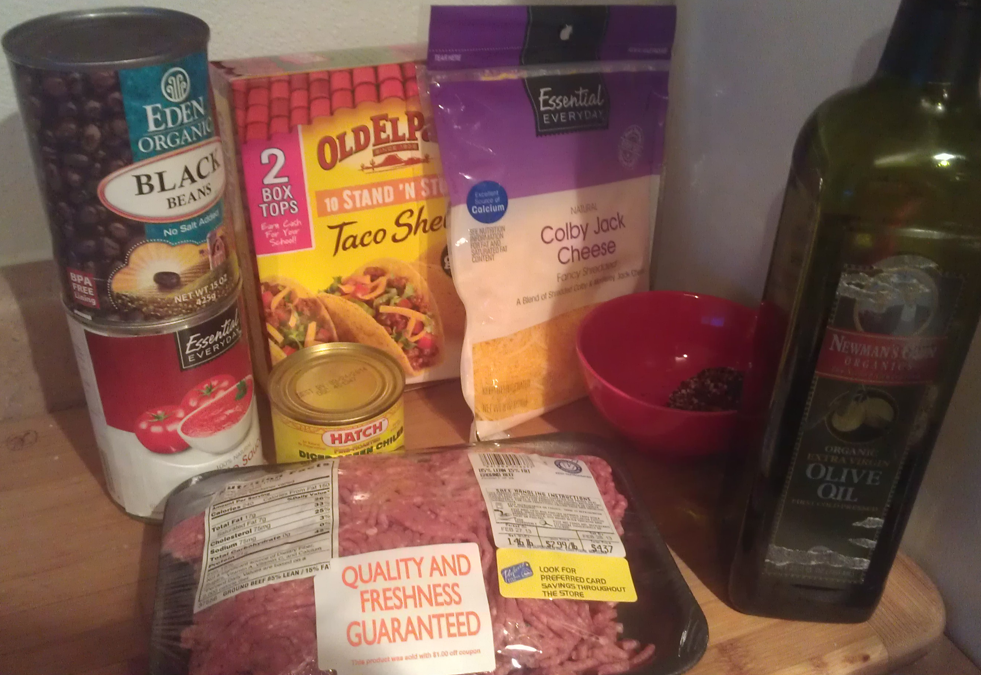 What You Need
1 pound lean ground beef
12 hard shell tacos
Taco Seasoning – Use Recipe HERE
8 ounce tomato sauce
1 Can of Black Beans – Drained and rinsed
4 ounces of diced green chili, canned
olive oil
1 1/2 cups colby jack, shredded
Lettuce, sour cream, guacamole for garnish
What To Do
Pre-heat your oven to 400 degrees.
Brown the ground beef – drain the excess fat. Stir in taco seasoning, green chili, tomato sauce, and black beans.
Brown ground beef in a large skillet, then drain any excess fat.
Arrange 12 hard shell tacos  – 9 x 13 inch casserole dish. Spoon mixture into each shell
Top each taco with shredded cheddar cheese.
Bake for 10 minutes
Enjoy
Oven Tacos Recipe
Ingredients
1 pound lean ground beef
12 hard shell tacos
Taco Seasoning - Use Recipe HERE
8 ounce tomato sauce
1 Can of Black Beans - Drained and rinsed
4 ounces of diced green chili, canned
olive oil
1½ cups colby jack, shredded
Lettuce, sour cream, guacamole for garnish
Instructions
Pre-heat your oven to 400 degrees.
Brown the ground beef - drain the excess fat. Stir in taco seasoning, green chili, tomato sauce, and black beans.
Brown ground beef in a large skillet, then drain any excess fat.
Arrange 12 hard shell tacos - 9 x 13 inch casserole dish. Spoon mixture into each shell
Top each taco with shredded cheddar cheese.
Bake for 10 minutes
Enjoy