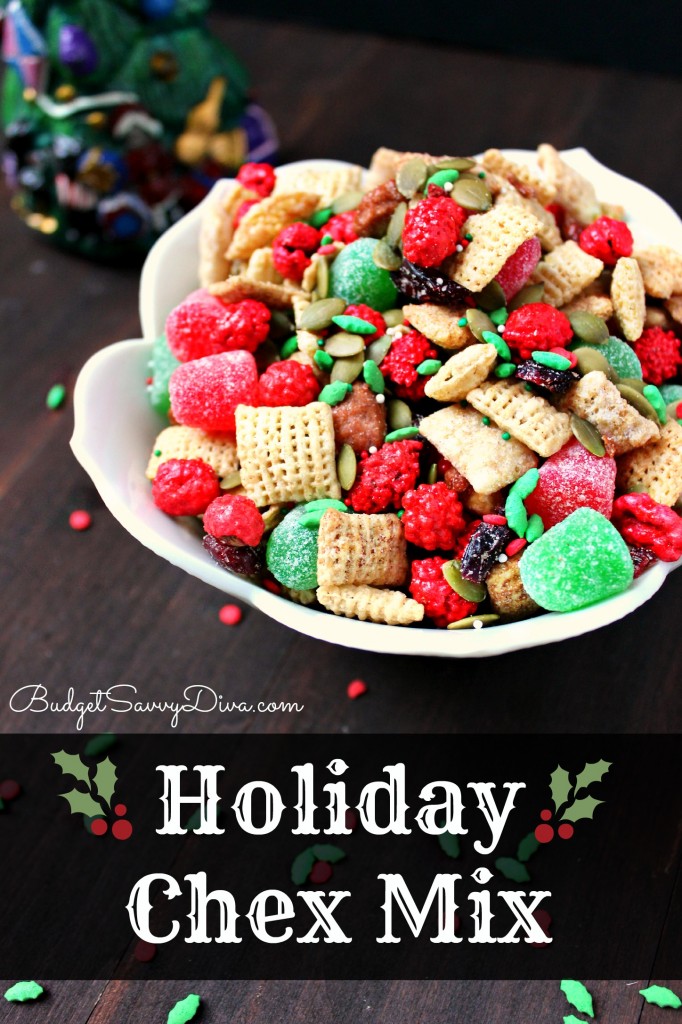 Make sure to PIN it on Pinterest 🙂
The Holiday Season is Here!!! Well maybe it is a little early – but I tend to start breaking out the decorations during the first week of Nov.
When coming up with this Holiday Chex Mix I wanted it to be something that had tons of layers of flavor as well as being gluten – free
This is the perfect mix to get you into the holiday mood and easiest enough to throw together in 5 minutes FLAT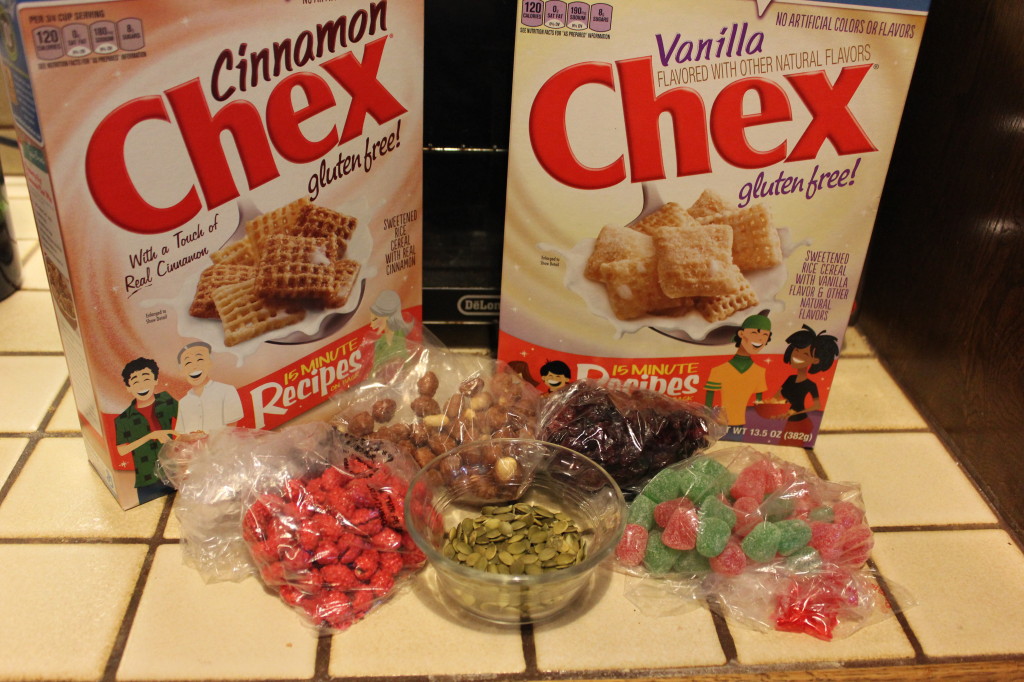 Everything you need to make this recipe is above the most important elements is the cinnamon and vanilla Chex Mix – make sure to find the one's that say gluten – free on the box ( if you are concerned about making the mix gluten – free)
I then roamed around the bulk section at Winco and picked up sweet and salty elements with different textures for the mix
I do not know the name of the ones that look like raspberries but it is a candied peanut – I know I know I should of looked more closely BUT I got to excited being in the bulk section at Winco ( sigh I am easily excited)
Here is a closeup of the photo shoot — my awesome dad setting up the mix so I can photograph it  ( Thanks Dad!)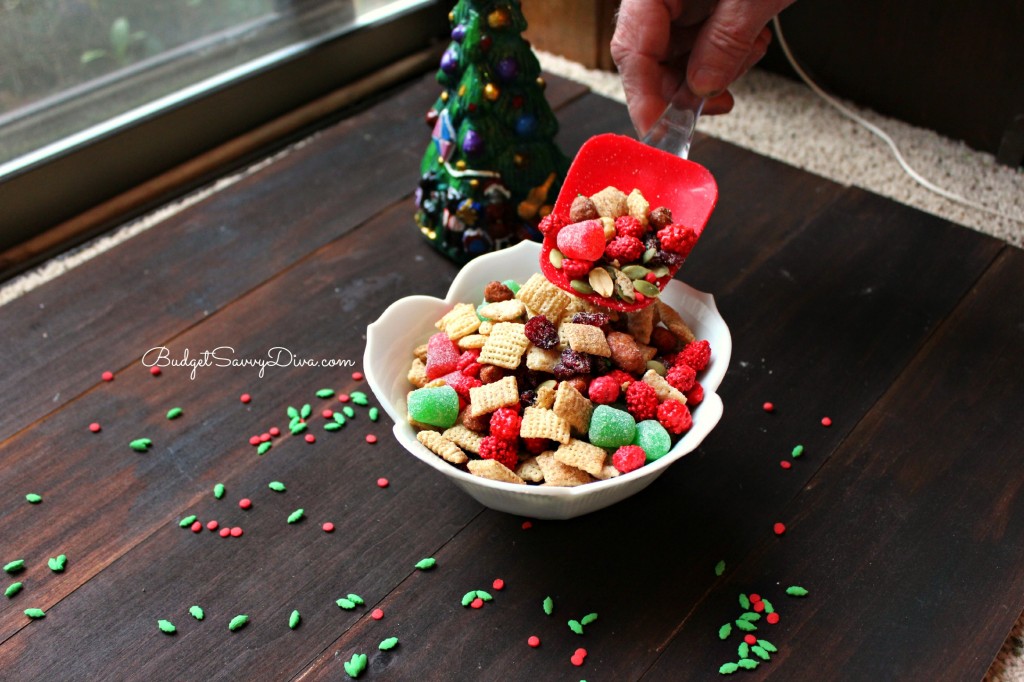 BUT it was my decision to add the sprinkles around the board WHICH became a huge mess later – FYI 😉 Plus there is the good ol' Christmas tree we found at Goodwill
Now let's get some closeup shoots ( those are my favorite)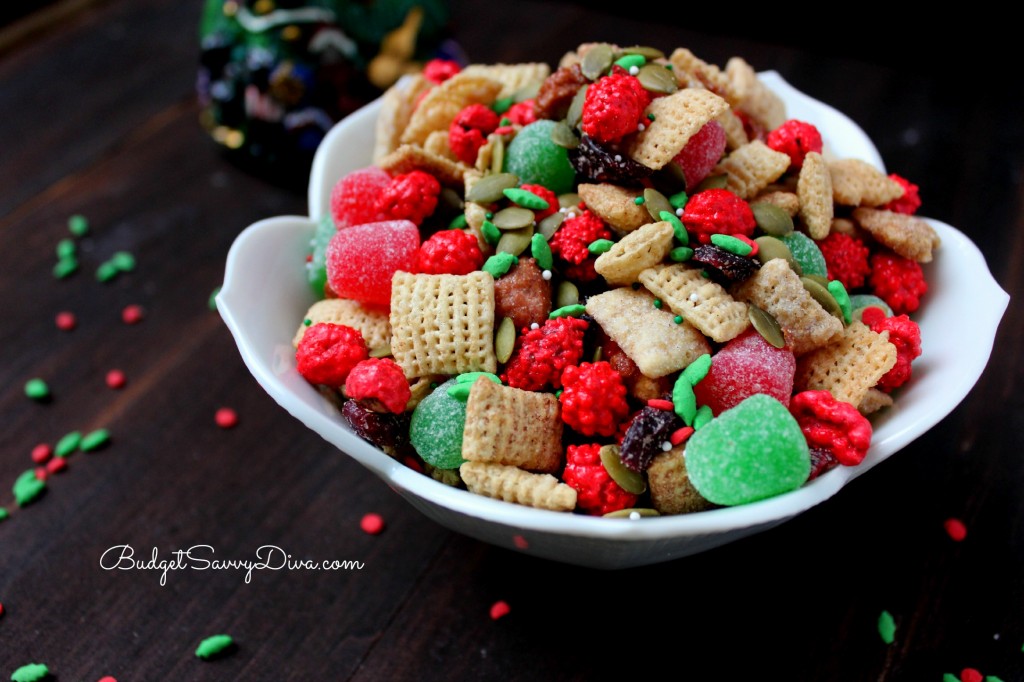 I really like using sprinkles to add a little extra something to my mixes – if you are wanting a more salty mix exchange the butter toffee peanuts for salted peanuts — but why would you not want butter toffee peanuts is beyond me.
My whole family tried the mix and loved it 🙂 I love it too — it will last a while after it is made ( I am actually eating some right now and I made this dish a couple days ago 😉 )
Okay one more look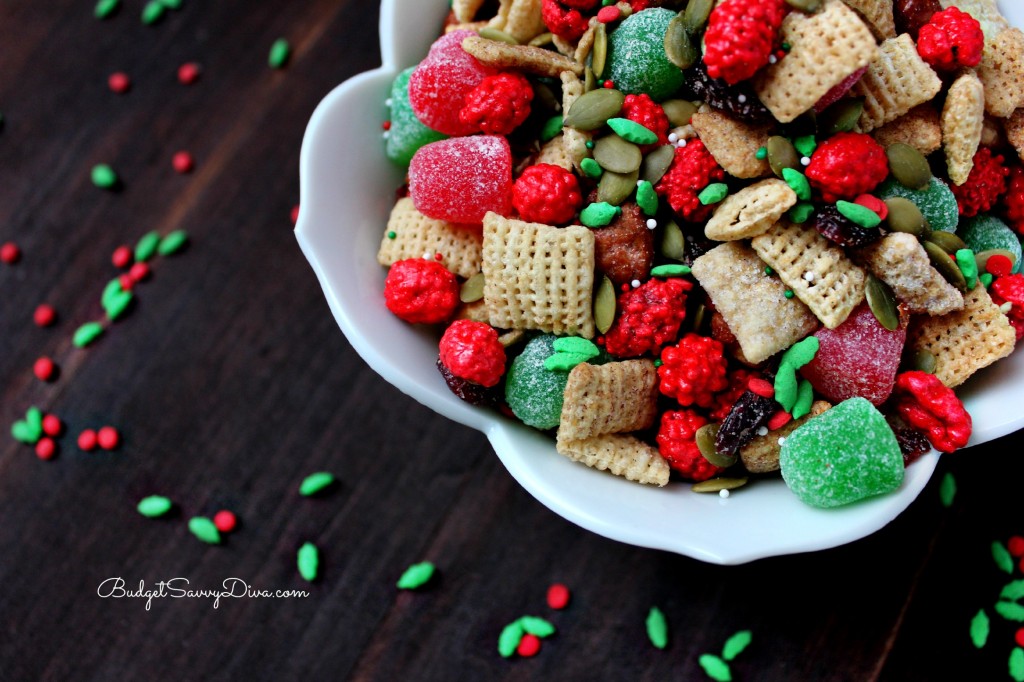 The Vanilla and Cinnamon Chex Mix work so well together 🙂 Enjoy this Holiday Chex Mix — if you do make the recipe I would love to see it – simple post a picture on Instagram use the #budgetsavvydiva so I can find it 🙂
Holiday Chex Mix Recipe
Ingredients
1 Cup of Vanilla Chex
1 Cup of Cinnamon Chex
1 Cup of Green and Red Gum Drops
½ Cup of Pumpkin Seeds
½ Cup of Candied Peanuts ( They Should Be Red)
½ Cup of Butter Toffee Peanuts
½ Cup of Dried Cranberries
Optional - Holiday Sprinkles
Instructions
In a large mixing bowl add all the ingredients together
Mix well and serve
You can make this mix last weeks by placing in a airtight container