Boneless Buffalo Chicken Bites Recipe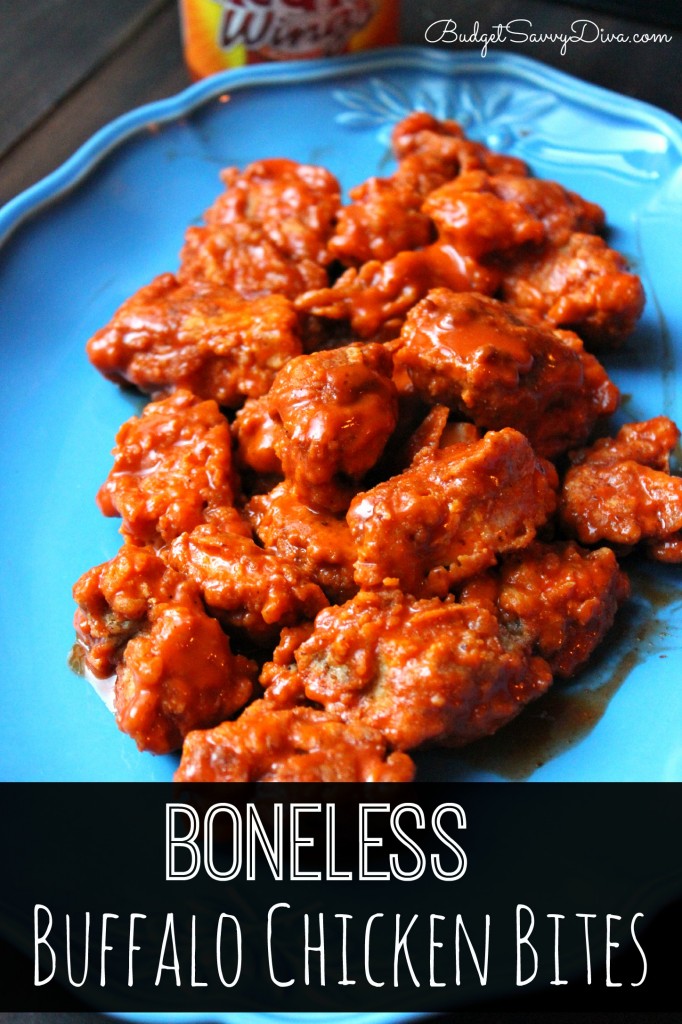 Have you ever had buffalo chicken bites? If you have not – you are REALLY missing out on something
I personally love a good hot wing BUT I hate the bones. A couple weeks ago my husband and I went to Applebee's. When I told my dad we went there he asked "was it horrible" ( that is my dad for you 😉 )
The answer was yes
But that is not the point.
There are 2 reasons why we went – 1) There are almost no "chain" restaurants in Portland OR ( Chili's or TGI Friday and the list goes on)
2) I remembered that they had boneless chicken bites as an appetizer that my mom and I use to share ( because they are not gluten – free friendly I did not have them)
BUT the whole experience inspired this recipe because I wanted to try and make them at home and give y'all a gluten – free alternative
Whew. I am glad you liked that story and now onto the recipe 🙂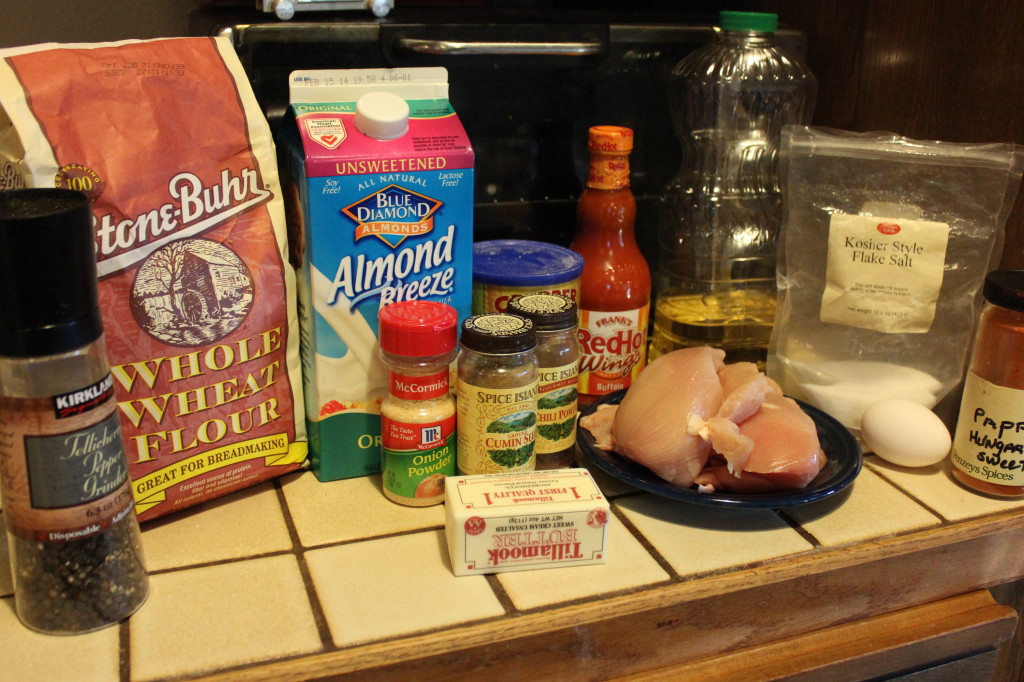 I do not want to say this is a copy cat recipe since I have not had the Applebee's version in 12 years and my dad will not go to one – BUT I will say my whole family loved these bites 🙂 My husband ate everything on the blue plate above in one sitting
To make this dish gluten – free simply use gluten – free flour instead of whole wheat – they are interchangeable
You can also use almond milk for this recipe as well
I did fry these bites – you can bake them at 350 for 15 – 25 minutes – do whatever method floats your boat
Here are some pictures of the final product 🙂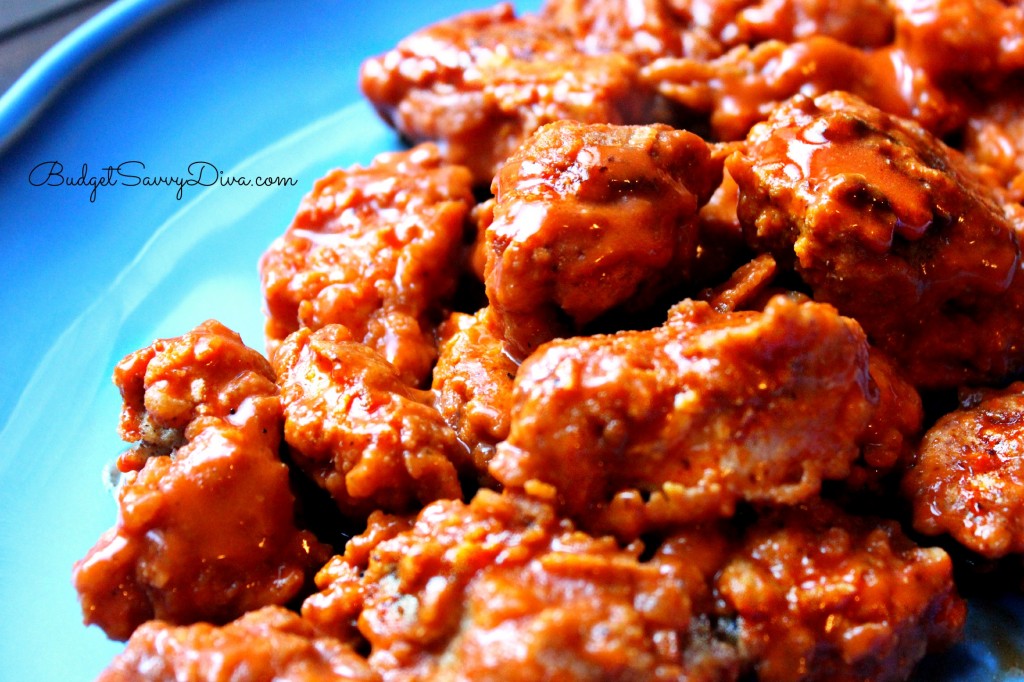 Yum Yum Yum – now all you need are napkins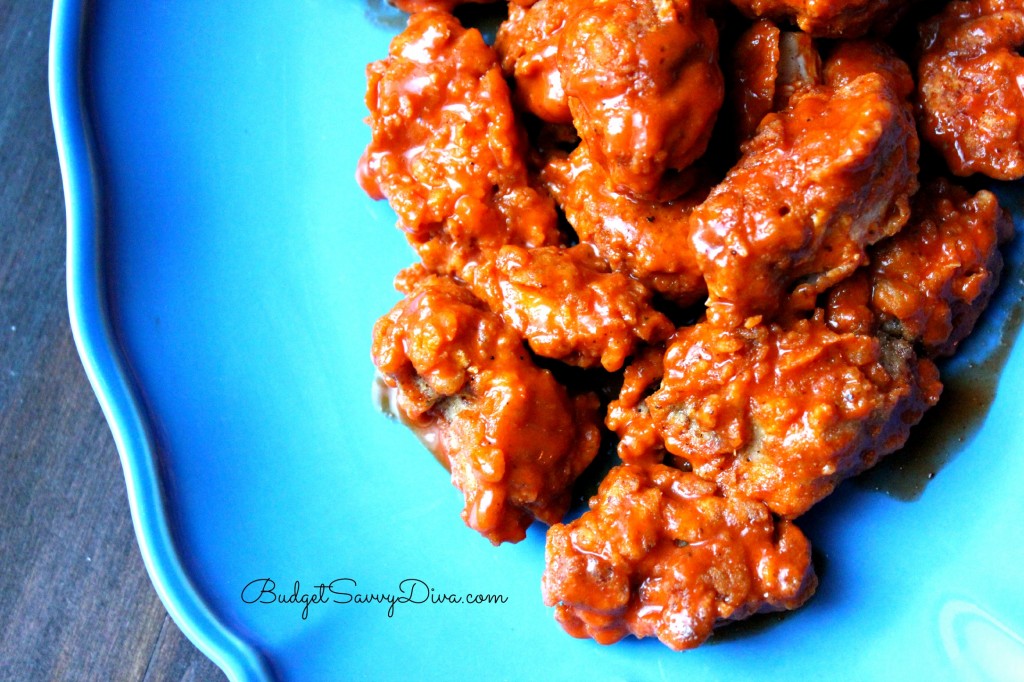 I really hope you make this recipe please let me know what you think of it – simply comment on the recipe – this really helps other readers know if they should make it or not 🙂
Boneless Buffalo Chicken Bites Recipe
Ingredients
2 Cups of Flour ( Whole Wheat or Gluten - Free)
¼ teaspoon of Cumin
¼ Cup of Corn Starch
½ tsp of Salt
½ tsp of Onion Powder
½ Tsp of pepper
2 Teaspoons of Paprika
1 Teaspoon of Chili Powder
2 Pound of Chicken Breast - Diced into Small Pieces
1 Cup of Milk ( Almond Works Great)
1 Egg
Canola Oil for Frying
Sauce -
2 Tablespoons of Butter - melted
1 Cup of Hot Sauce ( Franks)
Instructions
Heat 2 -3 inches of canola oil in a stock pot or skillet
In one bowl mix - flour, cumin, corn starch, salt, pepper, paprika, chili powder together
In another bowl whisk the egg and milk together
Dip each chicken into wet mixture, dry mixture, wet mixture again, and then dry mixture again
Fry 5 - 9 bites at a time ( takes a couple minutes or until golden brown) - place on paper towels so the grease is absorbed
In another bowl mix hot sauce and butter together - place all the fried bites into the sauce - fold carefully until all the chicken bites are covered in sauce
Serve and Enjoy!