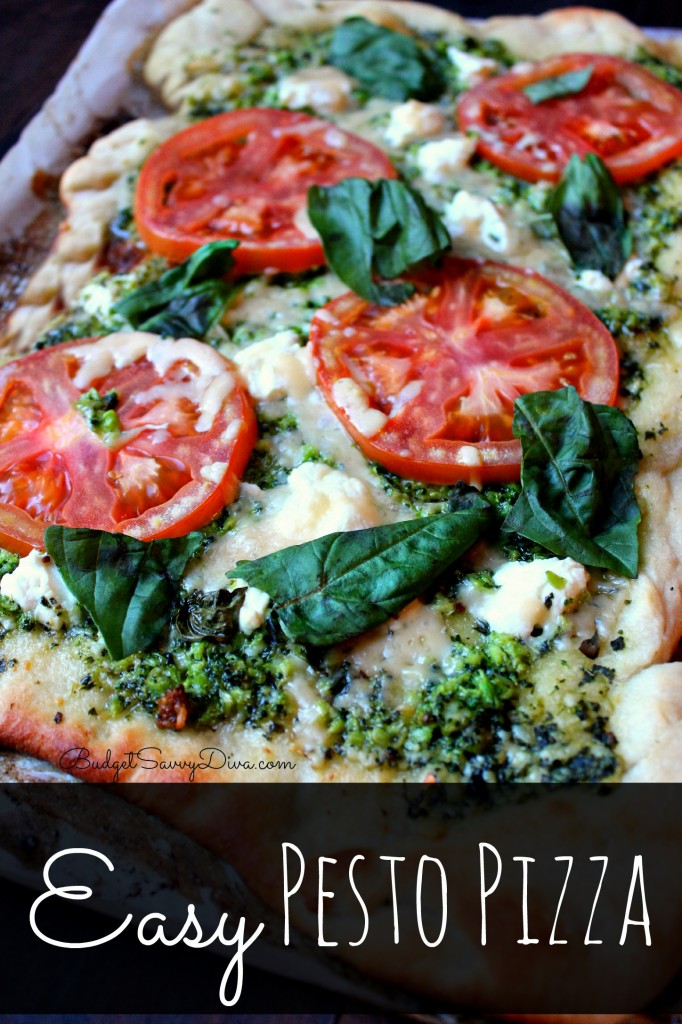 I think I could survive on pizza – I would look like a bowling ball BUT I would be happy bowling ball
If you want to  make your own pizza at home this is a great recipe to get you started , but soon you'll only want to make pizza at home because it's delicious and way cheaper than the pizza at the pizzeria.
One of my first memories in the kitchen was making pizzas using English Muffins ( I was about 3 years old) with my Dad 🙂 Much like making a pizza together 20 something years ago – my dad and I were in the kitchen making this pizza – which turned out great by the way.  I highly recommend you make pizza at home with your kids, it's fun, makes great memories and kids picky eaters will try new foods if you put it on a pizza and hide it under a blanket of cheese.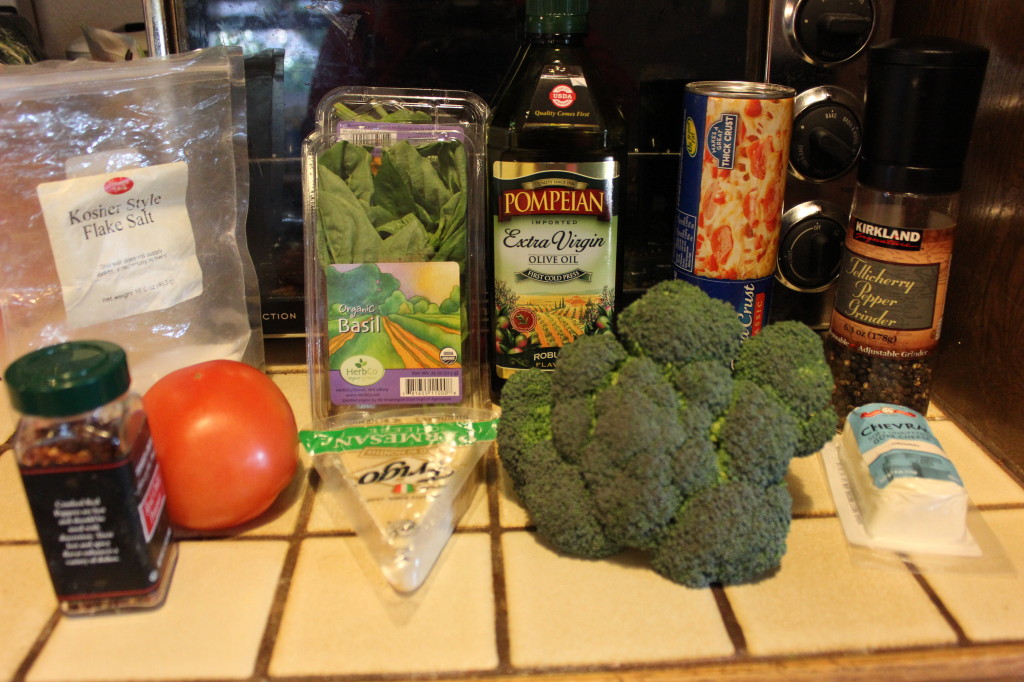 It's confession time now
I could LIVE ON goat cheese. Boy if I could get a life time supply of goat cheese and pizza I would be set!
Can you tell I am writing this before I ate lunch?
You might see something in the picture above – YEP that is broccoli! We are making homemade pesto – I love throwing in some broccoli to the food processor ( I have to be very sneaky to get that husband of mine to eat vegetables)
The inspiration for this dish is from the newest ( ?) issue of Food Network magazine ( Christmas gift 🙂 )  – my dad and I changed it up though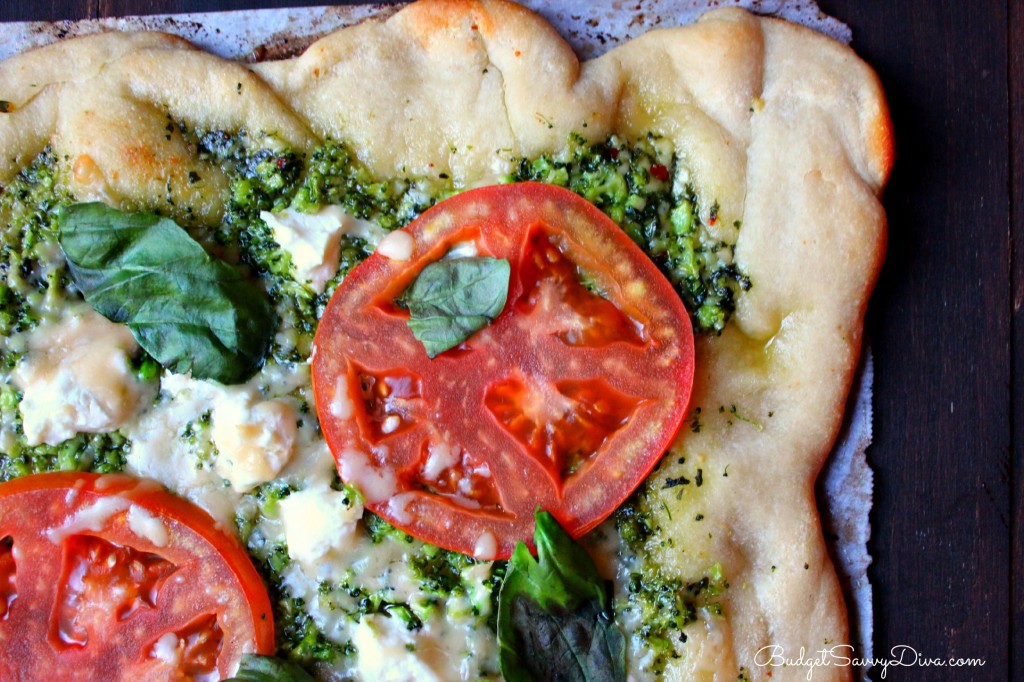 We bought pizza dough, not homemade.  This is the recipe for Pesto Pizza only ! So that being said,using fresh tomatoes and fresh basil really put this pizza on the next level
There is something about simple flavors that really make a dish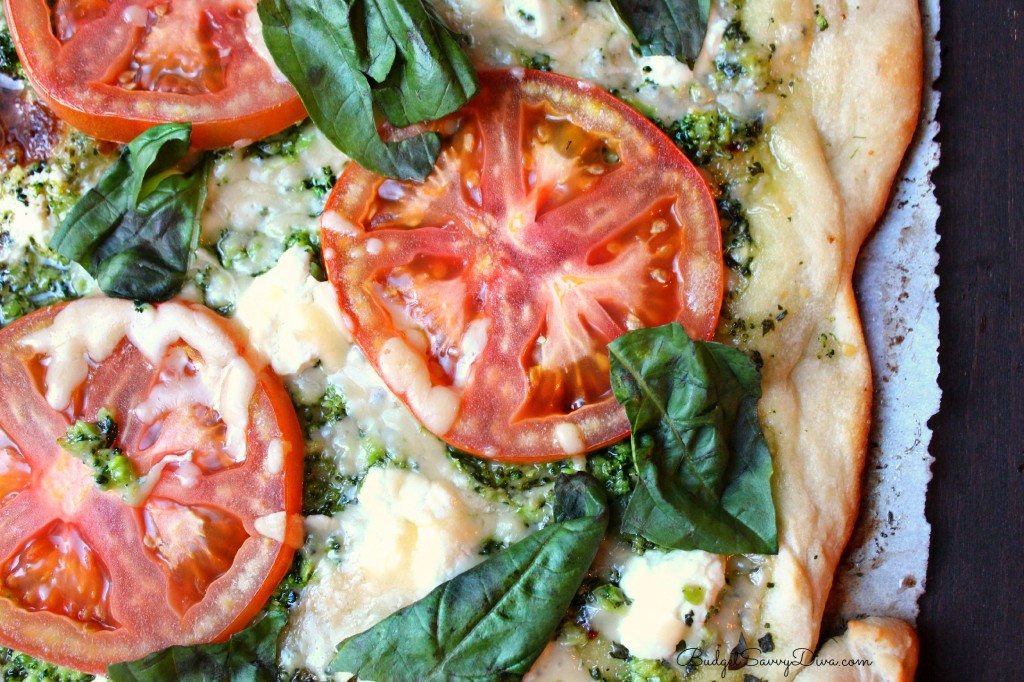 I did end up lightly brushing melted butter on the outer crust to make sure it turned a nice golden brown ( I did not place butter on the ingredient list)
I really hope you make and enjoy this recipe 🙂
Love You!
Easy Pesto Pizza Recipe
Ingredients
1 Rolls of Refrigerated Pizza Dough
¾ Cup of Grated Parmesan Cheese
1 Cup of Fresh Basil Leaves
Salt
Pepper
4 Tablespoons of Olive Oil
4 ounces of Goat Cheese
1 Tomato
¼ teaspoon of red pepper flakes
1 Cup of Broccoli florets - FULLY cooked
Instructions
Preheat oven to 450 - Use the directions on the dough packaging and prebake the dough
In a food processor - combine ⅓ cup of parmensan cheese, pinch of salt, pinch of pepper, red pepper flakes, olive oil, ⅔ cup of basil, and broccoli - process till pesto consistency
Spread pesto on the pizza
Sprinkle goat cheese and the rest of the parmesan cheese on the pizza
Place tomato slices on the pizza
Bake for 14 minutes
Garnish with the rest of the basil leave
Enjoy!