Velveeta Cheesy Skillets Meal – Nacho Supreme Recipe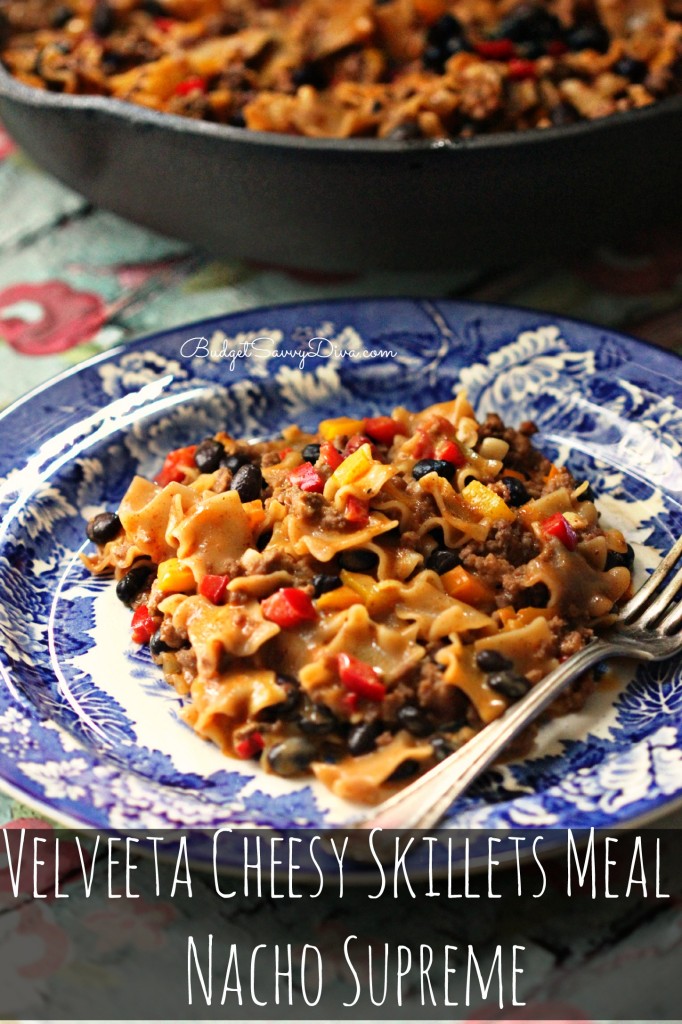 Make sure to REPIN the recipe 🙂
Have you heard of VELVEETA Cheesy Skillets meals? My mom grew up with VELVEETA cheese which her mom would use in creamy mac and cheese as well a topping for veggies.
I have personally been using VELVEETA for years ( as you can easily see in many of my recipes I have posted) – I also have always been a fan of skillet meals – I do not know about you
but I am never a fan of washing dishes so when I can cook a meal in one skillet I try too. I just found VELVEETA Cheesy Skillets Meals and instantly wanted to try them – I went for the
Nacho Supreme (Eric loves nachos) – I decided to add black beans, garlic, red yellow and orange bell peppers.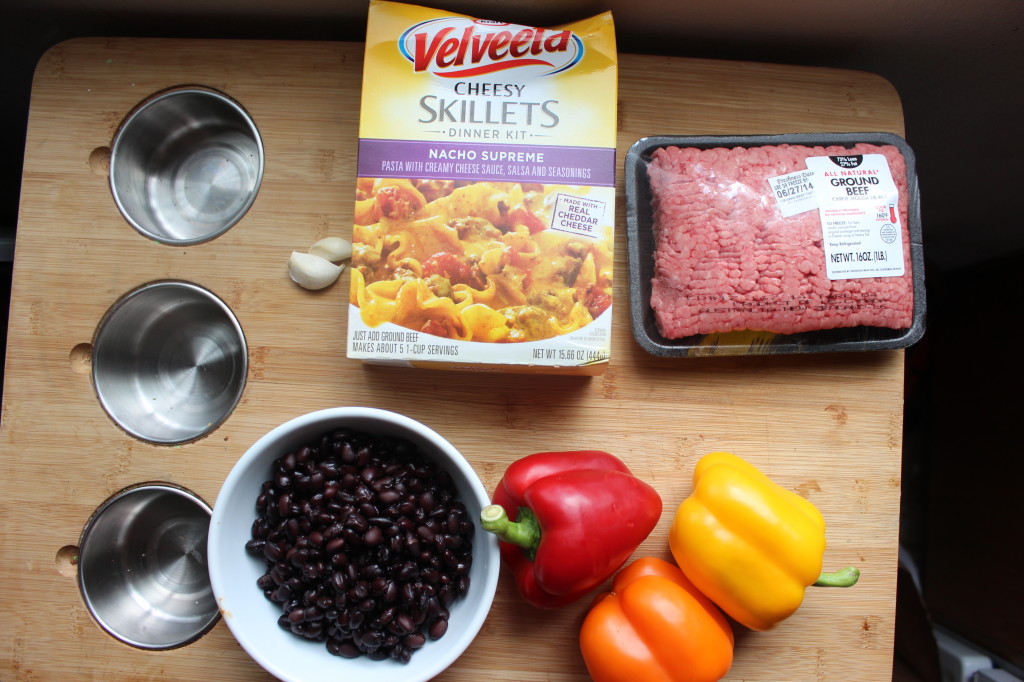 Can I just say my family loved the meal! The VELVEETA Cheesy Skillets Meal does not only have Liquid Gold cheese but it had a salsa packet and nacho seasoning plus the pasta.
VELVEETA is currently hosting a fun campaign right now – you know auction sites which have tons of knick knacks on them including skillets – why anyone would want to sell their skillet is beyond me ( this is a gal whom cooks skillet meals on a nightly basis). Well the folks over at VELVEETA thought the same thing and noticed that there were thousands of skillets listed on online auction sites (the owners must have forgotten how useful skillets are). VELVEETA bought more than 1,000 of these skillets and sent them back to their sellers with a box of VELVEETA Cheesy Skillets to show these sellers what their skillets are for: VELVEETA Cheesy Skillets.
I am sure the owners were happy to get their skillets back and now realize the full potential of their skillets with VELVEETA Cheesy Skillets Meals.
I love how easily and quickly this meal came together — done in about 40 minutes. All I needed was the ground beef. I did end up adding a can of black bean to up the protein of the meal and It is sometimes easy to forget a meal is not that far away especially when you have a skillet, some bell peppers ( anytime I can sneak veggies into a yummy dish I try). VELVEETA Cheesy Skillets Meal, and some meat.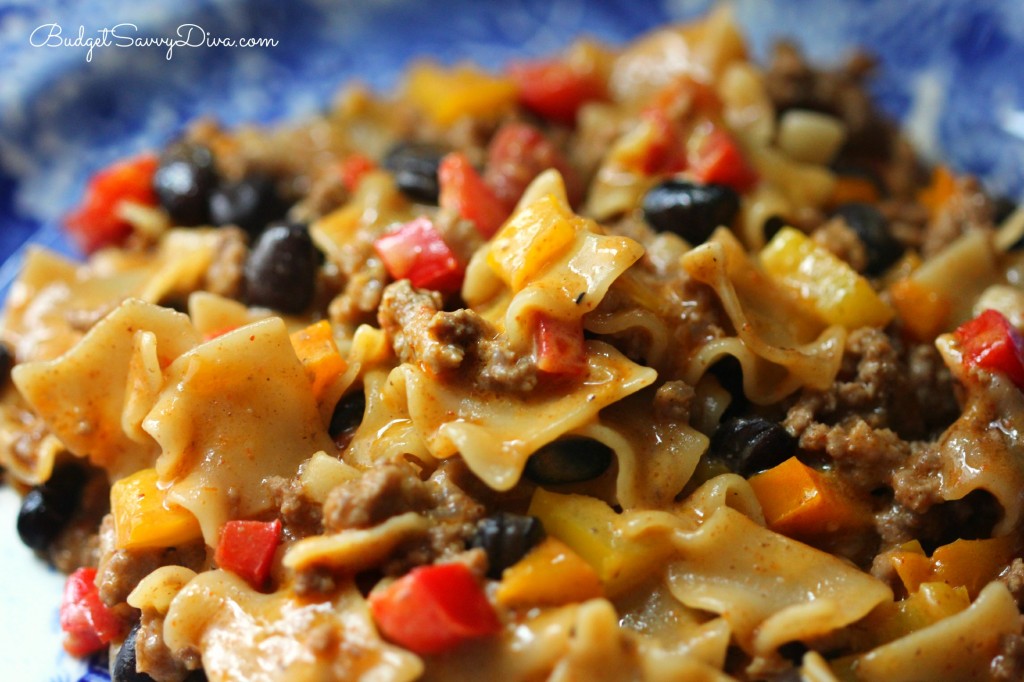 Velveeta is asking fans ( like you ) to spread the word – use #whatmyskilletisfor – let's stop skillets from not being used and sold in online auctions 🙂
GIVEAWAY TIME
Velveeta is kind enough to offer the same kit that they sent me so you can see how awesome Velveeta Cheesy Skillets meals are 🙂
Prize – 1 NEW Skillet and 2 Boxes of Velveeta Cheesy Skillets
How to Win
Mandatory Entry
1) Comment on this post the answer to the following question
When is the last time you cooked with your skillet?
2) Optional Entry
Follow Budget Savvy Diva on YouTube ( Comment on this post that you followed)
Giveaway will end July 5th at 6 pm – winner will be emailed- US only. Not shipping to PO Box
Velveeta Cheesy Skillets Meal - Nacho Supreme Recipe
Ingredients
1 Box of Velveeta Cheesy Skillets Dinner Kit ( Nacho Supreme)
Red Bell Pepper - Seeded and Diced
Yellow Bell Pepper - Seeded and Diced
Orange Bell Pepper - Seeded and Diced
2 Garlic Cloves - Minced
1 Can of Black Beans - Rinsed
1 pound of ground beef
Instructions
Take you skillet ( add a bit of oil) and place on medium heat - add garlic and cook for 2 minutes
Add beef - cook till no longer brown - drain any excess fat
Add all the bell peppers - cook for about 2 minutes
Add seasoning packet, water, and pasta
Stir and bring to a boil
Reduce Heat
Cover and stir till almost all the water is gone - about 10 minutes
Remove from heat
Stir in beans, Velveeta cheese sauce and salsa pouch
Enjoy!
 Disclaimer – I received compensation by Velveeta for this post – also they are providing all the items for the giveaway. But all the thoughts and opinions are my own