Panera Autumn Squash Soup Recipe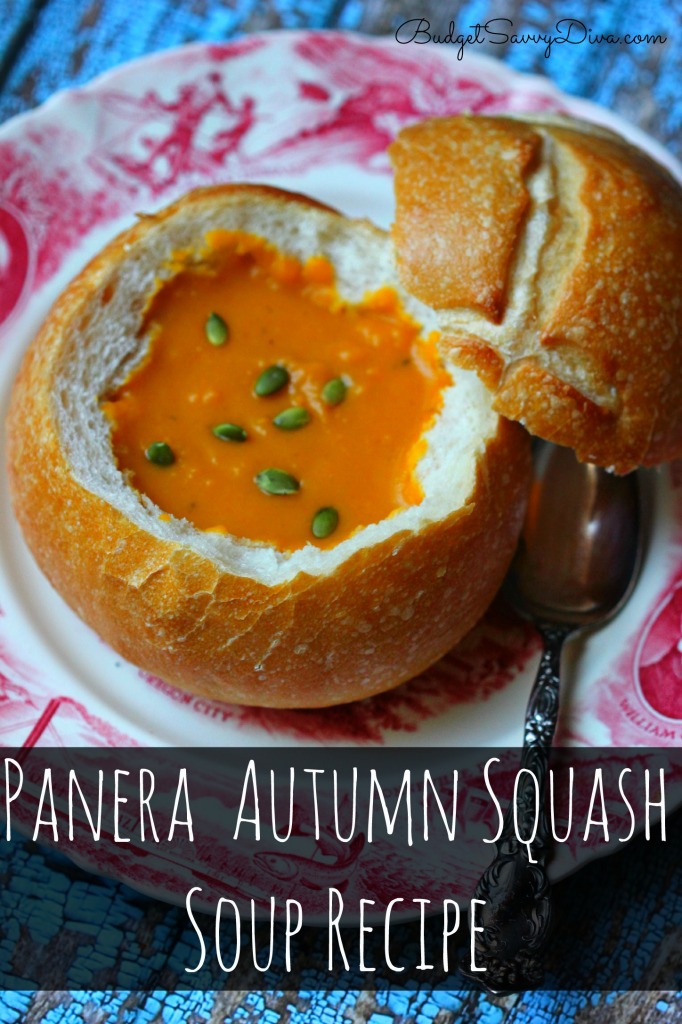 Make sure to REPIN this recipe
This soup is amazing – we have a Panera near where I live – I think if it would be acceptable my family would live at Panera
I am ALMOST joking — especially now it is cold here in Portland, OR – I write this while wearing 3 layers and fuzzy socks with the heat cranked up the thought of a lovely soup is heavily requested
There is one big problem with Panera though — it can be very costly if you are wanting to eat there a few ( every meal).
So I have been making soup for my family – especially my favorite ( Panera's Broccoli and Cheddar Soup 🙂 )
I thought it would be fun to try and make the Panera Autumn Squash Soup since that is what Eric always orders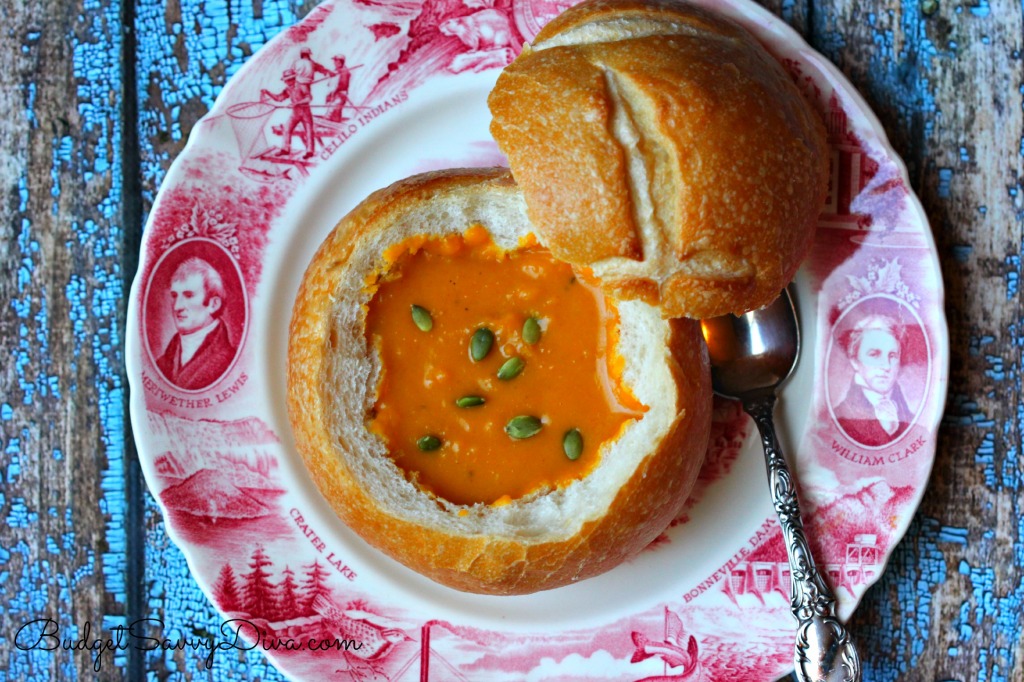 How amazing does this recipe look!!!! I picked up the bread bowl at my local Winco — only about $1 per bowl — and I think food just taste better when surrounded by bread
I did adapt this recipe – the original recipe uses heavy cream ( and go for it if you want — use the same measurements ) I personally try and avoid using heavy cream when I can since it is super fatty and kinda on the expensive side
If you do make the Panera Autumn Squash Soup Recipe please let me know what you think 🙂
Love You Guys!
Panera Autumn Squash Soup Recipe
Ingredients
1 Butternut Squash
1 small Onion
2 tbsp Olive Oil
15 oz Pumpkin Puree
2 cup Vegetable Broth
1½ cup Apple Cider
1½ cup Milk ( 2%)
2 tbsp Honey
½ tsp Curry Powder
½ tsp Cinnamon
2 tsp Salt
½ tsp Black Pepper
Pumpkin Seeds
Instructions
Preheat oven to 450 - cut the squash into small pieces - remove skin and seeds - dice the onion
On a pan place the squash and onion - drizzle olive oil and season with salt and pepper
Cook for 20 minutes
Place into a blender or food processor - process
In a large pan - mix the puree, pumpkin, vegetable broth, apple cider, and milk together
Bring to a boil - add honey and the rest of the spices
Cook for 10 minutes on lower heat
Garnish with pumpkin seeds and enjoy
Recipe adapted from HERE