Copy Cat Panera Bread Broccoli Cheese Soup Recipe

Make sure to PIN This Recipe or Repin 🙂
My whole family loves Panera bread … For some reason especially the coffee. This recipe "warms your soul" as my husband puts it. Very easy to make and full of veggies. Instead of half and half skim milk can be used. Easily made gluten – free by using gluten – free flour.
Look!!! Panera Bread Tweeted Budget Savvy Diva's Recipe!
Everyday at 1 pm PST/ 4pm EST Budget Savvy Diva posts a NEW RECIPE 🙂 I might miss this time every now or then – but I know you understand
Make sure to follow Budget Savvy Diva on Facebook 🙂
Find Copy Cat Restaurant Recipes HERE
Find Crock Pot Recipes HERE
Find Gluten Free Recipes HERE
Find more Recipes HERE
What You Need
1/2 medium onion, chopped
1/4 cup melted butter
1/4 cup flour
2 cups half-and-half ( or skim milk)
2 cups chicken stock
1/2 pound fresh broccoli ( florets only)
1 cup carrots, julienne
1/4 teaspoon of salt
1/4 teaspoon nutmeg
1/2 teaspoon pepper
8 ounces grated cheddar cheese
What To Do
Saute onions in a little butter in a small pan – set aside.
In a large stockpot ( I accidentally used a medium-size pan)  – melt butter. Add flour and mix for 3 minutes.
Slowly add half- half – mixing the entire time.
Slowly add chicken stock- mixing the entire time.
Let simmer on low for 20 minutes.
Add broccoli, carrots; onions and cook on low for 25 minutes.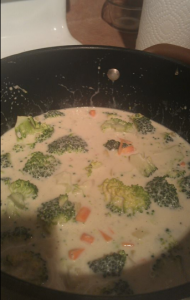 Season with salt, pepper; nutmeg.
Place soup in a blender or use an immersion blender and puree.
Heat soup over low heat and add cheese and mix till melted.
Serve ( hopefully in a bread bowl) and Enjoy 🙂
Copy Cat Panera Bread Broccoli Cheese Soup Recipe
Ingredients
½ medium onion, chopped
¼ cup melted butter
¼ cup flour
2 cups half-and-half ( or skim milk)
2 cups chicken stock
½ pound fresh broccoli ( florets only)
1 cup carrots, julienne
¼ teaspoon of salt
¼ teaspoon nutmeg
½ teaspoon pepper
8 ounces grated cheddar cheese
Instructions
Saute onions in a little butter in a small pan - set aside.
In a large stockpot ( I accidentally used a medium-size pan) - melt butter. Add flour and mix for 3 minutes.
Slowly add half- half - mixing the entire time.
Slowly add chicken stock- mixing the entire time.
Let simmer on low for 20 minutes.
Add broccoli, carrots; onions and cook on low for 25 minutes.
Season with salt, pepper; nutmeg.
Place soup in a blender or use an immersion blender and puree.
Heat soup over low heat and add cheese and mix till melted.
Serve ( hopefully in a bread bowl) and Enjoy 🙂
Source – HERE