This shop has been compensated by Collective Bias, Inc. and its advertiser. All opinions are mine alone. #BigHero6Release #CollectiveBias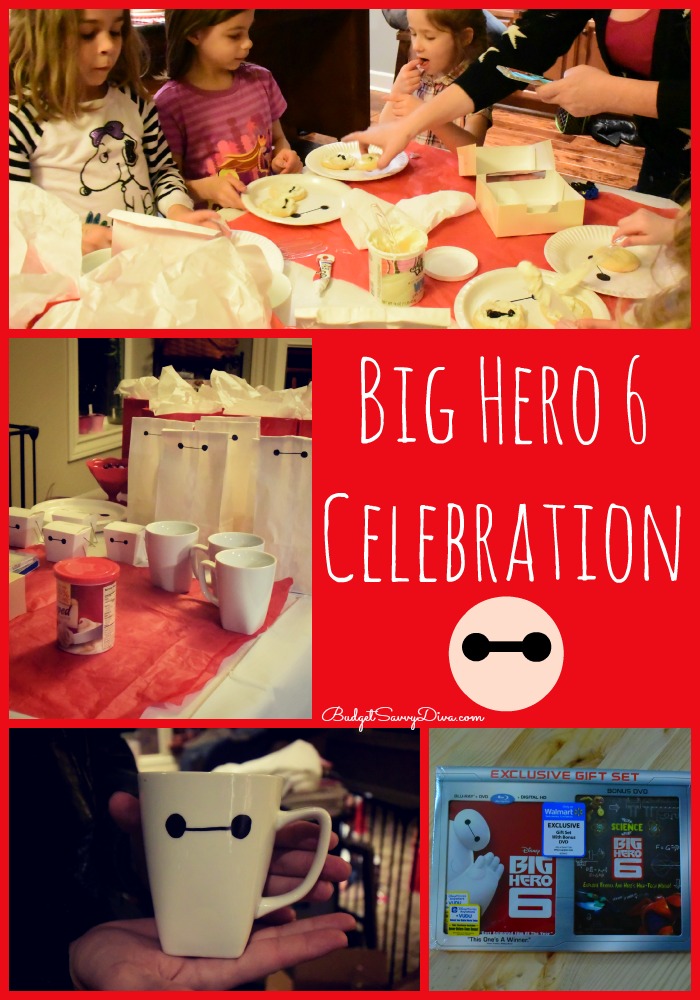 I have been raised on Disney back in the VHS days ( I watched Beauty and The Beast so many times that the tape started to skip). Ever since then I have watched every Disney movie that comes out – and of course Big Hero 6 was no different.
I am proud to say that I own almost every Disney movie on Blu Ray – and of course I had to pick up Big Hero 6 when it arrived in stores on the 24th
Your purchase of the Big Hero 6 Blu-Ray/DVD + Gift With Purchase Set includes a digital movie on Vudu while supplies last! Simply scan your receipt using the Savings Catcher in the Walmart app. Then look for a message on your phone or email. Now you can watch Big Hero 6 on any device! How cool is that ?!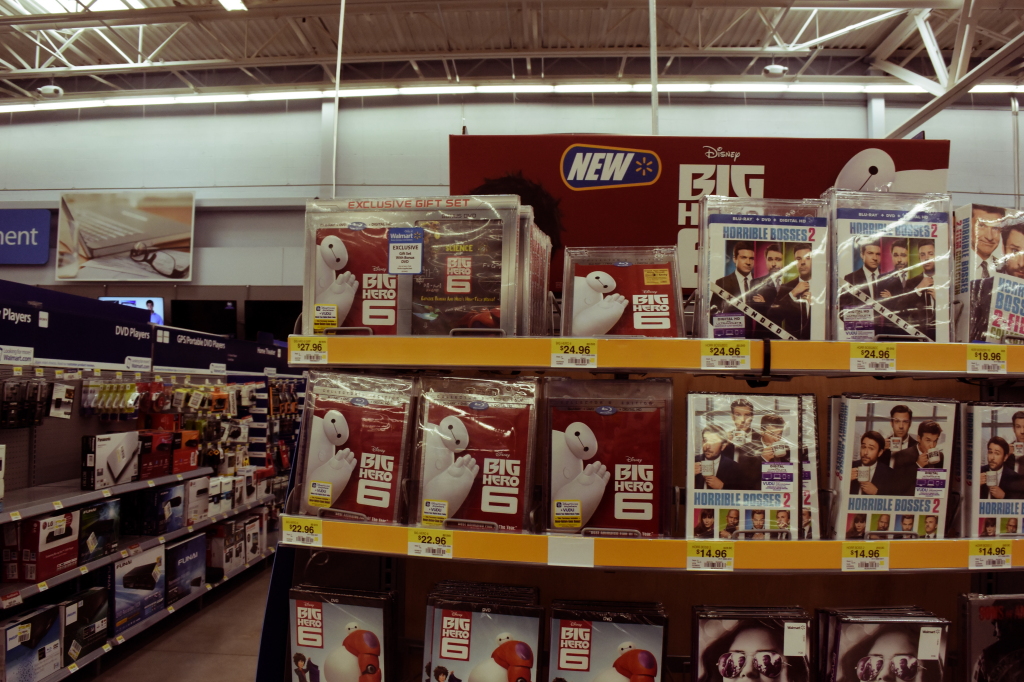 I found my copy of Big Hero 6 at Walmart in the entertainment section on a end cap – I was super excited and got the Walmart Exclusive it is a exclusive gift set –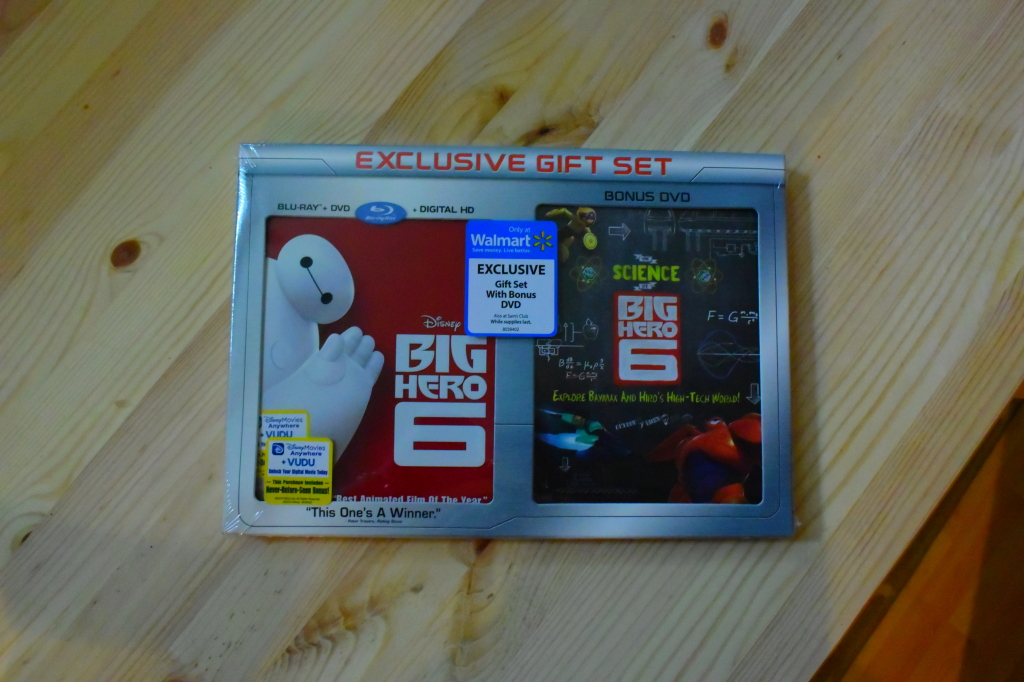 "Walmart Exclusive includes the "Big Hero 6" Blu-ray Combo Pack plus a Bonus DVD: "The Science Of Big Hero 6" – Explore Baymax and Hiro's High-Tech World! "Big Hero 6": Digital Copy Subject To Expiration, Deleted Scenes, Alternate Scenes, Theatrical Trailer, "Feast" Theatrical Short, Featurettes: "The Origin Story of 'Big Hiro 6': Hiro's Journey" – Discover how the filmmakers turned a whimsical Marvel comic book into a true Disney animated super hero adventure. "
I also went onto Walmart.com to buy some Big Hero 6 goodies for a Big Hero 6 release party I threw – go here to see all the Big Hero 6 goodies at Walmart.com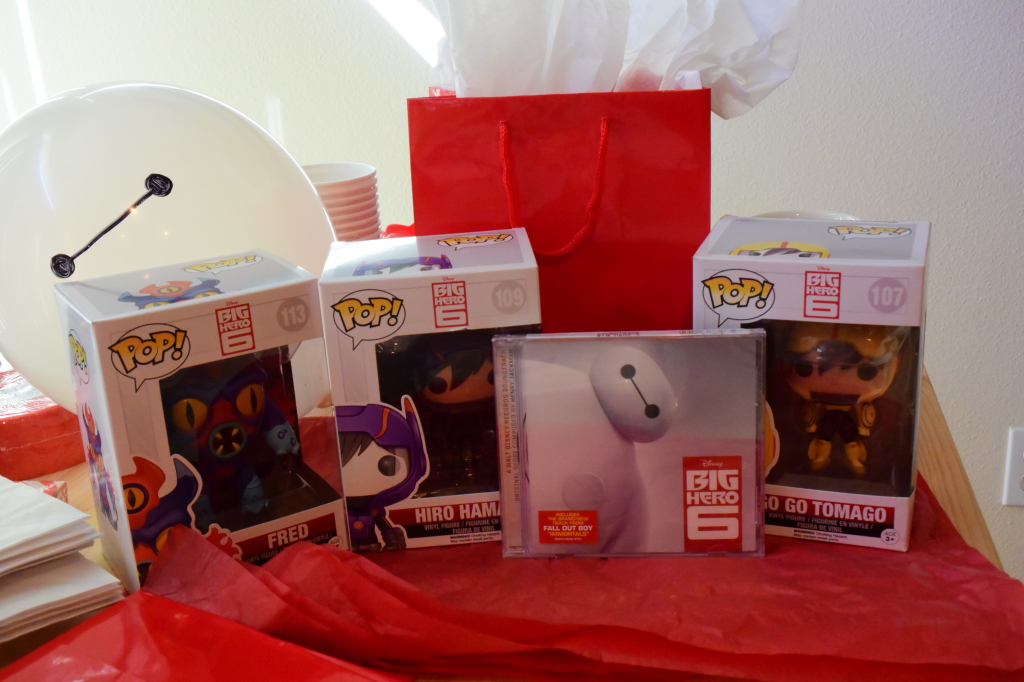 I picked up Pop figures as party favors as well as Big Hero 6 Music CD to play at the party – everything was at a great price as well. I decided it would be fun to have a few fun activities at the party – all Big Hero 6 themed of course
Here is the overall look for the party – I made sure everyone got a gift bag – I also picked up little takeout boxes ( using a Sharpie I made Baymax face) then I filled each box with red and white candy ( so it is still part of the color theme from the film)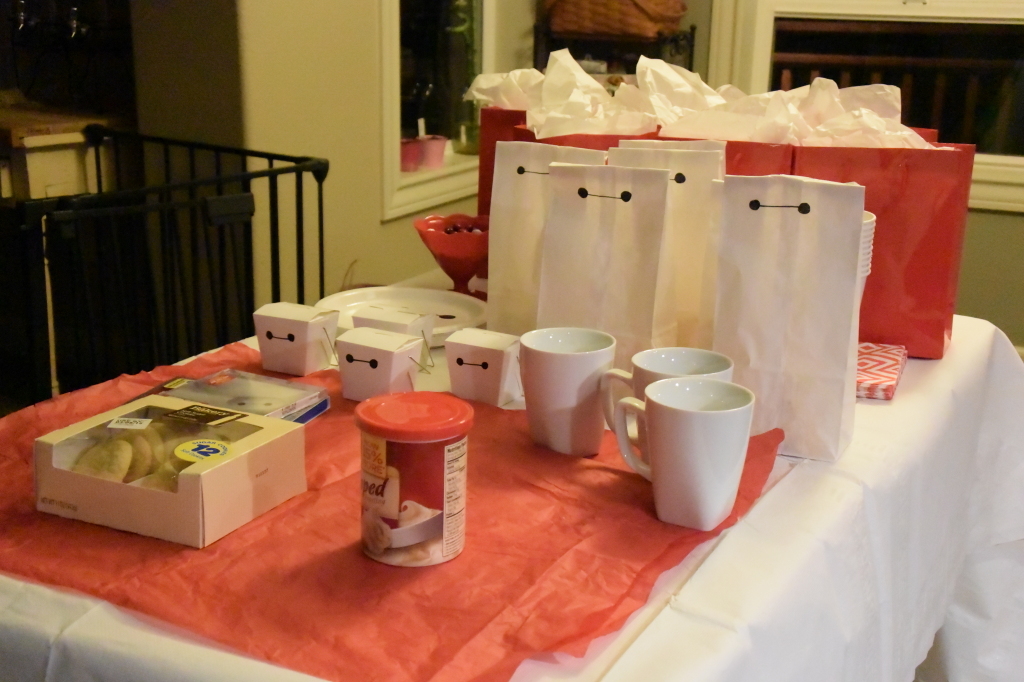 I found everything I needed for the party at Walmart ( which I love because I know my dollar will go farther)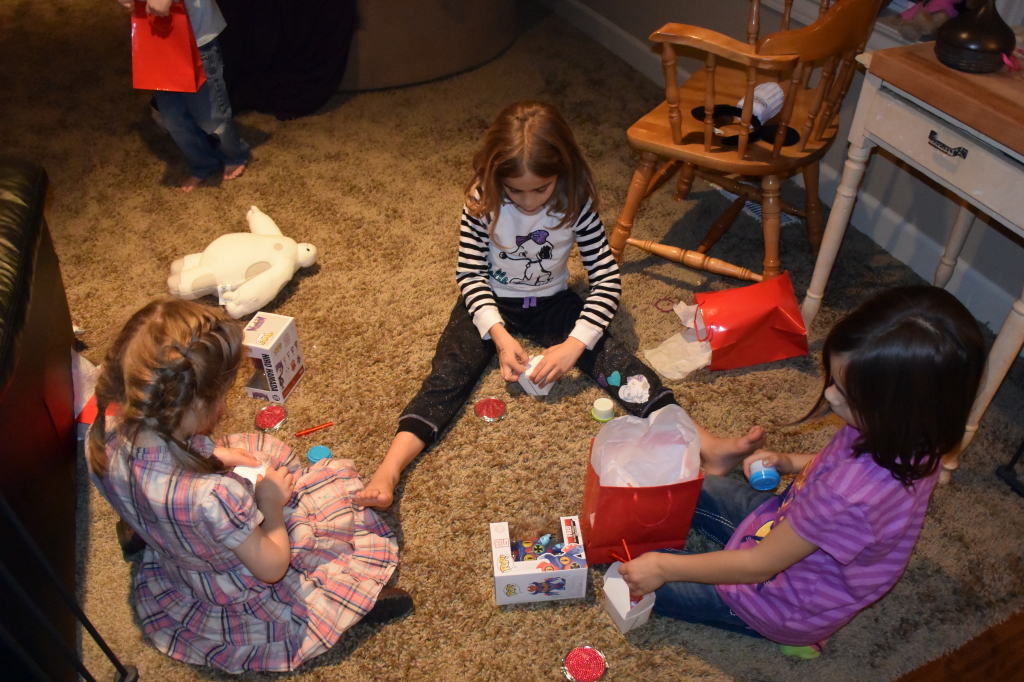 Here are some of the girls opening their Big Hero 6 gift bags 🙂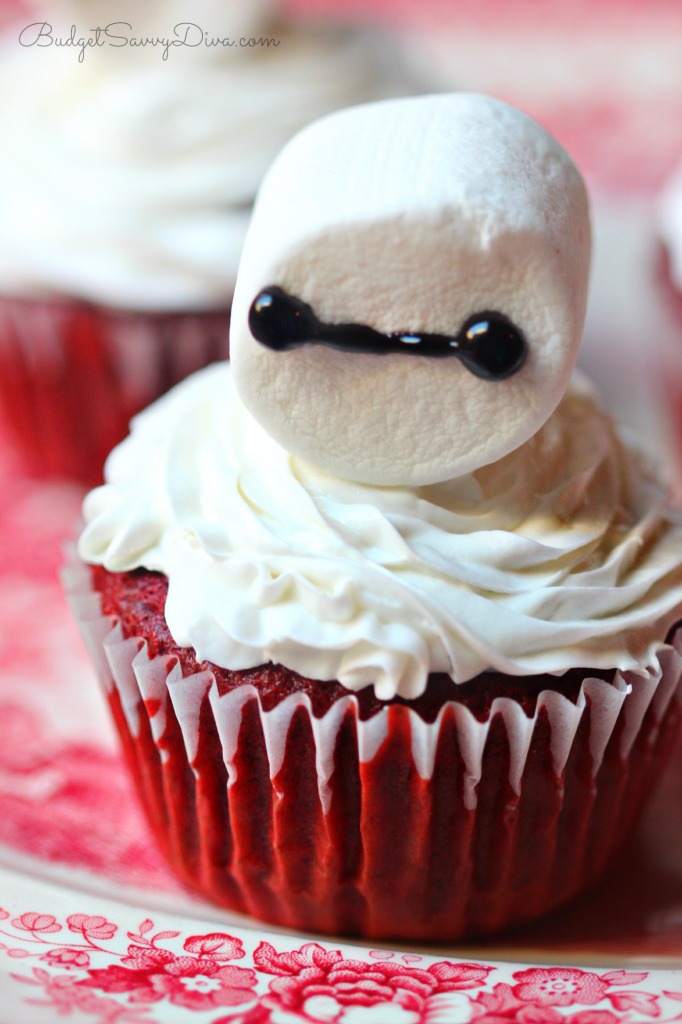 My favorite was the Big Hero 6 ( Baymax ) cupcakes – if you want the tutorial for this I have it HERE
The kids had tons of fun decorating the cupcakes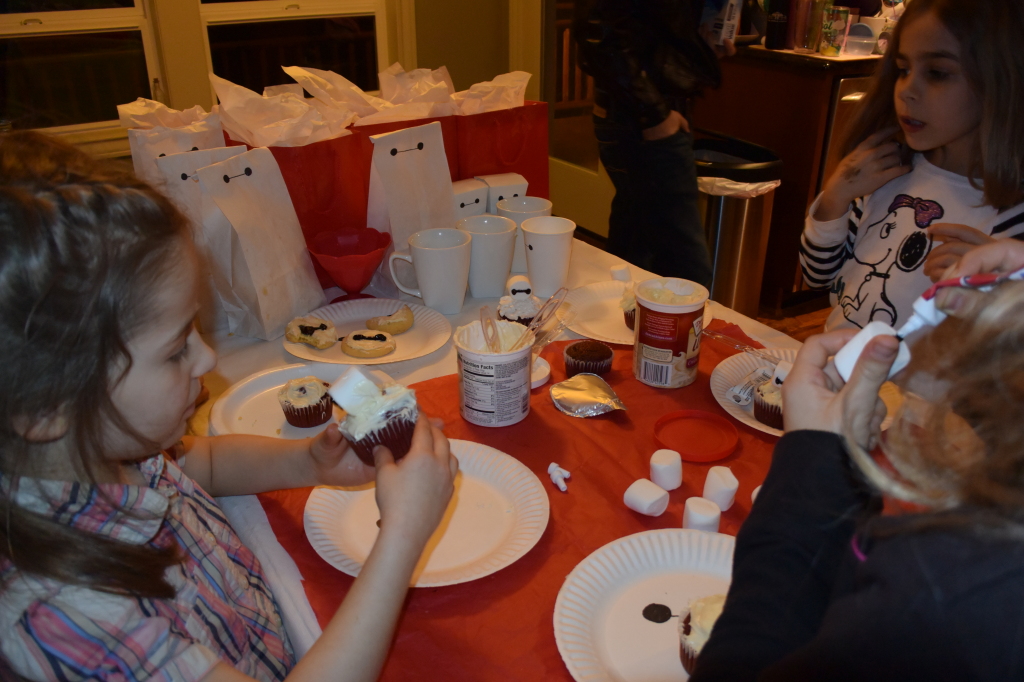 See those white lunch bags – I popped some popcorn for the kiddies so they had something to munch on while the movie was planning – they also decorated sugar cookies to look like Baymax as well — so cute and simple
For the grown ups I came up with a fun tutorial – Baymax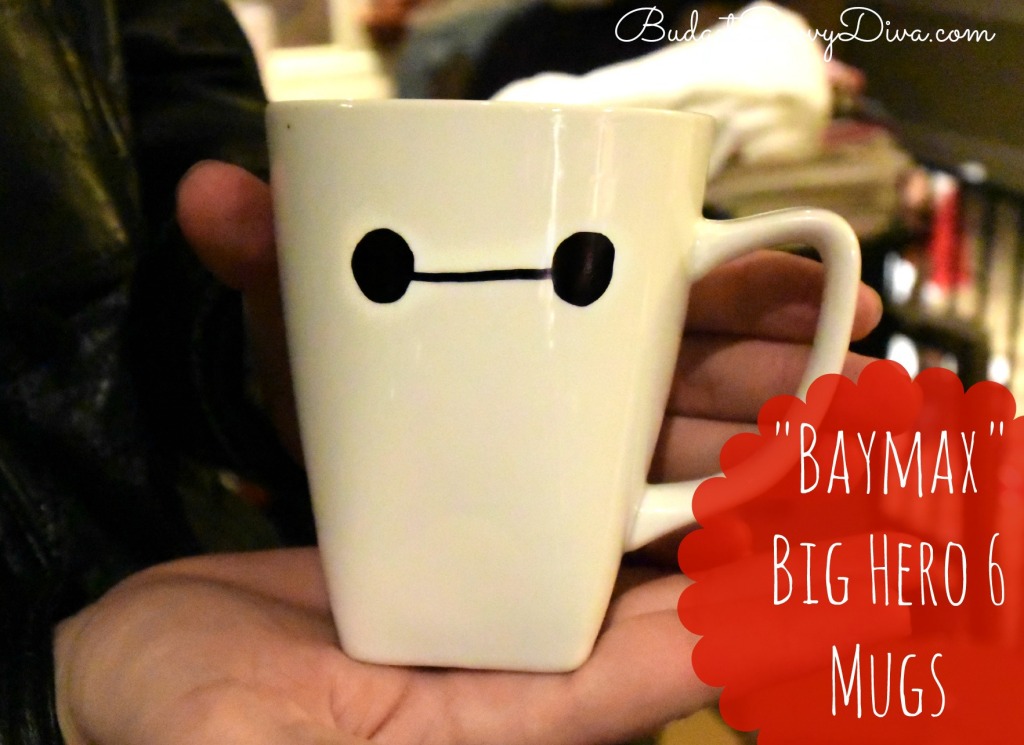 It was so much fun making the Big Hero 6 coffee mugs – and it could not be more simple too!
What you will need is an oven, permanent marker, and a mug
Make two dots about 1 1/2 inches away from each other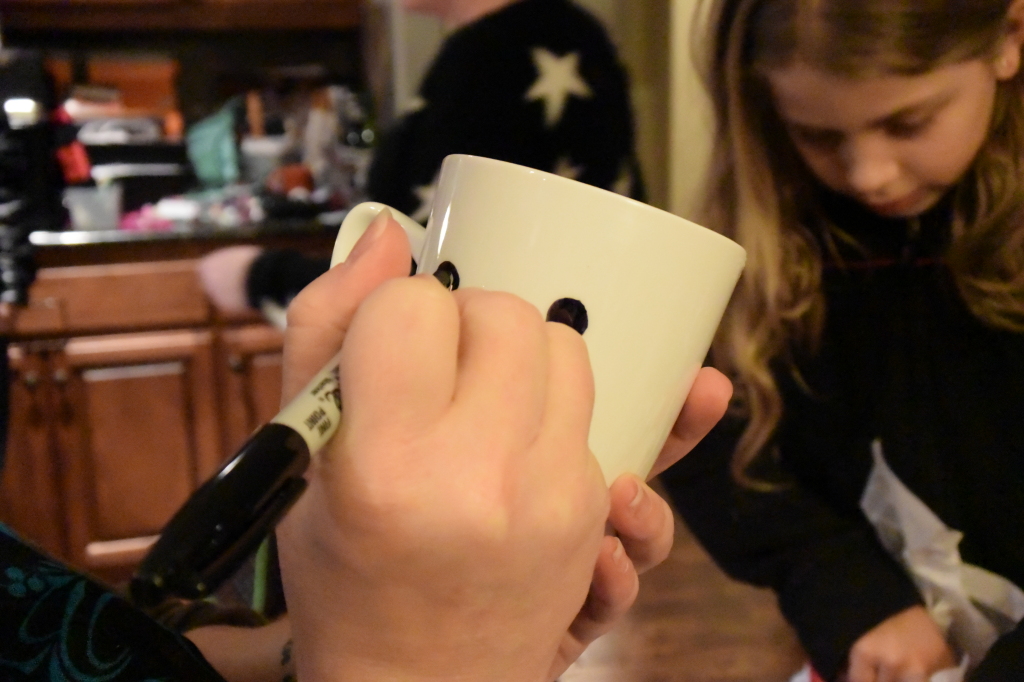 Connect the two dots together with a thick line – and it is almost DONE! Make sure to preheat your oven to 375 – you will need to bake the marker into the mug ( so make sure you do not miss this step )
Bake the mug for 30 minutes
And you are DONE! Make sure to always wash with warm water and by hand
Who was YOUR favorite character from Big Hero 6? If you could not tell Baymax was my favorite 🙂