Interview with Ellen DeGeneres and Ed O'Neill on Finding Dory
I am very excited to share this exclusive interview with Ellen DeGeneres & Ed O'Neill on Finding Dory
Finding Dory was 13 years in the making – and the film did not disapoint – if you have not seen my review yet make sure to head on over HERE – there is also a giveaway to enter.
A couple of days ago myself and 24 other bloggers sat down with Ellen DeGeneres ("Dory") and Ed O'Neill ("Hank") to talk about the film. I personally loved the "Hank" character in the film and I know you will love him too.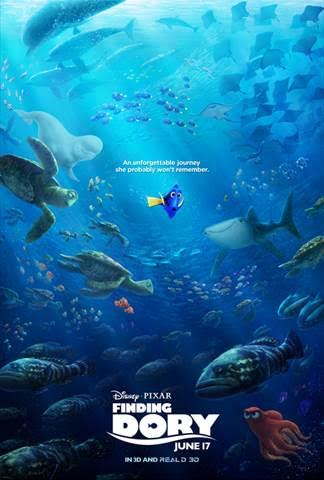 Finding Dory is in theaters on June 17th! So make sure to mark you calendars. Like Finding Dory on Facebook, Twitter and Instagram
If you take away anything from this interview is that you should NEVER give up and keep moving forward no matter what.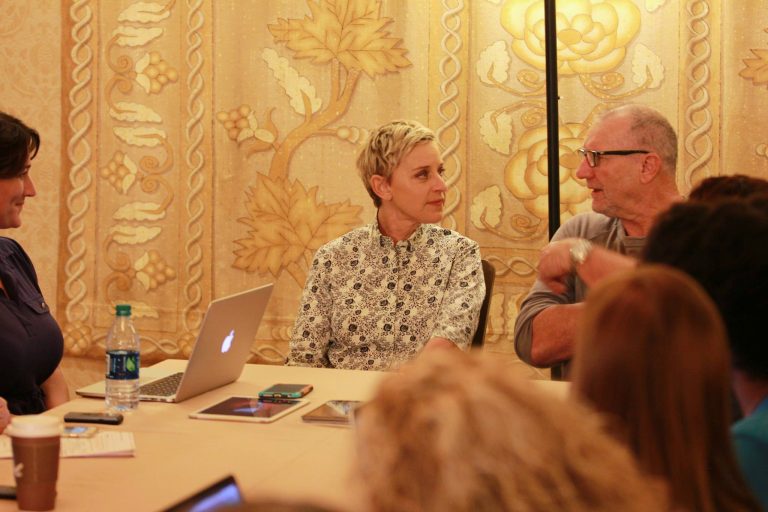 The main 3 words of the film is "Just Keep Swimming" – which is such a simple yet powerful message. We of course had to ask Ellen about it and she said, " I didn't know it before this happened, but that was my motto, you know what I mean? My life has gone through a lot of different twists and turns, and I did just keep swimming. I didn't realize that that was what I was doing. But I just kept moving forward, and I just kept doing what I know how to do, which is make people happy and make people smile and make people laugh."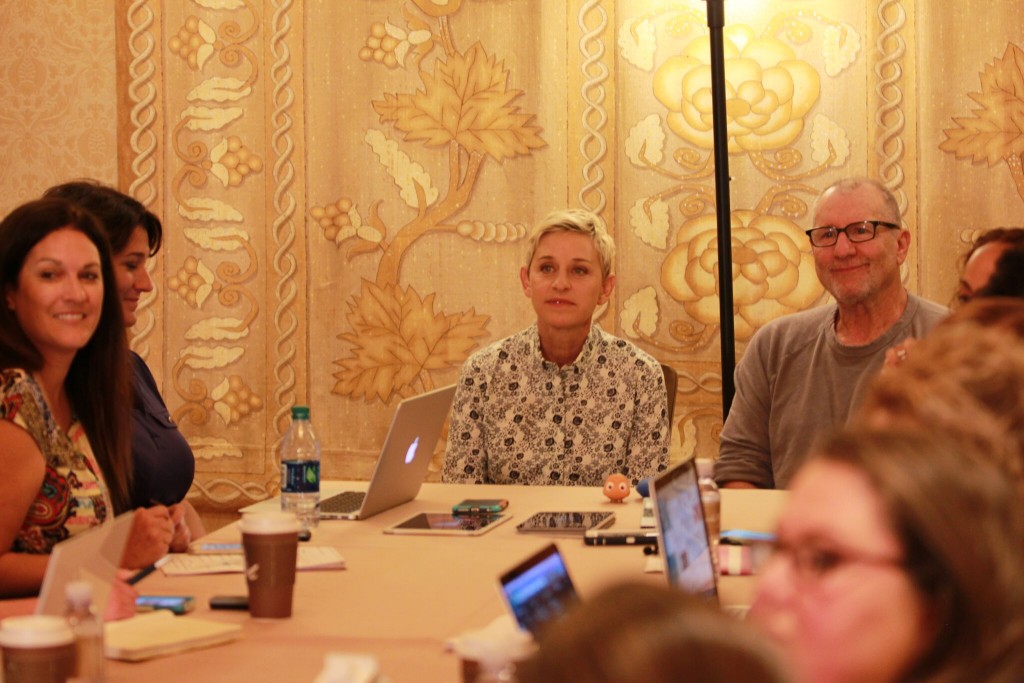 Ellen went on to talk about the message in the film  – "Even if you have a disability, use your strengths. Whatever that is.  Mine was making people laugh. I had a lot of stuff that was hard for me in my life, and I knew that I could make people laugh, and that was my strength."  This is why I think the film is going to touch so many since we are all different and we have to do things in different ways – but it is not a negative rather it gives up strength to do more difficult things whatever they may be.
Ellen hopes that the film helps the viewer be shown that if they think there is no other way to get out of a difficult situation " … there is. You don't get stuck. And no matter what your situation is, it can get better, and everybody starts from a different places, and some people start with a lot more odds stacked against them. "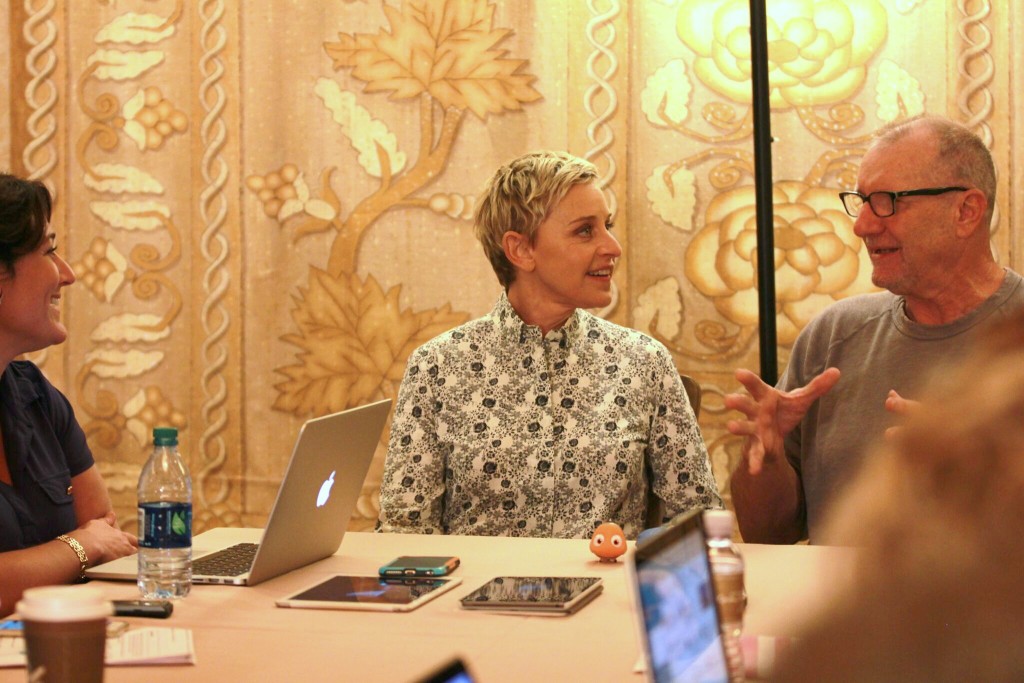 After watching the film you will see how BIG Hank's role is in the film so everyone was pretty shocked when Ed O'Neill said he did not know how large his role was going to be. He said, " Oh, it's an octopus. I said, "Oh, okay, can I see it, is there anything written?" No, there's nothing. I said, "Well, why would I sign onto nothing, I don't even know what it is." It's Pixar. It's from Finding Nemo — I said, "Okay, I'm in." And that's all I ever knew and then, over time I kept coming back, and I would say to Andrew, "what's happening? I'm back again?" And he said, "Well, it's a progression."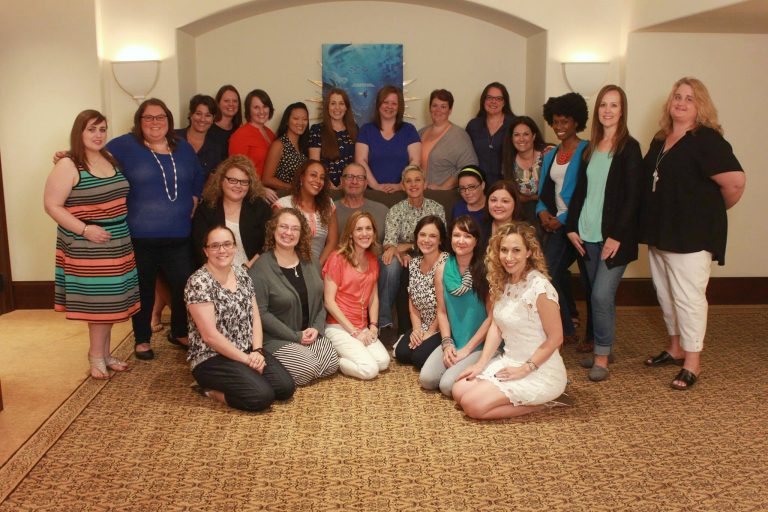 Ed then talked about being in the voice booth  "It's like, if you're doing a movie, and you're eating food, you don't want to really eat too much food, because it's a hundred takes, maybe, you know.  If you're eating ribs, you end up eating a hundred ribs, and it's similar.  You have to pace yourself on these things.  The voice you know, it's almost like being a singer, you know.  You can't burn out, 'cause you're the only one there."
If you have not checked out the Finding Dory Trailer – I included it below
Finding Dory is in theaters on June 17th! Do not miss it! I know I am going to see it again 🙂
Disclaimer – The trip and experiences were paid by Disney but all the thoughts and opinions are my own.