This is a sponsored conversation written by me on behalf of the J.M. Smucker Company. The opinions and text are all mine.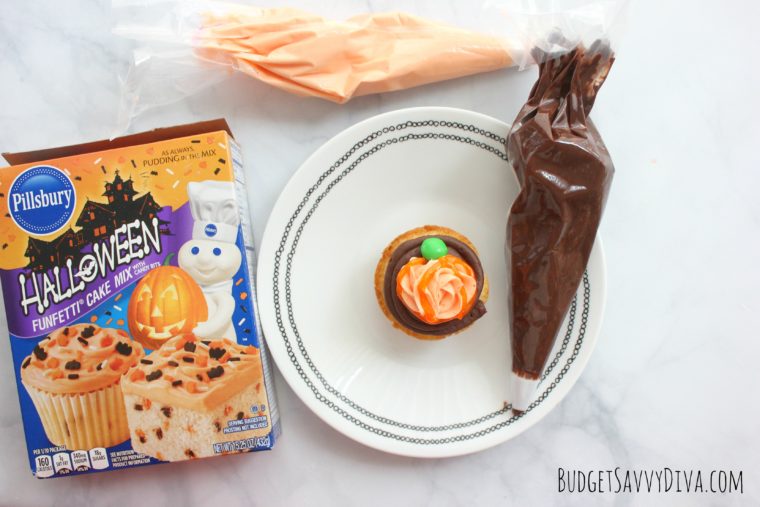 I was recently asked by the J.M. Smucker Company to create a fun Halloween treat using one of my favorite products and I want to share with you this cute cupcake idea. Halloween time is one of my favorite times to bake and make festive sweets. I started early this year with some fun and wacky snacks for Eric to take to work and share around the office. My absolute favorite baking mix is Pillsbury™ Funfetti®. I couldn't wait to jump at the opportunity to make some great Halloween cupcakes and share them, and hopefully inspire some of you to make your own uniquely designed cupcakes.
The first thing I did was jump in the car and head to the Walmart Bake Aisle, which is where I stock up on my Pillsbury™ Cake Mixes and Frosting, to get the new Funfetti® Halloween Cake Mix. You can also find these items set up at the Halloween Bake Center in your local Walmart.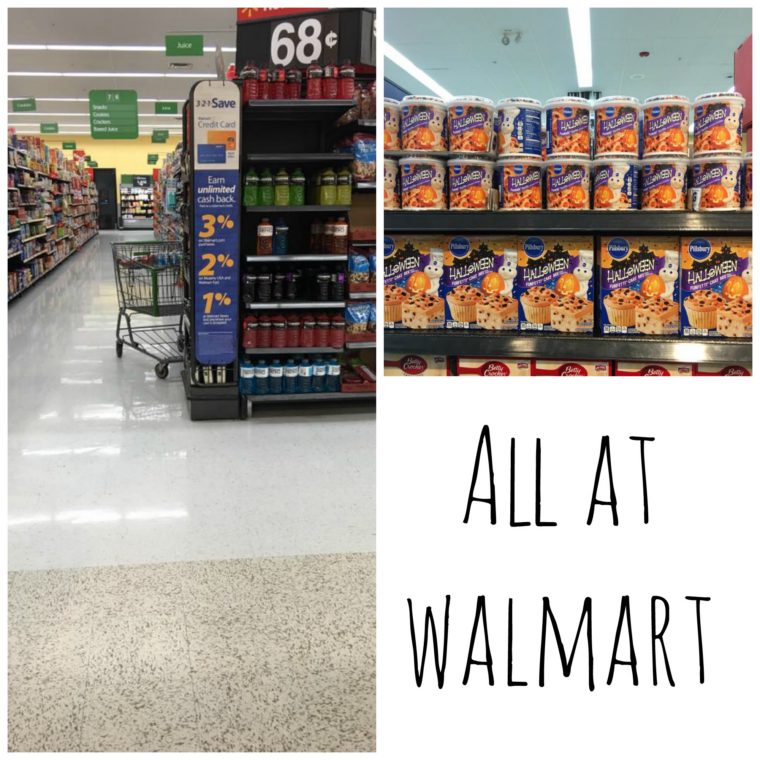 The Pillsbury™ Funfetti® Cake Mix is so tasty and fun, and it can be dressed up any way you like with any number of the available Pillsbury™ frostings. You've got to love the Pillsbury™ Funfetti® Halloween Vanilla Flavored Frosting. I'm the ultimate Funfetti® fan and this frosting makes the cupcakes so much more festive.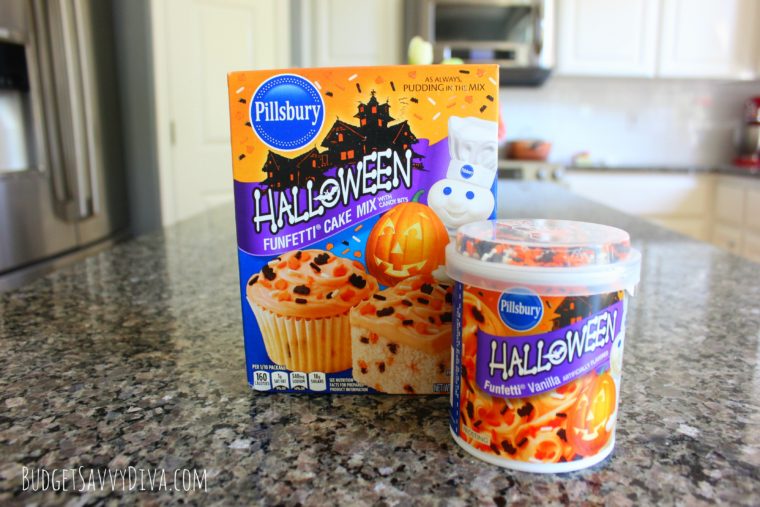 I snatched up the Funfetti® frosting and scoped out the variety of other frosting. There are so many great opportunities with the flavors of Pillsbury™ frosting, including other great looking vanilla options, or the Cinnamon Bun and Carmel Apple flavors. I have to admit, I stood there in the Walmart Bake Aisle, a little stupefied for a while, but ultimately I decided to go with good ol' chocolate. I figured Chocolate would be the base of the topping and I could pipe some Funfetti® Halloween Vanilla Flavored Frosting on top to make a cute pumpkin. I did a fun video for you to show I made the cupcakes. Make sure to check out Pillsbury™ Baking Pinterest page for even more fun ideas.

I bought a few more supplies and went home to mix up a moment with Eric. We won a red ribbon together at the State Fair for baking a quick bread and now he likes to help with the mixing and measuring…and what he refers to as quality control by "testing" the product. But that's the fun of it. It's so simple to make because there is so little to mix and measure. He was basically just there to steal cupcakes. These cupcakes are quick and easy, ready in minutes and they are very low cost, making them a budget savvy choice.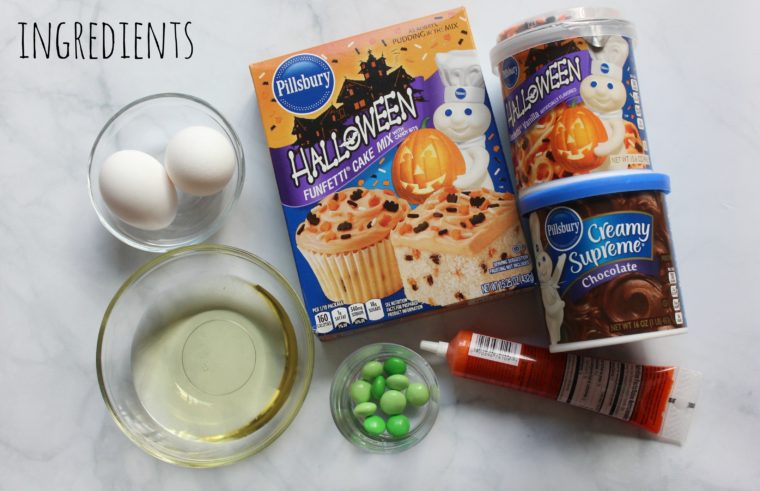 Because the Pillsbury™ Cake Mmixes and Frostings are so good on their own, there is no need for embellishment. The colors of the Funfetti® frosting and cake mix sell the Halloween image immediately so you don't have to go over the top in creating something special. I just decided to add a little flare with some glittery décor for the pumpkin, to give it a little more texture and shine; and I placed a small piece of green candy on the top for the suggestion of a leafy stem to pull the whole image together.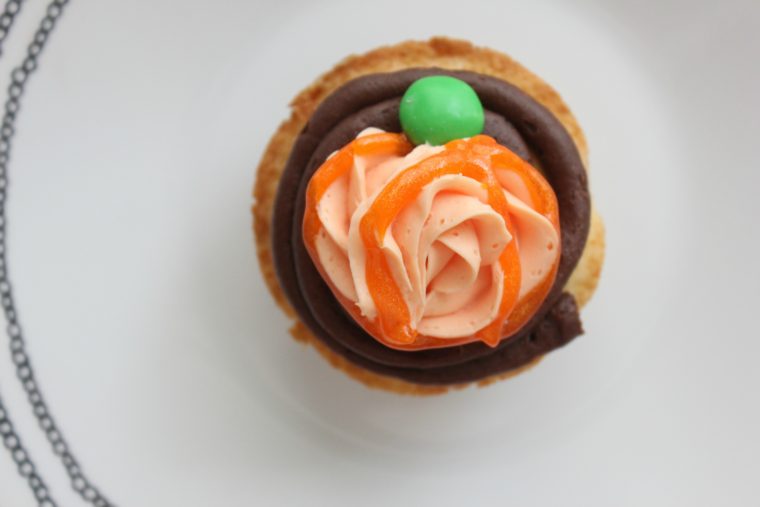 Eric is taking these to work and it isn't even October yet, which means I will be making these cupcakes a few more times before the Holiday hits. I don't mind starting early and making more, because I always stock up on Pillsbury™. It's so inexpensive, and you're already there in the Walmart Bake Aisle, so why not pick up a few extra for later while it's convenient? For added convenience, the Pillsbury™ Halloween line specifically will be located at the Bake Center. #MixUpAMoment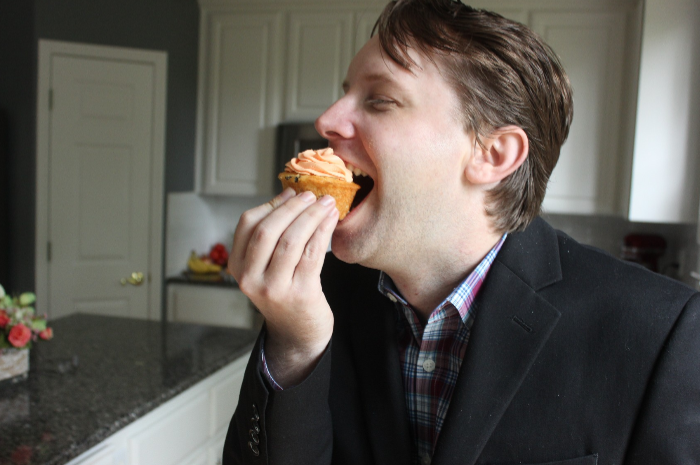 .
.