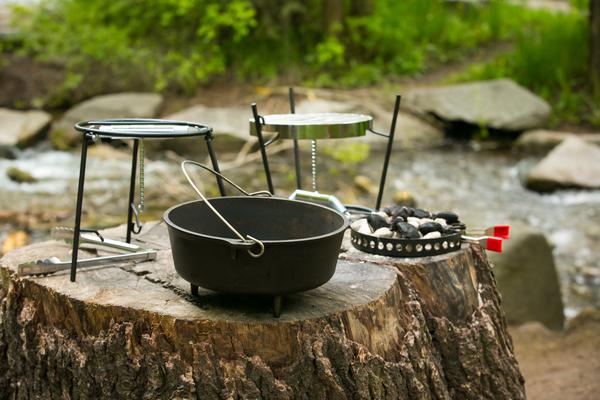 Here is a great gift idea for anyone on your shopping list who loves to go camping!
CampMaid is an innovative patented line of multi-use, compact, portable, outdoor cooking tools for camping, emergency preparedness/survival, scouts, tailgating, hunting, beach cookouts, small urban environments, and backyards. CampMaid's outdoor cooking system inspires creative meals as it converts the multi-use tools to create a griddle, smoker, grill, steamer, pizza oven, frying pan, baking pot, and more, offering users a full range camp-kitchen-in-a-bag. Versatile, safe, portable, and leaves-no-trace, CampMaid is the only thing you need to elevate you next outdoor dining adventure. CampMaid is headquartered, warehoused, and ships online orders. Started a few years ago by a couple buddies who have a passion for the outdoors, CampMaid has quickly grown to an international company supplying and distributing products to USA, Canada, Australia, Asia and Europe!
The six-piece CampMaid Combo System includes:
Dutch Oven – Pre-seasoned ready to cook, high quality Dutch ovens are custom designed to hold CampMaid tools inside, comes in 8", 10", 12" sizes, with a convenient pouring tab. Easy storage in the CampMaid tool bags and is the core of the entire CampMaid cooking system.
Lid Lifter – Featuring the patented Grab-and-hold design to securely lift the lid off the Dutch oven and hold it off the ground while keeping charcoals in place. It doubles as a serving stand and pot holder, and can be flipped over and converted into a griddle or skillet.
Charcoal Holder – A unique heat source which can be used under any Dutch oven to hold charcoals, it can be clasped under the CampMaid Lid Lifter to provide an adjustable heat source to the griddle created from the lid being flipped upside-down. The unique design safely contains the coals and mess, and leaves-no-trace.
Flip Grill – Simply clip the flip grill to the CampMaid Lid Lifter to create a grill and use the Charcoal Holder as a heat source, making campside BBQ's easy and delicious. Add some wood chips to the Charcoal Holder and the Flip Grill/Charcoal holder combo becomes a portable smoker.
Kickstand – Lifts the lid off of the Dutch oven, safely dumping the charcoals into one spot and holds it off the ground to cool for convenient clean up and minimal trace.
Carry Bag – Sturdy with large handles, the bag carries your CampMaid Dutch Oven, Lid Lifter, Charcoal Holder, Flip Grill, Kickstand, and the new Charcoal Chimney.
This post is part of the Budget Savvy Diva Holiday Gift Guide 2016 – make sure to check it out! Disclaimer – This product was provided for free so I could get some great photos and add it to this list. Nothing is posted that I have not checked out myself. Everything on this list is something I would buy myself.