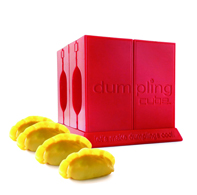 Here is a fun gift idea for the foodie on your shopping list or anyone who likes to try new things in the kitchen!
Dumpling Cube – Makes 4 perfect gyoza dumplings at a time, folding, trimming sealing to engineer a perfect dumpling, apple pie, pastie or empanada. $19.95
Dumpling Cube simplifies another complex technique in making traditional dumplings. With some clever engineering and a patented fold you can effortlessly make 4 traditional dumplings at a time perfectly shaped, folded, sealed and trimmed ready to be steamed and fried.
The trick to making a successful dumpling that does not fall apart when cooked is to remove all the air from under the wonton wrapper. Our patented fold firmly envelops the ingredient forcing the air to the top where a final seal pushes out any remaining air bubbles.
Each Dumpling Cube comes with a pastry trimmer that also acts as a base to the unit. Use this trimmer if you're using short crust or puff pastry if you're using your Dumpling Cube to make Apple Pies, Pasties, Samosas, Empanadas and even profiteroles.
This post is part of the Budget Savvy Diva Holiday Gift Guide 2016 – make sure to check it out! Disclaimer – This product was provided for free so I could get some great photos and add it to this list. Nothing is posted that I have not checked out myself. Everything on this list is something I would buy myself.