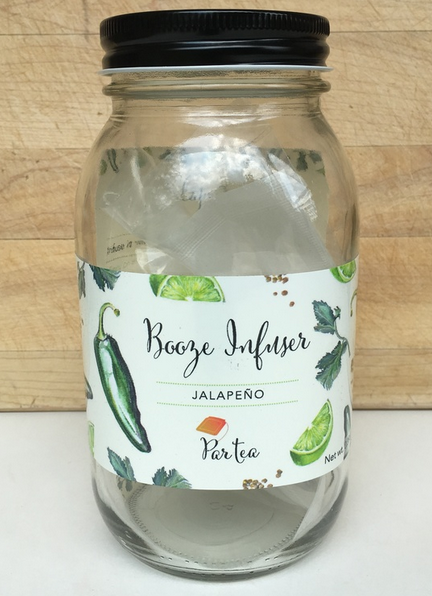 Here is a fun and unique gift idea for the person on your holiday shopping list who likes to host parties and try out different cocktails.
ParTea is a line of Booze Infusers – blends of dried fruits, herbs, and spices packed in tea bags to flavor liquor. They offer 5 tantalizing flavors – Jalapeno, Ginger, Orange Spice, Wild Berry, and Mocha.
Infusing your booze has never been easier:
Choose the Booze
Clear, un-aged spirits such as vodka, white rum, gin, tequila blanco, and white whiskey will take on the most flavoring, but any spirit of 80 proof or higher will have delicious results.
Infuse the Booze
Remove infuser from the plastic covering, and place it in the jar. Cover with 750mL (a standard fifth) of your chosen liquor. Screw on the cap, gently turning the jar over a few times.
Snooze the Booze
Let your concoction steep for 24-48 hours. Then remove the infuser, gently squeezing excess liquid into the jar. Compost or discard infuser.
Not a big drinker? ParTea infusers can be used to add flavor to more than just liquor. Try infused syrup in a refreshing drink, or a tangy infused vinegar on a salad.
The hardest part will be deciding whom to invite to your ParTea.
Each kit comes with a 32oz jar for infusing and cocktail recipes. Individual jars sell for $15 and the Sampler pack is $35. To purchase and for more information, please visit www.infusethebooze.com
This post is part of the Budget Savvy Diva Holiday Gift Guide 2016 – make sure to check it out! Disclaimer – This product was provided for free so I could get some great photos and add it to this list. Nothing is posted that I have not checked out myself. Everything on this list is something I would buy myself.