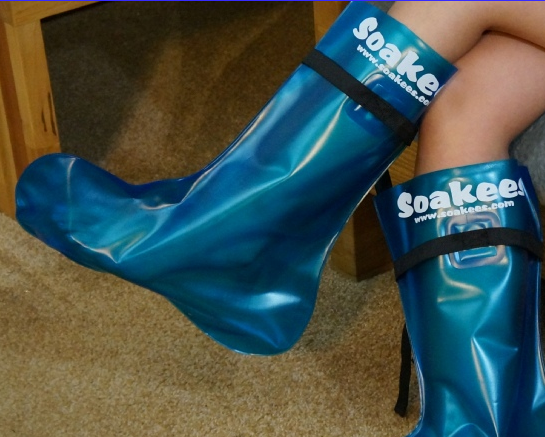 If you have someone on your holiday shopping list that can use a little less stress right now, here is the gift for them.
If you could give the one you love better health – less stress – a feeling of euphoria – pain relief – luxurious personal indulgence and sounder sleep all wrapped up in a stocking stuffer – would you do it?
Well you can – with a gift of Soakees!
For the first time ever a person can get all that and more with a simple 20 minute relaxing – healthy and foot beautifying warm water foot-bath by slipping on a pair of Soakees "Slip-On and Tie" Foot Bath Booties – the only slip on Foot Bath that only needs 3 cups of water per foot (vs the 3 GALLONS of a floor foot-bath tub) – can be used absolutely anywhere – anytime and anyplace (on the back porch or deck sipping wine – in a hotel room – at a computer desk as you work – at Disneyworld after walking all day……anywhere!) and weighs only 3 pounds of water weight – vs the 25 POUNDS water-weight of a floor tub!
Soakees is the quick – simple = portable and easy way to get nirvana in only 20 minutes with no hassle – no messy water-weight of a floor tub – just slip them on – pour in 3 cups of water per foot – sit back and ahhhhhh……..
Soakess fits any size foot for size 13 down to size 4 – is made of soft durable medical grade vinyl with a attached side tie to wrap around the leg to secure and comes with foot soaking salts. They are endlessly reusable – for men and women. PERFECT for men as well to ice those annoying sports injuries and twisted ankles because they isolate the coolness onto the painful area.
This post is part of the Budget Savvy Diva Holiday Gift Guide 2016 – make sure to check it out! Disclaimer – This product was provided for free so I could get some great photos and add it to this list. Nothing is posted that I have not checked out myself. Everything on this list is something I would buy myself.