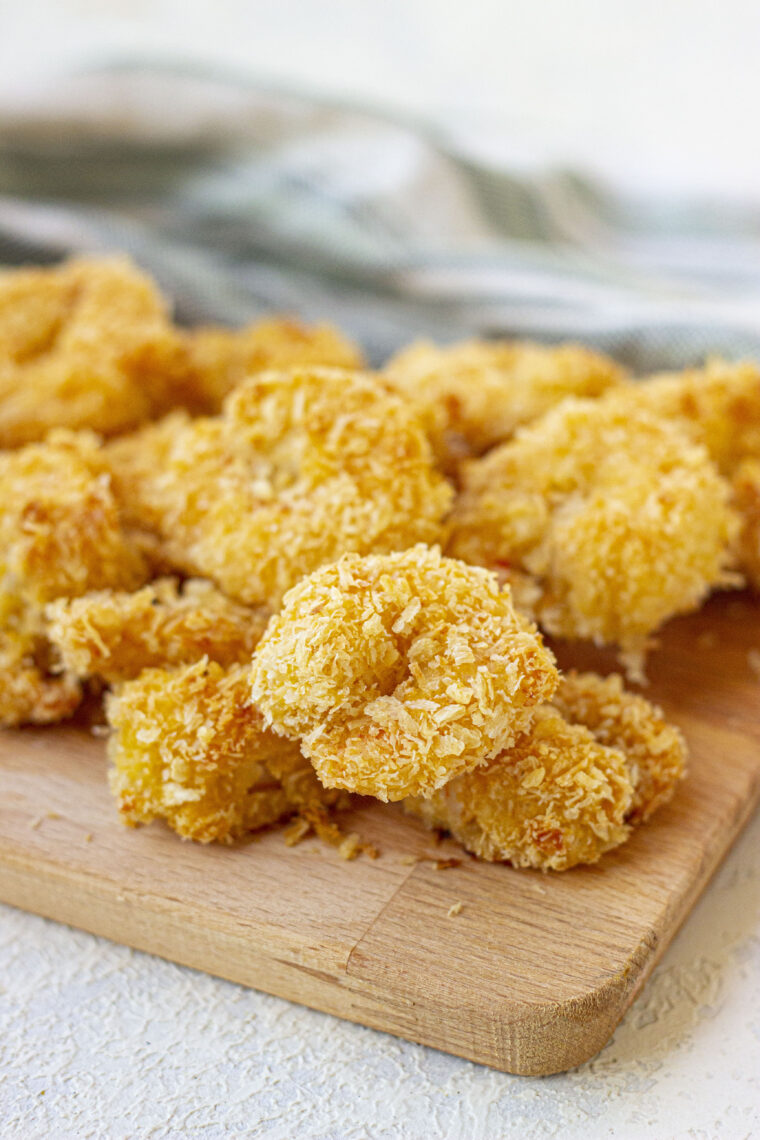 These succulent bites of seafood heaven are not only easy to make but also a guaranteed crowd-pleaser at any gathering. So, grab your apron, fire up that air fryer, and let's dive into the world of tropical flavors!
Ingredients: Let's start by gathering all the ingredients you'll need to make this delectable dish:
For the Coconut Shrimp:
1 pound of large shrimp, peeled and deveined
1 cup of shredded coconut (unsweetened)
1 cup of panko breadcrumbs
1/2 cup of all-purpose flour
2 large eggs
1/2 teaspoon of salt
1/4 teaspoon of black pepper
1/4 teaspoon of paprika
Cooking spray
For the Dipping Sauce:
1/2 cup of sweet chili sauce
2 tablespoons of lime juice
1 teaspoon of soy sauce
1/2 teaspoon of grated ginger
Instructions:
Prepare Your Shrimp: Begin by peeling and deveining the shrimp if they haven't been prepared already. Pat them dry with paper towels, so the coating sticks better.
Set Up Your Breading Station: Create a breading station with three shallow dishes. In the first dish, place the flour, salt, pepper, and paprika. In the second dish, beat the eggs. In the third dish, combine the shredded coconut and panko breadcrumbs.
Coat the Shrimp: Dip each shrimp first in the flour mixture, ensuring it's evenly coated, then into the beaten eggs, and finally, into the coconut and breadcrumb mixture. Press the coating gently to adhere.
Preheat Your Air Fryer: Set your air fryer to 375°F (190°C) and let it preheat for a few minutes.
Air Fry the Shrimp: Lightly grease the air fryer basket with cooking spray. Arrange the coated shrimp in a single layer in the basket, making sure they don't touch. Depending on the size of your air fryer, you may need to cook them in batches. Spray the tops of the shrimp with a little more cooking spray.
Cook in the Air Fryer: Cook the shrimp for 5-6 minutes per side, or until they are golden brown and crispy. Flip them halfway through the cooking time to ensure even browning.
Prepare the Dipping Sauce: While the shrimp are cooking, whisk together the sweet chili sauce, lime juice, soy sauce, and grated ginger in a small bowl. This tangy and slightly spicy sauce pairs perfectly with the crispy coconut shrimp.
Serve and Enjoy: Once the shrimp are cooked to perfection, transfer them to a serving platter. Serve hot with the dipping sauce on the side, and garnish with fresh lime wedges and chopped cilantro if desired.
With your air fryer as your trusty sidekick, you've just created a tropical masterpiece: Crispy Air Fryer Coconut Shrimp that's sure to transport your taste buds to a beachside paradise. Enjoy the crunchy, coconutty goodness of these shrimp bites dipped in the zesty sweet chili sauce. Whether you're serving them as an appetizer or a main course, this dish will have everyone craving for more. So, the next time you're looking to impress your guests or simply treat yourself to a taste of the tropics, give this recipe a try. Happy cooking and bon appétit!