Frugal Eats: Sweet Corn Soup with Crouton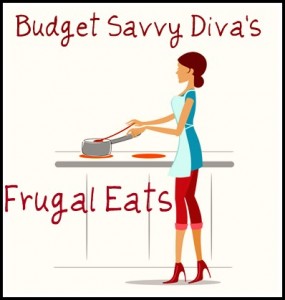 Frugal Eats is when Budget Savvy Diva shows you how to make a recipe for under $5.00! The prices listed next to the ingredients
This week:
Sweet Corn Soup
Preparation: 10 Minutes — Cooking: 40 Minutes — Servings: 6
Ingredients:
4 Slices Day Old Bread ( .20 cents)
5 Tbsp Melted Butter ( .25 cents)
Kosher Salt
Pepper
3 Tbsp of Olive Oil ( .20 cents)
2 Yellow Onions chopped ( .80 cents)
Kernels Cut from 8 ears of Corn ( yellow or white)  ( 2.20)
1/4 cup of sour cream ( .75)
Total Price: $4.40
There were no coupons used on any of these ingredients. I just used local deals around me
Preheat oven to 375 . Melt 2 Tbsp of the butter cut bread into cubes and toss with the melted butter with a pinch of salt – then spread on a baking sheet and bake till they are golden brown – about 10 minutes
Heat the olive oil and remaining butter in a soup pot and add the onions – saute over low heat for about 30 minutes – they should look like the picture below.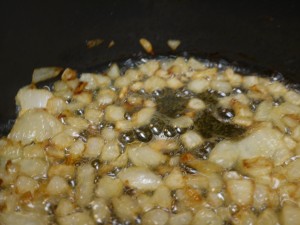 Add 4 cups of water to the onions and raise the heat till the mixture comes to a boil then lower the heat and add the corn as seen below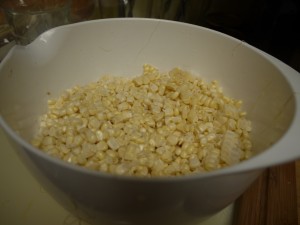 Let the corn mixture simmer for 5 minutes – season with salt and pepper. Let cool slightly for easier handling. Puree until smooth with blender. Pass the soup through a sieve to achieve uniform smooth texture – place soup back into soup pot to reheat and season to taste.  Ladle into bowls and garnish with croutons and dollop of sour cream with a bit of pepper on the top.
I added cayenne pepper to my soup and it mixed well with the sour cream – so get creative with taste – this is a simple and yummy soup that everyone will love. Below is a picture of the finished product.