Borders to Shut Down and Job Loss for Over 10,000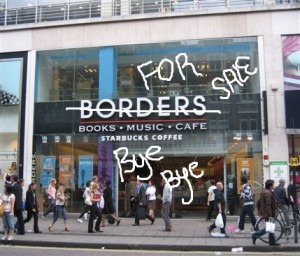 We here at Budget Savvy Diva have been following the fall of Borders for a while. First it was the closing of a few stores then it was the closing of 200 stores – then came the high value printable coupons that seemed to be posted every week – and slowly those faded away and then came the news today…
The second largest bookstore chain has been having a "for sale" sign around it's neck hoping someone would save them for utter demise – but sadly no one was willing to help this fledgling company out.
But there is a little ray of hope – Borders was able to get a bankruptcy-court auction scheduled for Tuesday. Borders which still employs over 10,000 people – who will have to start sending out resumes as early as next week. Borders hopes to liquidate all remaining books to the highest bidders from the remaining 399 stores could start as soon as Friday, and it is expected to go out of business for good by the end of September.
Borders scrambled unsuccessfully over the weekend to find other potential buyers who would keep the chain alive.
The chain's demise could speed the decline in sales of hardcover and paperback books as consumers increasingly turn to downloading electronic books.
I would love to know how you feel about all of this? I love hearing all of your opinions.
To read another article about Borders
Borders Bankruptcy – CLOSING 200 Stores – MUST READ
Thanks! Wall Street Journal