*Brag Worthy Shopping Trip* – 96% Savings At Walmart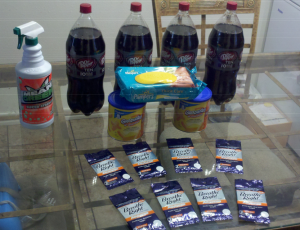 What do YOU think about this Shopping Trip?
Check Out MORE BRAG PICTURES
If you have a Awesome Shopping Trip Photo – please send it to [email protected]!
Thanks! Reader Klair
This is what she wrote:
I just started Couponing at the begining of the month, so im not REALLY good at it yet
but today I think I did a pretty good job for being a newbie! lol
Everything was purchsed at Wal-Mart.
8 Packs of Breath Right Stips ( 2 pk) $.97 each — Had $1.50 off coupon for each!
4 Dr. Pepper 10's $1.00 each — Had 4 Coupon's to get them all free!
1 Pack of Pampers Wipes $1.97 — Had a coupon for $.50 off so not a great deal but the overage helped pay for them (we needed some more anyways! lol.)
2 Geber Toddler Lil' Crunchies $1.68 each — Had a $1.00 off 2 Coupon. Not a AWESOME deal eaither but my son wanted some and overage AGAIN helped pay for these! 🙂
1 Bottle of Mean Green Cleaner $1.97 — Had a $1.00 off Coupon!
My total came to $19.06 — Before Coupons
AFTER Coupons my toal was $.76 !!!
I cant wait to REALLY get the hang of this Couponing!!