NEWS – Paula Deen introduces Butter-Flavored Lip Balm, Yum or Yuck?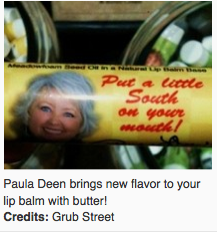 When I saw this… well I must tell you it made me shutter – but how about you?
I cook extremely healthy in my kitchen – butter in excess really grosses me out ( plus it usually increases the cost of the meal 😉 ) so I tend to cook with as little as possible.
Now all I can think about is the testing of this product. How do you think it went – a person rubbed a butter stick on their lips then wiped it off and tried Paula Deen's version?
Either way I am here to tell you the lip balm is currently on SALE – only $1.99 a tube
The lip balms are currently sold only in Deen's restaurant, but could come to a cosmetics counter near you.
What do you think of this product???