*NEWS* Black Friday – Sony Plans PS3 Bundles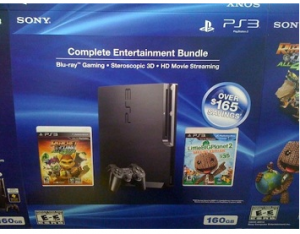 Sony is preparing for Black Friday flyers by launching a new PS3 "Complete Entertainment Bundle." According to the leaked data obtained by Engadget, invoices for the bundle suggest a release date on or around the day after Thanksgiving.
The bundle includes a 160 GB PS3 system, a controller, and the games Ratchet & Clank: All 4 One and Little Big Planet 2, as well as a free month of the premium PlayStation Plus service.
Another bundle that was revealed is called the "Mayhem Edition" PlayStation Move package, which includes the shooter games Resistance 3 and Killzone 3 along with the motion-sensitive Sharpshooter peripheral.
Seems Sony wants to lead in the holiday sales this year.
Thanks! Life For Gaming