The Best Crock Pot Chicken and Dumplings Recipe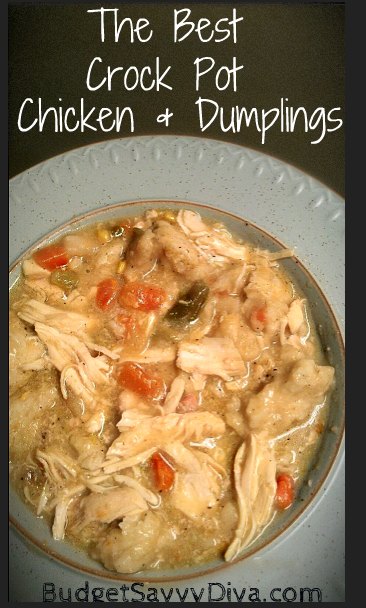 If you like this recipe then PIN IT on Pinterest

This is one of the best recipes I have. I have adapted it by adding some spices ( such as cumin) to give it a really wholesome flavor. This is one dish that will taste like it took a ton of effort to make but it is really simple 😉 ( it will be our little secret).

Everyday at 5 pm PST/ 8 pm EST Budget Savvy Diva posts a NEW RECIPE 🙂
Make sure to follow Budget Savvy Diva on Facebook 🙂
Find Copy Cat Restaurant Recipes HERE
Find Crock Pot Recipes HERE
Find Gluten Free Recipes HERE
Find more Recipes HERE
What You Need
2 skinless, boneless chicken breast halves
1 tablespoon butter
1 (10.75 ounce) can condensed cream of chicken soup
1 (10 ounce) package refrigerated biscuit dough, torn into pieces
1 Can of Mixed Veggies ( drained)
1 tsp of Cumin
1/2 tsp of pepper
Sprinkle of Cayenne Pepper
1/2 tsp of Onion Powder
1 cup of chicken stock
 pinch of salt
What To Do
Place all ingredients in the crock pot except biscuits.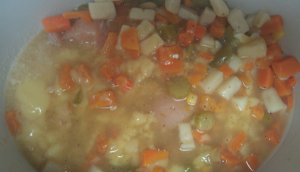 Cover and cook on low for 5 – 6 hours.
About 2 hours before serving tear up the biscuit dough ( into 1/4ths) and place in the crock pot. I used all the biscuits but you can only use half.  Make sure the "dumplings" are cooked through.
The chicken should be so tender that it will pull apart when you scoop it out of the crock pot.
Enjoy 🙂
Make sure the "dumplings" are cooked through.
The Best Crock Pot Chicken and Dumplings
Super easy Chicken and Dumplings recipe
Ingredients
2 skinless, boneless chicken breast halves
1 tablespoon butter
1 (10.75 ounce) can condensed cream of chicken soup
1 (10 ounce) package refrigerated biscuit dough, torn into pieces
1 Can of Mixed Veggies (drained)
1 tsp of Cumin
½ tsp of pepper
Sprinkle of Cayenne Pepper
pinch of salt
½ tsp of Onion Powder
1 cup of chicken stock
Instructions
Place all ingredients in the crock pot except biscuits.
Cover and cook on low for 5 - 6 hours.
About 2 hours before serving tear up the biscuit dough ( into ¼ths) and place in the crock pot. I used all the biscuits but you can only use half.
The chicken should be so tender that it will pull apart when you scoop it out of the crock pot.
Enjoy 🙂
Recipe is adapted from All Recipes